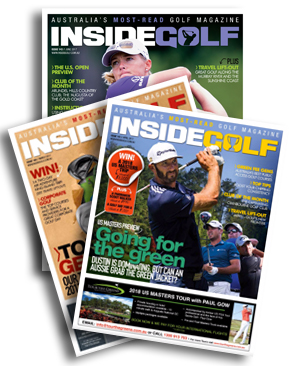 Australia's Most-Read Golf Magazine, Inside Golf, is demonstrating that the much-hyped "demise of the print magazine industry" is far from reality; with recent results and partnerships signalling a bright future for the publication.
While once notable Australian golf titles like Golf Magazine, Pacific Golfer, Golf Vacations and others have either exited the Australian print industry or announced a shift to digital-only platforms, Inside Golf has, conversely, enjoyed strong growth in recent years—firmly cementing the title as the preferred choice of Australian golfers.
Not only has Inside Golf bucked the downward trend of print, but it has also secured a diverse mix of new advertising partners joining the magazine's large stable of long-time partners. Recently, the magazine has partnered with businesses like Retire Australia, Golf National (Jumbo Grips), Australian Golf Supplies, 3 Links Golf, GMA, The Vines, Ocean Dunes, Golf on the Murray, and New Caledonia Tourism, to name a few.
These exciting new partners join Inside Golf's growing base of Australia's top golfing companies and businesses. From global golf gear manufacturers like Cobra Puma, Callaway, PING, Mizuno and Srixon, to Australian golf industry stalwarts including Above Par Golf Tours, Walkinshaw Sports, MGI, Club Car, Highland Golf Cars, Champion Sports, The Golf Travel Agency, Travelrite, Go Golfing, Yamaha Golf Cars, On Course, PNP, Parmaker, David Golf, Sporte Leisure and Drummond Golf, the quality of partnerships developed by Inside Golf is impressive.
In addition, many of Australia's favourite golf courses and clubs have formed long-term relationships with the title, including Links Hope Island, Noosa Springs, Keperra Golf & Country Club, Brookwater, Curlewis, Muirfield, McLeod, Strathfield, Moonah Links, Cape Wickham, The Cut, Meadow Springs, Carbrook, Heidelberg and many, many others.
"This long-time support isn't just about us selling an ad," explains Sam Arthur, Publisher of Inside Golf. "We find out how we can help each and every partner (both large and small), and create an ongoing working relationship to help them grow their business. It's about working together to determine the correct timing for a campaign, creating a plan throughout the year, and then going above and beyond to provide high-quality deliverables that achieve results.
"Callaway Golf, for example, is about to hit their ninth year of continued support with the magazine.  Links Hope Island has just ticked over 8 years, and Above Par Golf Tours have chalked up almost 14 years of continued support. Businesses like these have seen real results through our long-term partnerships—and in today's economy, measurable results are paramount."
While online marketing and advertising has been all the rage over the last decade, savvy businesses and marketers are making a prominent, measured shift back towards traditional forms of advertising, notably print. One of Inside Golf's magazine's valued partners, Drummond Golf, is a prime example of a business that is openly embracing print as part of an overall marketing strategy. Through inserts and advertising in Inside Golf, Drummond is successfully promoting their products to a targeted, loyal audience with high disposable income and an insatiable love of golf.
Of course, any modern marketing strategy still includes a significant amount of online promotions. And a key to Inside Golf's success in their offering has been clever integration of multi-platform content and channels.
"While our print product is, of course, our most successful offering, it's not the whole story," Arthur explains. "We have also invested serious time and budget into nurturing and expanding our online community over the last few years, and we have now successfully unified our print and online fans to create a highly-active, loyal following."
So active and loyal are Inside Golf's online community, that they are considered to be among the most engaged fans of any Australian golfing community. Recent promotions/posts by the magazine have yielded a "reach" in the hundreds of thousands, with one promotion on behalf of Yamaha Golf reaching nearly half a million Facebook users. Email promotions, too, are a stellar performer, with open and click rates around 30% and 10% respectively; significantly outperforming the industry average.
"The strong engagement of our online community is due to the fact that they are 100 percent genuine, passionate golfers," explains Arthur. "We have never, ever padded our databases with third-party/purchased addresses or farmed-out Facebook fans. Instead, we have grown the community organically. Every fan is real, and they simply love our magazine and promotions."
Another aspect of the magazine's stellar success is its unique distribution model. In stark contrast to the traditional subscription/newsstand model—in which a high volume of printed copies are never purchased or read—Inside Golf is distributed free to golfers across the country, ensuring that nearly every copy is picked up and read. In addition, the magazine is also available at Qantas business lounges across the country, opening up the readership to travellers and high-profile decision makers.
Inside Golf has been regularly named as "Australia's Most-Read Golf Publication" in various independent surveys/polls of Australian golfers over the years, including Sports Marketing Surveys, Golf Research Australia, and various tourism bodies including the Murray River Golf Group, which consistently rates Inside Golf the number one golf magazine year after year.
Click Here to read Inside Golf online. To get Inside Golf delivered for free to your inbox each month, Click Here
UPDATED 27  May: The page has been updated (removal of "Australian Golf Digest") to reflect a request from the legal team from Australian Golf Digest to clarify the following: (Despite the recent takeover/acquisition of Golf Digest by Discovery TV in the US) Australian Golf Digest have not exited the print industry, nor have they announced a shift to a full digital platform.