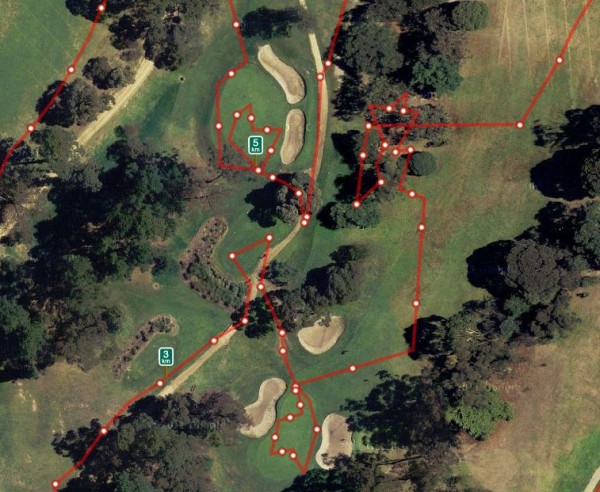 (Story Update: Check out the results of our nationwide study here)
It's a question I've been pondering for years: how far does a golfer walk during a standard round of 18 holes?
Sure, you could simply take the yardage on the scorecard, and then add "a little extra", but when you think about it, there is much, much more walking done by the average golfer.
Prior to the round, you have things like walking from the carpark to the proshop, wandering through the clubhouse, walking to the practice tee, walking around the putting green, etc.
Once you tee off, the real walking begins. But aside from the Tee-to-Green scorecard length, there are many additional distances you may cover: 18 return trips between your buggy and the tee box, and 18 more to/from the greens.  Land in a bunker and you will find yourself walking to a rake, playing the shot, backtracking your way out as you rake, etc.
As you approach a green, many players will circle the green to determine the break for a putt. Miss a putt (or three), and you will walk even more.  Then there are things like walking from the green to the next tee. Or walking from the 9th green to the clubhouse for a coffee or restroom break.
And then there is the biggie: what if you or your playing partner(s) lose a ball (or a dozen) during the round? Depending on your particular "search pattern", you may walk back and forth across a 30m stretch of area many times.
It all adds up.
So just how much does an average golfer walk in a round? And how do we measure it? With the recent boom in smartphone/GPS technology, the question can now be answered.
Borrowing some inspiration from my wife (a walking enthusiast who measures her distances walked via an app on her iPhone) I installed and trialled various iPhone apps to measure the distance I and a few playing partners walked on the course. The apps – Map My Walk, RunKeeper, etc – are designed for walkers/joggers to set and measure their fitness goals. Utilising GPS technology, the apps continuously track an athlete's speed, distance, changes in elevation, etc, and then plot the route on a map.
So, iPhone in pocket, I set about to see just how many metres the average golfer covered.
Note that this was by no means a scientific test. With only a handful of rounds played (using a Low Handicapper, Mid Handicapper and High Handicapper as guinea pigs) the statistical results are by no means comprehensive. Also, we only tested on one course, The Eastern Golf Club in Melbourne, which lists a distance of 5711m on the card. Not long by modern standards, but a solid middle-ground distance.
Our results were astounding.  During a standard 18-hole round (measuring the distance walked from the first tee through to the 18th green) each golfer in our test walked around 8.5km. When we added the off-course measurements (Carpark, clubhouse, practice area) the total was closer to a whopping 9.5km!
No wonder we are so tired after a round!
While that was far longer than any of us had predicted, it was also surprising to note that the difference between the three handicap types was negligible.
The hackers and middle handicappers, as expected, rarely walked down the middle of each fairway; instead playing what many of us call "Army Golf" (left, right, left, right). They also tended to cover extra distance to/from neighbouring fairways, hazard areas and the trees, etc. The average on-course total for this group was 8.8km.
The low handicappers, on the other hand, walked basically down the middle of the fairways, but covered more distance circling the greens (to determined the line/break).  They also helped the others to find lost balls, and of course, they still had the same buggy-green-teebox  return trips. In all, their distance averaged 8.3km, only about 500m less than the High Handicapper.
On a side note, the app indicated that I burned around 1000 calories during each of my rounds. This is based solely on the walking aspect–according to my height/weight, etc, and changes in elevation of around 150m of climb. It does not take into account things like the actual golf swing, practice swings or pushing the buggy. (Nor does it account for some of our other strenuous activities like club throwing, swearing and other actions that doubtless burn extra calories!)
As mentioned, this was not a scientific test, but it certainly shed new light on the fitness benefits of golf.  In a world where obesity is a growing problem (no pun intended), it proves that hitting the links can actually be good for you!
Help us expand this study!

Naturally, every golf course, golfer and specific round is going to be different on any day of the week.  The variations are endless.

That's why we are looking for 1000 Australian golfers to help us expand this research and create what may be a World's First smartphone study into the distance walked during a round of golf.  All you need is a smartphone (like an iPhone/Android, etc) and one of the popular fitness Apps (like Map My Run, RunKeeper, etc).

To participate:

Download a GPS tracking app for your iPhone/Android/GPS unit.
You will need to walk a round of 18 holes (No riding in a cart!)
Activate your GPS app when you are in the carpark prior to your round (be sure to set your phone on "silent" and also disable any audio updates from your app– lest your partners wonder why your bum is speaking!).
IMPORTANT: Keep it in your pocket for the round (don't leave it in your buggy, as that will not accurately measure the distance you walk)
Be sure to turn it off when you return to your car. Then enter the data via the form below:

(Sorry, but this study has now closed. CHECK OUT THE RESULTS HERE)