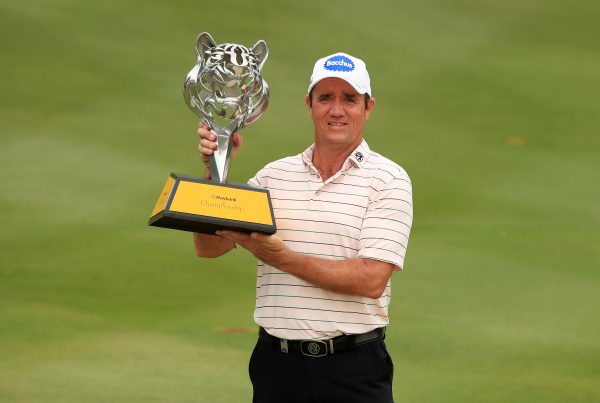 Scott Hend has claimed his third European Tour title in dramatic fashion, beating Spain's Nacho Elvira on the first play-off hole at the Maybank Championship in Kuala Lumpur, Malaysia.
The 45-year-old Australian began the fourth round three shots behind overnight leader Elvira of Spain but went in front courtesy of five birdies on the front nine and remained ahead by one stroke as the final group arrived at the 18th tee.
But there was late drama on the 72nd hole, with a late heavy downpour over Saujana Golf and Country Club, forcing the suspension of play as Elvira made his approach shot into the 18th green. One hour and forty minutes later, Elvira drained a 30-foot putt for birdie, joining Hend on 15-under-par and forcing a play-off.
"What a putt by Nacho," Hend later said. "If I was to go out there and hit that putt you would say you would hole it one in ten times."
Hend got a lucky break when his tee shot at the first extra hole hit the base of a tree and landed on the fairway, while Elvira's ball found a fairway bunker. The Australian hit another tree with his second shot but holed his birdie putt from three feet to clinch the title and banish memories of previous play-off defeats at the Omega European Masters in both 2016 and 2017.
The victory is Hend's first on the European Tour since the 2016 True Thailand Classic Presented by Chang and takes him into the top ten of the 2019 Race to Dubai Rankings Presented by Rolex. It's also a tenth win on the Asian Tour, and his first since he topped the Order of Merit in 2016.
"I'm a grinder and a fighter," Hend said. "So is my caddie Tony. We both have the same mental attitude. It doesn't matter how old we are, we work hard at what we do. Just takes a bit of luck to win. Obviously I had a bit of luck on the play-off hole. If you don't have any luck you won't win.
"The spirit we played in today was great too. He's [Elvira] such a nice guy. We were both egging each other on to play well. That's the way we want to play golf."
Elvira's runner-up finish was his second in as many starts after he ended the Commercial Bank Qatar Masters in a tie for second in his last outing.
"I tried to give it all on the play-off hole. I just missed my driver a little bit and gave myself a little chance to make birdie, but I'm happy. It was thunder in a bad moment, but the gods did give me one back with that putt. I think I played great all week, solid, consistent, I'm very happy with that. I'm happy that my game has finally showed a little bit of consistency."
Jazz Janewattananond of Thailand was another two shots back in third place after mixing five birdies with two bogeys in his closing round of 69, with American Johannes Veerman in fourth at 12 under par.
Oliver Fisher of England and Germany's Max Kieffer were a further shot back on 11 under par, while four-time Major Champion Ernie Els secured his 300th career top ten finish after closing with a round of 71 to sit amongst a group of six players in a tie for seventh at 10 under par.
Round four scores
273 S Hend (Aus) 69 70 67 67, N Elvira  (Esp) 65 72 66 70,
275 J Janewattananond (Tha) 66 72 68 69,
276 J Veerman (USA) 72 69 69 66,
277 O Fisher  (Eng) 70 70 68 69, M Kieffer (Ger) 71 67 68 71,
278 B Hebert  (Fra) 69 73 65 71, F Zanotti (Par) 72 72 66 68, J Smith (Eng) 74 68 71 65, E Els (RSA) 68 70 69 71, D Fichardt (RSA) 76 65 71 66, A Sullivan (Eng) 72 70 67 69,
279 D Lipsky (USA) 72 66 67 74, R Fisher (Eng) 72 71 66 70,
280 D Burmester (RSA) 68 70 73 69, E Van Rooyen (RSA) 71 69 72 68, S Rahman (Ban) 70 71 68 71, M Kawamura (Jpn) 69 70 73 68, N Fung (Mas) 68 73 69 70,
281 C S (Ind) 75 69 68 69, L De Jager  (RSA) 71 69 69 72, J Suri (USA) 69 71 73 68, J Campillo (Esp) 70 73 70 68, M Southgate  (Eng) 74 69 68 70,
282 A Que (Phi) 66 77 73 66, T Jaidee (Tha) 72 71 70 69, R Karlsson (Swe) 71 73 74 64, T Pilkadaris (Aus) 69 75 68 70, L Herbert (Aus) 69 69 73 71,
283 G Green  (Mas) 74 70 69 70, S Sharma (Ind) 71 68 74 70, M Schwab  (Aut) 66 75 70 72, S Norris  (RSA) 71 71 72 69, P Peterson (USA) 70 68 73 72, P Harrington (Irl) 70 73 71 69,
284 M Pavon (Fra) 73 69 72 70, C Bezuidenhout (RSA) 69 74 70 71, K Broberg (Swe) 72 70 71 71, R Fox (Nzl) 71 73 70 70, D Masrin (Ina) 69 68 76 71,
285 H Ryu (Kor) 74 70 73 68, G Migliozzi  (Ita) 71 68 73 73, S Chawrasia (Ind) 69 74 70 72, T Pieters  (Bel) 67 69 78 71, Z Murray (Aus) 68 71 73 73, K Kitayama (USA) 70 71 72 72, R Paratore (Ita) 73 71 73 68,
286 V Madappa (Ind) 70 72 70 74, M Lorenzo-Vera  (Fra) 72 72 72 70, G Coetzee (RSA) 72 71 72 71, A Wu (Chn) 71 73 73 69, M Fraser (Aus) 65 77 72 72, P Meesawat  (Tha) 68 71 72 75, G Bhullar (Ind) 68 75 75 68,
287 T Detry  (Bel) 70 71 76 70, R Rock (Eng) 73 71 72 71,
288 C Paisley  (Eng) 71 71 74 72, M Choi (Kor) 71 73 74 70, M Lee (Aus) 73 71 73 71,
289 W Lin (Tpe) 73 70 74 72, P Saksansin (Tha) 68 74 76 71, S Vincent (Zim) 70 72 74 73, L Slattery (Eng) 72 71 73 73, J Todd (USA) 73 71 71 74, A Pavan (Ita) 69 71 73 76,
290 A Sandhu (Ind) 72 72 72 74, B Stone (RSA) 68 74 74 74, N Colsaerts  (Bel) 70 74 78 68, R McEvoy  (Eng) 70 74 73 73,
291 R Gouveia (Por) 69 73 74 75, P Tangkamolprasert (Tha) 72 69 74 76,
292 D Law (Sco) 73 71 74 74,
294 K Horne (RSA) 71 73 78 72,
295 M Shin (USA) 74 70 77 74