Graeme McDowell, the 2010 U.S. Open champion, has joined Srixon® as a member of their PGA Tour staff. McDowell, who is also a six-time winner on the European Tour, will play Srixon® irons, Cleveland® wedges and Srixon® balls. He will also wear a Srixon® hat and glove and carry a Srixon® bag.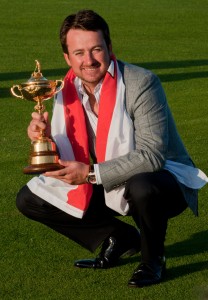 "We are extremely pleased to have Graeme as a member of our PGA Tour staff," said Greg Hopkins, CEO of Cleveland® Golf/Srixon®. "Having a world class player such as G•Mac choose to make the switch to Srixon, especially following such a successful 2010 season, not only says a lot about the faith he has in our products but also reflects as to the type of competitor and representative he'll be for our brands."
McDowell, who is also known as G•Mac, represented Ireland in the 2009 World Cup and was a 2010 Ryder Cup hero for Europe, scoring the decisive point in Europe's dramatic victory over the United States. G•Mac was also voted 2010 Player of the Year by the Golf Writers Association of America and joint 2010 Player of the Year on the European Tour.
"I am really excited about my decision to sign with Srixon," said McDowell. "There is a great energy amongst the team at Srixon regarding my signing with them and I am looking forward to feeding off this energy going into 2011."
Before turning professional, McDowell had a successful amateur career in both Ireland and the United States, where he won numerous tournaments and was named the most outstanding collegiate golfer in 2002