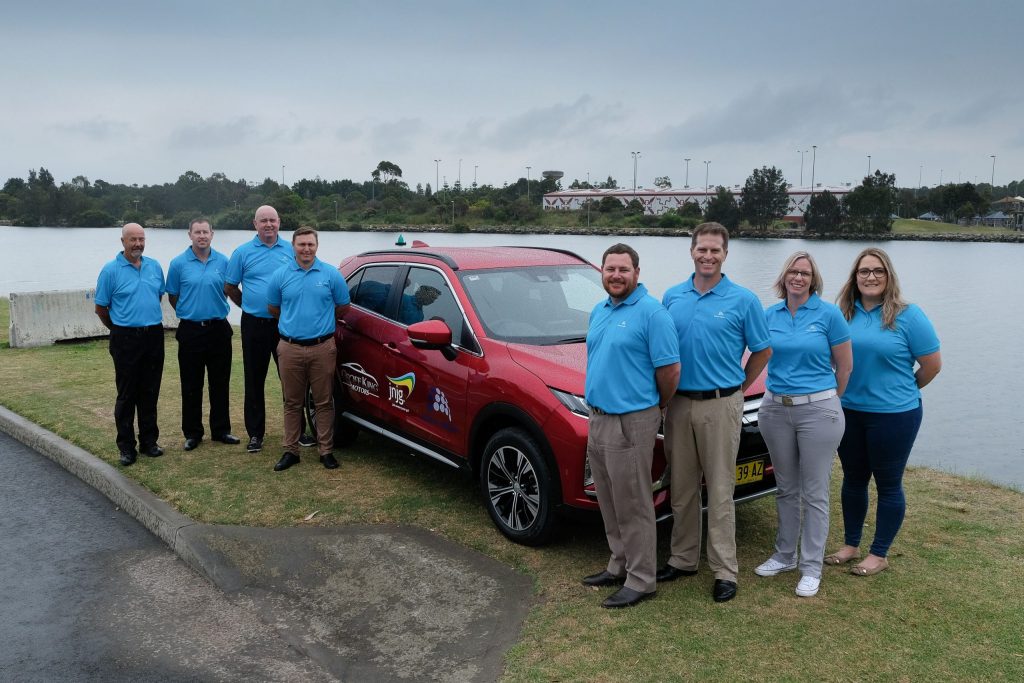 Golf NSW, in conjunction with Jack Newton Junior Golf (JNJG), has appointed eight Regional Managers to deliver participation programs and club support services throughout NSW and the Australian Capital Territory.
Stuart Fraser, CEO of Golf NSW, said the appointments are a first for the two closely-aligned organisations, and a significant commitment to not only golf but sport in general across the State.
"This is an exciting development for golf and sport in general across regional New South Wales," Mr Fraser said.
"The appointments will not only assist Golf NSW and JNJG grow the game across the State, but also ensure all of our affiliated clubs & districts can access the raft of benefits our organisations do provide.
"With participation levels on the increase and the sport being an ideal iso-friendly pastime, it's the perfect time to convert this uptick in numbers into memberships and long-term golfers," Mr Fraser added.
Peter Van Wegen, Chief Executive of JNJG, said the appointments would streamline the delivery of many of the organisations programs, and assist in opening pathways for many of the State's talented juniors.

"Having staff on the ground equipped with the combined resources of Golf NSW and JNJG will provide juniors across the state with the best opportunities available," Mr Van Wegen said.
The managers will be responsible for the delivery of development initiatives and support programs including:
Juniors on the Move and the national MyGolf program.
School liaison & teacher training.
Membership initiatives and in-house programs for clubs.
Talent Identification and performance pathways between regional academies of sport, clubs, and the Golf NSW High-Performance Program.
Development of adult beginner programs including Get Into Golf for Seniors, and Get into Golf for Women.
Promotion of tournaments including Golf NSW Amateur and Open Championships, the Keno Ambrose, and the JNJG tournament calendar.
Delivery of club support services including Operations, Marketing, Strategic Planning & Agronomy expertise.
District Golf Association support, including regional championships and inter-club event management.
The eight managers and the regions they will oversee are:
Mark Ingrey – Newcastle/ Hunter
Inspired by his grandparents, Mark began playing as soon as he could walk. A PGA Member since 2000, Mark has held a variety of roles within sport both in Australia and abroad, including coaching stints in Dubai and more recently across the Newcastle/Hunter Region at The Vintage, Pacific Dunes and Kooindah Waters.
"This is one of the most rewarding roles you could ask for; inspiring all ages to enjoy golf while helping the viability and future of the sport across NSW,"

Mark Ingrey, Golf NSW Regional Manager, Hunter/Newcastle.
Cade Webb – Murray
A lifelong golfer and committed representative member of Thurgoona Country Club, Cade has worked for many years on the club's thriving junior program alongside Club Professional Penny Graeber. He has also been a vital member of the club's volunteer army at the past three Lincoln Place NSW Senior Opens.
A Life Member of Albury United Soccer Club. Cade is a passionate advocate for sport in the Murray/border region, often commentating on local football and through a popular Facebook podcast.

"I love the sport, it is one of my passions. I can't wait to get out there and help grow the sport in the Murray – Border Region.  Golf has given me some great memories, and wonderful friendships. This role is one way I can give back."

Cade Webb Golf NSW Regional Manager, Murray.
Luke Grinham – South Coast/ Canberra:
Luke began playing golf at Coffs Harbour in 1998 following a knee injury playing Rugby. His approach to the sport soon became serious, joining JNJG and playing in as many tournaments as possible. 
After victory in the 2001 Bonville Club Championship, Luke accepted an offer to head to Campbell University in North Carolina to play college golf and complete a Bachelor of Business, Majoring in Professional Golf Management.
Following his studies in 2005, Luke remained in the United States, eventually becoming Director of Golf at two large facilities.
Grinham returned to Australia in 2008 and completed a PGA traineeship at Coffs Harbour Golf Club under Matthew Allen. After some success on the Pro-Am Circuit Luke accepted a role at Mollymook Golf Club, before joining JNJG in 2013.
"I plan to continue to make a difference in golf for the rest of my life. I always remember my time as a junior with JNJG, and I hope I can help others gain some amazing lifelong memories form this sport,"

Luke Grinham, Golf NSW Regional Manager, South Coast/ACT.
Luke Woods – Northern NSW:
A PGA Professional with a Bachelor of Business in Sports Management, Luke has held a variety of roles within the golf industry, notably with the Golf Channel both here and abroad.
Luke, 30, describes himself as a student of the game and enjoys the sport's long and storied history.
Luke added his experience as a new father, and some recent time employed as a disability support worker has left him humbled by the challenges many others face.
"I am looking forward to broadening my knowledge of the sport and sharing my expertise with others. It will be great to be part of a thriving team and seeing this ever-challenging game grow,"

Luke Woods, Golf NSW Regional Manager, Northern NSW.
Nicole Bessant – Illawarra:
Introduced to the sport by her parents at the age of 11, Nicole became a regular at the Saturday Junior Clinics held at the Camden Valley Golf Resort in the early 2000s.
After joining the Camden Valley soon after, Nicole played as often as she could; within a few years, she was a club representative and a keen participant in JNJG tournaments across the State.
Bessant joined Golf NSW as an Events Coordinator in 2011, where she has been a vital part of the team running events as varied as Metropolitan Major Pennant and the Men's and Women's NSW Open Championships. Nicole is also a Level three National Rules Referee and made her first solo referring appearance during the 2019 Australian Open at The Australian Golf Club in Sydney.
A two-time winner of the Liverpool Golf Club Ladies Championship and more recently a two-time winner of the Women's Crown at The Highlands, Nicole is currently a member of Gibraltar Golf Club in the Southern Highlands.
"I love the game. My whole family plays, our partners play. It has been a tremendous influence on my life. Whether you play good, bad, or ugly, it is wonderful to be out there enjoying some of the priceless relationships you build through this sport,"

Nicole Bessant, Golf NSW Regional Manager, Illawarra.
Andrew Robb – Central West:
Andrew took to the sport in his twenties after a youth spent playing cricket. It wasn't until an after-hours game with some work colleagues in the early 1990's that the golf bug bit. 
Andrew joined his current club, Glenmore Heritage Valley, in the mid-1990's, and has held a variety of roles in the organisation including on the match committee and his current role as Captain.
Besides club duties, Andrew is also the Manager of Game Development, Rules Handicapping and Ratings at Golf NSW. He is also a member of the Australian National Course Rating Advisory Panel and a Level Three National Rules Referee. Andrew has officiated at several Men's and Women's Australian Open Championships and was a Rules Official at the 2019 Junior Presidents Cup at Royal Melbourne.
"I am looking forward to working closely with the clubs across the central west to help them in any way I can,"

Andrew Robb, Golf NSW Regional Manager, Central-West.
Tanya Smith – Metropolitan South:
Tanya, originally from the Gold Coast, 'picked up the sticks' aged just 14 in a bid to outdo her brothers.

With a natural flair for the game, Tanya moved quickly through club ranks, representing Windaroo and Indooroopilly in inter-club competition. During her final two years of high school, Tanya represented Queensland in interstate school's competition. 
After completing a Bachelor of Business, Tanya relocated to Sydney in 2001, playing pennant and, at the same time, began her career in the golf industry at Eastlake Golf Club. Tanya Joined the ALPG in 2005 for a stint on tour, before returning to club pro shop work.
Tanya was elected to the Board of Eastlakes Golf Club in 2010, serving for seven years as a director and the Club's Captain, before accepting a role with JNJG in 2013.
"It has been thoroughly rewarding seeing all the kids getting enjoyment out of the sport I have loved for so many years. I look forward to helping the game continue to grow well into the future,"

Tanya Smith, Golf NSW Regional Manager, Metropolitan South.
Greg Watkinson:
Involved in the sport since the age of 12, Greg has been a Territory Manager with JNJG since 2011.
Overseeing a footprint which stretches from Palm Beach in the north, west to Glenmore and Richmond in the north-west, Greg has been responsible for delivering golf programs to around 780 schools, 55 affiliated clubs and another five driving ranges.
"It was always exciting to contribute to the growth of golf with juniors, and now I am looking forward to the challenge of growing adult golf across the region,"

Greg Watkinson, Golf NSW Regional Manager, Metropolitan North.