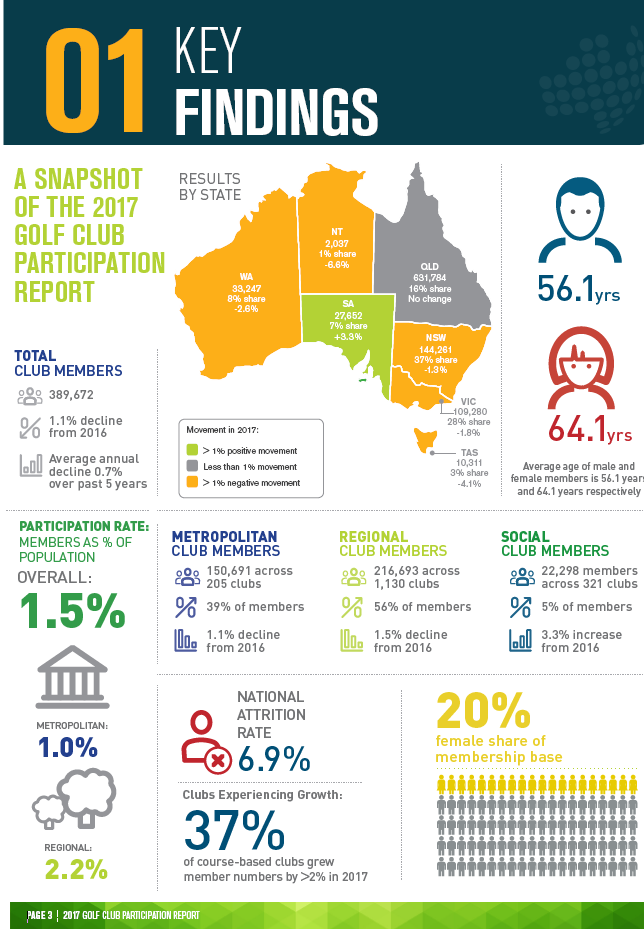 Golf Australia has released the 2017 National Golf Club Participation Report, which provides annual figures and trends on membership, competition rounds, general participation and specific program participation. The report breaks data into states/territories, districts, gender and age. The 2017 report also includes participation data recorded from AusPlay and comparison trends with other sports.
The 2017 report highlights the national golf club membership is 389,672 members, comprising 80% male and 20% females. This represents a 1.1% decline since the 2016 report with declines of greater than 1% in most districts around the country. This reflects the challenges facing traditional sports from a range of societal and demographic pressures. Despite this, club golf remains vital to regional communities and golf remains the most popular club sport for adults in Australia.
Regional areas recorded an overall membership decline of 1.5% whilst metropolitan areas fell by 1.1%. Social memberships increased by 4.3%, now accounting for 5.7% of total club memberships. South Australia was the only state to record membership growth in the year with a 3.4% increase.
Golf competition rounds remain steady. In 2017 10.3 million rounds were recorded, a slight increase on 2016 and an increase of 0.7% over five years.