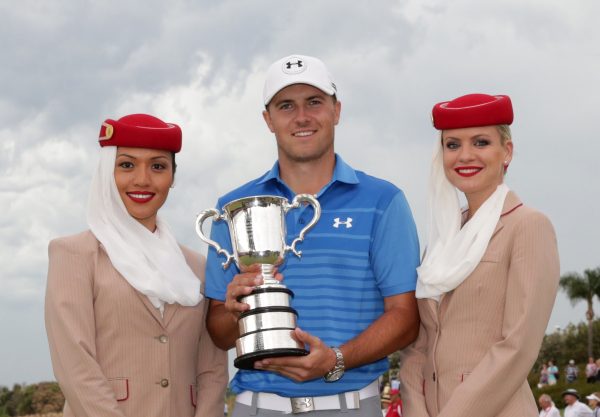 Jordan Spieth wowed his Australian audience with a command performance in Sydney, then immediately promised to defend his Emirates Australian Open title in 2015.
Spieth, the 21-year-old Texan already close to the top 10 players in the world, smashed the course record at The Australian with a closing 63, finishing six shots ahead of his closest pursuer, Queenslander Rod Pampling, and leaving world No.1 Rory McIlroy and No.3 Adam Scott in his wake.
His amazing round in tough, windy conditions was immediately hailed as one of the greatest in the long history of Australian tournament golf; Spieth himself said it was the best round he had ever played.
"Yes, I'm certainly coming back to Australia," he said, clasping the Stonehaven Cup with its roll call of legendary names including Nicklaus, Player, Palmer, Watson, Thomson and Norman.
 "I've freakin' had an unbelievable time this week, on the course, off the course. We stayed at the Darling (Harbour) at the Star (casino hotel) … I got to go to the Opera House bar and hang out there and Michael (caddie Michael Greller) actually took his wife to the Nutcracker last night and he said it was an unbelievable experience. We made the most of our trip. I'll certainly be back."
He will find himself welcomed with open arms. Spieth was a genial and articulate visitor all week, regardless of how well he played, which as it happened, was crazy good. He started the day in a tie for the lead and made four birdies in the first seven holes including three on the trot from the fifth to the seventh.
McIlroy could not make ground; nor could Scott. Spieth looked like he was playing a different golf course.
Scott carded an even-par 71 to finish fifth, and he was impressed with Spieth's ability to score in tricky winds. "Yes it is surprising but we're talking about one of the best players in the world and when things go your way, there's almost no limit to what guys can shoot," Scott said.
The 45-year-old Pampling birdied five of the last six holes to finish second and secure a spot for himself in the 2015 Open Championship at St Andrews, along with Brett Rumford and Greg Chalmers.
In the cool light of the evening, Spieth was happy to scan the names on the trophy. "I didn't realise Gary Player won it seven times and Jack (Nicklaus) won it six, plus the more recent names of Adam and Rory. Hall-of-famers, that's what I think of when I see this trophy and you don't see that often on a trophy. It's really cool that my name will go on here and I'll get to keep this trophy … maybe not this one, but a replica!"