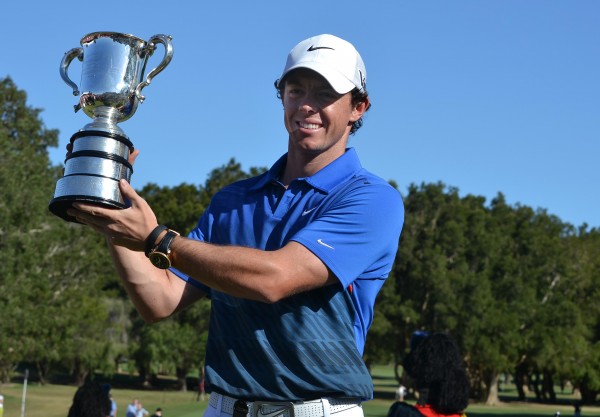 Northern Ireland's Rory McIlroy snatched the Emirates Australian Open title from the hands of Adam Scott to claim his first victory of the year at Royal Sydney Golf Club.
Trailing Scott for the majority of Sunday, the World Number 6 drained a 12-foot birdie on the 18th green to collect his first title since November 2012, while it was heartbreak for Scott who bogeyed the last.
McIlroy's final round of 6-under 66 was just too good for Scott who with a 1-under 71, (his worst round of the tournament), finished at 17-under the card in second position.
2006 Australian Open Champion John Senden finished in third position, while Bryden Macpherson and Rhein Gibson rounded out the leaderboard at 9-under.
McIlroy was delighted to finish atop the leaderboard for the first time in 2013.
"Since the end of September I've just felt in a better place, a better place mentally with some things off the course," said McIlroy.
"Golf's a long career and I'm 24 years old.  I get a little impatient at times and if I actually just took a step back and looked at the bigger picture, it hasn't been too bad a year."
While admitting that he felt a little guilty of ruining Scott's Triple Crown glory, McIlroy had nothing but praise for Scott.
"He's had a phenomenal year.  Masters champion, he won one of the FedEx Cup play off events.  He came down here to Australia, won the Aussie PGA and then the Aussie Masters.  Then World Cup last week and here," he said.
"He's a true gentleman and he's a credit to the game but he's also a credit to this country.  I was just lucky to be able to come out on top today."
Whilst disappointed that the Triple Crown fairytale didn't end as predicted, a dejected Scott was thankful for such a successful season that included victory at the US Masters and back-to-back wins at the Australian PGA Championship presented by Coca-Cola and the Talisker Masters in November.
"It's been a great year. Obviously I didn't want to finish like that. If I didn't play any good the first few days and played great today and finished second I'd be pretty chuffed going into Christmas, so that's how I should look at it," said Scott who shot a course record 10-under 62 on Thursday.
"I'm gutted.  I felt like I never had a better chance to win the Aussie Open but it was tight the whole back nine."
"Nothing was going my way on the greens today.  I could have put this thing away I think early on if the putter was behaving how it should have, like it did the rest of the week but I just misjudged into the last and a player as good as Rory is going to take that opportunity."
Regardless of the result Scott still secured the PGA Tour of Australasia Order of Merit title, his second since turning Professional in 2000.
Western Australia's Brady Watt also didn't leave empty handed, his 5-under par finish in a tie for 14th earning him the title as low amateur in the field.