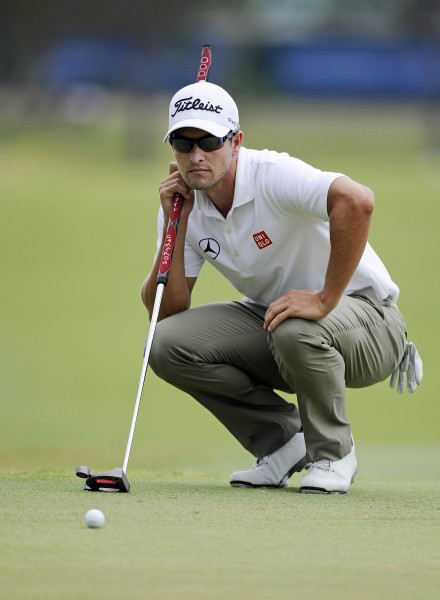 Australia's World Number 2 Adam Scott has confirmed he will return to play the Emirates Australian Open at The Australian Golf Club from 27-30 November.
Scott came agonisingly close to securing an historic triple crown of Australian events last year before Northern Ireland's World Number 1 Rory McIlroy birdied the final hole to clinch victory.
The 34 year-old, who won the Crowne Plaza Invitational on the PGA Tour in Texas in May, said he was looking forward to going one better at The Australian Golf Club this year.
"I finished such an amazing month on such a disappointing note, and the result just gutted me for weeks in not winning the Australian Open," Scott told reporter Bernie McGuire overnight.
"I will be going back there with a chip on my shoulder. I don't often get upset but I was really mad at myself because I was absolutely gutted in not being able to win last year."
"So I will be playing at The Australian Club with real intent to make amends for what happened at Royal Sydney," Scott said.
"It's great that Rory has decided to return to defend his title and all credit to him because after the season he's had this year it will be huge for golf in Australia that he's decided to return," Scott said of McIlroy.
"Rory is doing Aussie golf a huge favour and it's great the hottest guy in golf is going to come back down to Sydney and it's good Australian golf is attracting that talent as it will be two years in a row we're going to have one of the best players there is."
Golf Australia CEO Stephen Pitt said Scott's confirmation was a terrific boost to the championship.
"Naturally we're thrilled that Adam will compete again at the Emirates Australian Open with such a passion to win and he'll be able to re-engage in that compelling rivalry we witnessed with Rory last year at Royal Sydney," Pitt said.
"We had a phenomenal week in 2013, with so much buzz around Adam culminating in that memorable Sunday afternoon and you just couldn't look away from the action – whether you were there in person or watching on television" Pitt said.
"It was nail-biting and we can't wait to go through it all again."
Deputy Premier and NSW Minister for Tourism and Major Events Andrew Stoner said: "The NSW Government welcomes the return of World Number 2 golfer Adam Scott to play in the Emirates Australian Open in Sydney, Australia's sporting capital."
"The NSW Government, in partnership with Golf Australia, secured the Open, a premier event of its kind in the Asia Pacific region, in Sydney for four years, until 2015."
"We look forward to hosting Adam Scott in Sydney in November. As one of the country's most successful golfers, sporting fans will to come to Sydney to see him in action at the glorious Australian Golf Club," Mr Stoner said.
The 2014 Emirates Australian Open will again be broadcast on the Seven Network and is sanctioned by the PGA Tour of Australasia and OneAsia.
The championship is managed by Golf Australia in partnership with World Sport Group and TRP Sports.
The Emirates Australian Open will be played at The Australian Golf Club from 27-30 November.