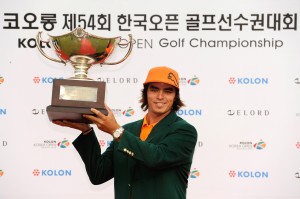 American Rickie Fowler emphatically claimed a first career victory at the Kolon Korea Open on Sunday after storming to a six shot win over US Open champion Rory McIlroy at Woo Jeong Hills Country Club.
World number 36 Fowler, 22, carded a three-under-par 68 final round to top the leaderboard at 16-under-par overall and complete a wire-to-wire win at the KRW1,000,000,000 OneAsia event despite finishing with back-to-back bogeys.
McIlroy produced a fourth round rally after playing his final 11 holes in seven-under-par to card a superb 64, but the 22-year-old was left to rue a third round 73 as the world number three was forced to settle for a second consecutive runner-up finish.
"It was a lot of fun. I played well early on in the final round and then I was comfortable over the last few holes. Overall, I enjoyed the whole week," said Fowler.
"It feels great to have the first win. I played well all week, although I did have to hang in on Friday and post a score. But on Thursday, Saturday and Sunday I had good control of my ball, I drove well, and I made some putts."
The 2010 US PGA Tour Rookie of the Year began with opening rounds of 67 and 70 before establishing a commanding four shot lead over defending champion YE Yang heading into the final round after carding a bogey-free course record equalling eight-under-par 63 on Saturday.
"I'm happy with the way I have played on the PGA Tour, but I have never shot low enough to win," he added.
"This week I played well for four rounds which I have not been able to do that in the past."
Fowler had already followed up his breakthrough season in 2010 with four top-10 finishes this year, including fifth at The Open and runner-up finish at the WGC-Bridgestone Invitational.
"I am looking forward to some time off and then I can look at everything and set some goals for next year," he said.
"I will play mainly on the PGA Tour next year and I would like to get my first win there, and this win will defiantly help me achieve that.
"I also haven't made the Tour Championship in the last two years, so that is another goal for next year. But the biggest goal is to make sure I make the Ryder Cup team."
McIlroy, meanwhile, followed up his second place finish at last week's Alfred Dunhill Links Championship after also posting back-to-back third placed finishes in his previous two events.
"It was a nice way to finish, but all the damage was done during the third round with a couple of bad holes in the middle of the round," said McIlroy, who dropped six shots in eight holes around the turn on Saturday after opening rounds of 68 and 69.
"Looking back on this week, I will rue my third round, which could have been a lot better. If I had played a little better and shot a few under I might have had a chance, but Rickie has played fantastic this week and he deserves the win."
Korea's Republic's Kim-Meen-whee closed with a level par final round to claim third place ahead of Yang after the 2009 PGA Championship winner could only manage a 75 to slip to fourth.
Australia's Andre Stolz, meanwhile, strengthened his position at the top of the OneAsia Order of Merit with just two events remaining after finishing 10th alongside Kim-Dae-hyun and amateur Kim Soo-min.
Leading scores after the final round of the Kolon Korea Open being played at the par 71, 7225 Yards Woo Jeong Hills Country Club (am= denotes amateur):
268 – Rickie Fowler (USA) 67-70-63-68.
274 – Rory McIlroy (NIR) 68-69-73-64.
277 – Kim Meen-Whee (KOR) 69-71-66-71.
279 – YE Yang (KOR) 67-70-67-75.
281 – Noh Seung-yul (KOR) 72-69-70-70.
283 – John Huh (USA) 69-73-72-69, Lee Kyoung-hoon (KOR) 74-71-68-70.
284 – Bronson La'Cassie (AUS) 70-67-73-74.
285 – Kim Seung-hyuk (KOR) 72-73-70-70.
287 – Kim Dae-hyun (KOR) 73-71-73-70, Andre Stolz (AUS) 76-71-69-71, Lee Soo-min (am, KOR) 68-73-74-72.