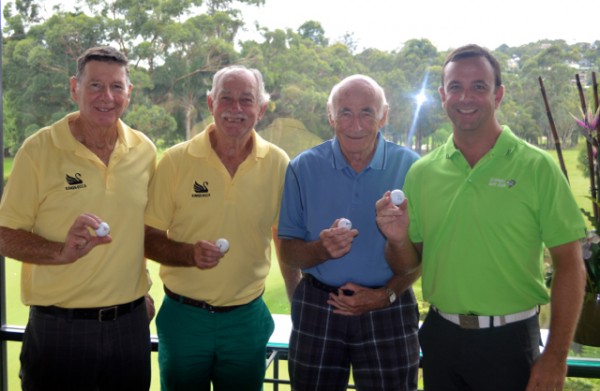 Four Cromer Golf Club members have proven that four aces indeed beats a full house (of golfers). On Wednesday 4th February 2015, the quartet were lucky enough to all have holes-in-one in the same competition, all on separate Par-3's.
Cromer Member Jack Ireland holed out on the 155m uphill 2nd, Russell Lumb equalled the feat on the 102m water-carry 4th, Craig Plimmer nabbed his Ace on the 142m uphill well-guarded 9th hole and, finally, Chris Michael scored the elusive "1" on the 142m 15th hole.
Obviously all players and the Club are ecstatic about the feat.
Cromer golf operations manager Scott Cain says the club is scouring the record books worldwide to see if such a feat had ever previously occurred. As far as we can tell, the odds of the feat have never been calculated, but as previously reported (in our story about three aces in one day at Eastwood Golf Club) the odds of making a hole-in-one vary greatly, depending on the source and the calculation method. According to various sources, for an amateur to score an ace on a standard 150-yard hole, the probability is anywhere from 1 in 10,000 to 1 in 45,000 (this number is significantly lower for professional golfers).
Two players from the same foursome acing the same hole is something along the magnitude of 17 million to 1, according to www.nationalholeinoneregistry.com. Despite our research, we cannot find an estimate of the odds of four aces on the same course on the same day.
Cromer golf club is a private championship course with first class facilities, located on Sydney's Northern Beaches, adjacent to the Narrabeen Lake and the surrounding Garigal National Park. The course is known for its classic bushland setting, native flora, an abundance of birdlife and a cool breeze from the calming water of the lake. Strategically-placed bunkers, creeks and ponds all contribute to making Cromer a wonderful golfing experience.
www.cromergolfclub.com.au