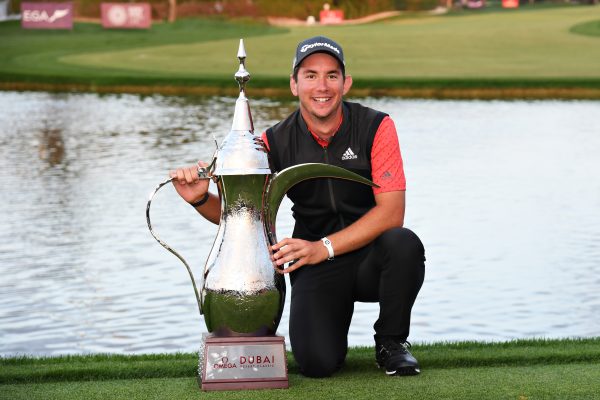 Lucas Herbert won his maiden European Tour title with a play-off victory over Christiaan Bezuidenhout on a dramatic final day at the Omega Dubai Desert Classic.
The duo entered the final day six shots off the lead but with strong winds and showers at Emirates Golf Club, the leaderboard was blown wide open.
Bezuidenhout and Herbert both fired brilliant rounds of 68 to get to nine under par, with the South African finding water after laying up on the last and making a clutch putt for bogey, while Herbert birdied the 17th and 18th.
It was the Australian who found the water with his second on the first play-off hole before saving par thanks to a stunning shot from the drop zone to take it back to the tee.
His second shot next time around could not have been more different, as he got within 20 feet and a two putt birdie handed him the title, and second position in the Race to Dubai Rankings.
"The last ten minutes feel like I've been dreaming. It's so weird. It's awesome. It's just the best thing ever. It is so good. We've got a bottle of Scotch at home to celebrate, so I can't wait to get into that with the boys," Herbert said.
"Last week, I was probably like 20th going into the weekend, and probably like for the tenth time in the last 12 months seemed to just back it out and finish at the back of the field. We got really frustrated so put in some really good tactics this week with my mental coach, Jamie Glazier, trying to be positive and a lot of positive stuff. It's so cliché but it works so much. I felt so confident out there and just felt like good golf was going to come.
"I spoke to him just before the play-off, and we talked about the fact that I hit some really poor shots out there today. Obviously the second shot on the first play-off hole, probably not one of my best, but you know, you go back and watch any sort of winners, final nine holes, final round, play-off holes, it's never a perfect scenario. Everyone always hits bad shots, and everyone will probably forget about that now that I've just gotten that up-and-down and won a tournament.
"I know everyone back home is going to be still up, and obviously there's some pretty awful stuff happening right now in Australia with the fires; and Cam Smith sort of said it a couple weeks ago when he won, and I'd like to say the same thing. Everyone around the world is behind us and hopefully we can keep fighting harder than what I did on the first play-off hole. That's nothing compared to the firefighters and volunteers putting out the fires. Sending all my love back home and hope everyone is well, and thanks for the support."
Spaniard Adri Arnaus, South African Dean Burmerster and England's Tom Lewis finished at seven under, a shot clear of American Kurt Kitayama and China's Wu Ashun.
Final scores
Lucas Herbert won at the 2nd play-off hole and after 72 holes with a total of 279 (-9).
279 L Herbert (Aus) 69 71 71 68, C Bezuidenhout (RSA) 73 66 72 68,
281 T Lewis (Eng) 73 69 65 74, A Arnaus (Esp) 72 68 71 70, D Burmester (RSA) 69 68 72 72,
282 K Kitayama (USA) 69 70 68 75, A Wu (Chn) 69 69 67 77,
283 M Lorenzo-Vera (Fra) 74 71 67 71, B Dechambeau (USA) 70 67 70 76, R Macintyre (Sco) 74 70 67 72,
284 D Lipsky (USA) 68 75 71 70, T Fleetwood (Eng) 75 65 69 75, S Lowry (Irl) 72 69 69 74, E Pepperell (Eng) 69 67 72 76, M Pavon (Fra) 69 71 75 69,
285 V Perez (Fra) 73 66 67 79, I Poulter (Eng) 71 73 71 70, M Kaymer (Ger) 72 71 73 69, G Forrest (Sco) 73 68 69 75, M Jiménez (Esp) 72 74 69 70, N Elvira (Esp) 73 70 66 76, J Singh Brar (Eng) 71 71 70 73,
286 M Schwab (Aut) 72 72 70 72, V Hovland (Nor) 71 70 71 74, S Garcia (Esp) 71 72 70 73, L Oosthuizen (RSA) 71 72 73 70,
287 R Langasque (Fra) 69 69 73 76, K Samooja (Fin) 69 74 70 74, G Green (Mas) 73 71 70 73,
288 R Fox (Nzl) 76 70 66 76, M Korhonen (Fin) 74 71 68 75,
289 J Smith (Eng) 72 70 71 76, J Guerrier (Fra) 71 74 73 71, S Jamieson (Sco) 74 71 69 75, T Pulkkanen (Fin) 73 73 72 71, T Detry (Bel) 73 72 72 72,
290 S Kjeldsen (Den) 69 76 65 80, H Stenson (Swe) 72 70 72 76, E Van Rooyen (RSA) 70 75 69 76, T Pieters (Bel) 67 77 69 77, J Harding (RSA) 71 73 71 75, J Winther (Den) 76 70 65 79,
291 L Gagli (Ita) 75 70 73 73, D Willett (Eng) 76 70 72 73,
292 A Björk (Swe) 77 69 72 74, A Otaegui (Esp) 72 71 74 75, R Karlsson (Swe) 69 68 79 76, B Hebert (Fra) 72 73 68 79, M Fitzpatrick (Eng) 74 71 69 78,
293 N Colsaerts (Bel) 77 69 69 78, P Harrington (Irl) 71 75 73 74, D Law (Sco) 75 71 76 71, G Bhullar (Ind) 73 71 74 75, R Wattel (Fra) 70 76 76 71, L Westwood (Eng) 78 68 73 74,
294 S Norris (RSA) 69 73 72 80, M Kawamura (Jpn) 69 73 75 77,
295 Z Lombard (RSA) 71 75 74 75, C Shinkwin (Eng) 73 73 70 79, J Scrivener (Aus) 77 69 73 76, D Drysdale (Sco) 74 71 74 76, J Hansen (Den) 75 70 74 76, S Crocker (USA) 72 72 75 76, R Ramsay (Sco) 73 73 73 76, N Møller (Den) 74 72 75 74,
296 N Bertasio (Ita) 74 70 70 82, M Keyser (RSA) 74 68 72 82, J Luiten (Ned) 72 72 73 79, S Heisele (Ger) 70 69 74 83,
298 S Soderberg (Swe) 71 75 77 75,
299 A Rai (Eng) 77 69 72 81,
CUT
147 A Johnston (Eng) 76 71 0 0, B Poke (Den) 76 71 0 0, G McDowell (Nir) 72 75 0 0, R Fisher (Eng) 75 72 0 0, J Morrison (Eng) 75 72 0 0, M Kieffer (Ger) 77 70 0 0, J Schaper (am) (RSA) 71 76 0 0,
148 W Ormsby (Aus) 74 74 0 0, S Horsfield (Eng) 72 76 0 0, O Fisher (Eng) 72 76 0 0, R Rock (Eng) 74 74 0 0, P Larrazábal (Esp) 73 75 0 0, T Lee (Kor) 72 76 0 0, H Porteous (RSA) 75 73 0 0, D Horsey (Eng) 77 71 0 0, J Lagergren (Swe) 79 69 0 0, M Southgate (Eng) 74 74 0 0, S Brown (Eng) 77 71 0 0, B Wiesberger (Aut) 76 72 0 0,
149 A Quiros (Esp) 75 74 0 0, R Cabrera Bello (Esp) 76 73 0 0, R Paratore (Ita) 73 76 0 0, J Wang (Kor) 79 70 0 0, P Waring (Eng) 77 72 0 0, D Howell (Eng) 80 69 0 0, R Sterne (RSA) 75 74 0 0, M Kinhult (Swe) 75 74 0 0,
150 J Walters (RSA) 78 72 0 0, D Gaunt (Aus) 78 72 0 0, A Chesters (Eng) 75 75 0 0, T Aiken (RSA) 74 76 0 0, S Gallacher (Sco) 73 77 0 0, G Migliozzi (Ita) 75 75 0 0, E Molinari (Ita) 76 74 0 0,
151 R McEvoy (Eng) 78 73 0 0,
152 B Stone (RSA) 73 79 0 0, S Hend (Aus) 73 79 0 0, R Højgaard (Den) 75 77 0 0, S Sharma (Ind) 77 75 0 0, J Janewattananond (Tha) 76 76 0 0, A Levy (Fra) 81 71 0 0,
153 P Lawrie (Sco) 77 76 0 0, O Wilson (Eng) 75 78 0 0, C Paisley (Eng) 76 77 0 0, M Wallace (Eng) 77 76 0 0,
154 H Li (Chn) 78 76 0 0, F Zanotti (Par) 75 79 0 0, J Hill (am) (Eng) 77 77 0 0,
155 S Imahira (Jpn) 81 74 0 0,
156 V Dubuisson (Fra) 81 75 0 0, G Storm (Eng) 83 73 0 0, J Campillo (Esp) 76 80 0 0, R Jacquelin (Fra) 79 77 0 0,
157 C Wood (Eng) 79 78 0 0,
158 A Pavan (Ita) 76 82 0 0, A Marjan (Mar) 79 79 0 0,
160 H Konig (Eng) 80 80 0 0,
162 G Coetzee (RSA) 82 80 0 0,
171 O Almulla (Ksa) 83 88 0 0,
** A Sullivan (Eng) DQ 0 0 0, T Bjørn (Den) RT 0 0 0,