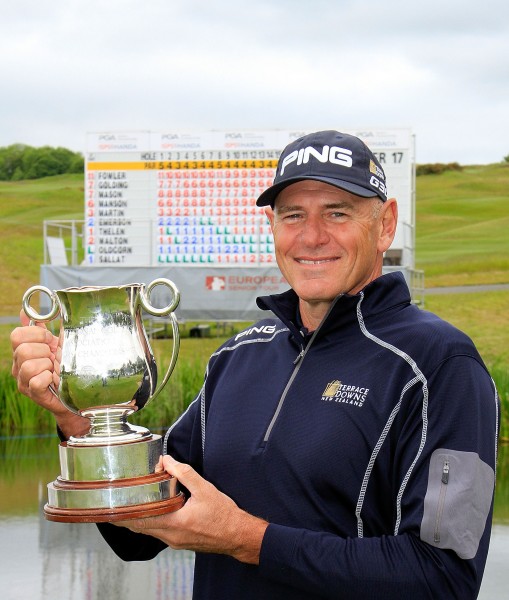 Peter Fowler continued his incredible recent form by claiming a second consecutive European Senior Tour title at the ISPA Handa PGA Seniors Championship in England.
The Australian came into the final day with a four-shot lead and eventually won by three, but he did not have it all his own way during the final round at Close House in Newcastle-upon-Tyne.
Fowler, the winner of last week's Acorn Jersey Open, double bogeyed the ninth hole to see his lead disappear as Austria's Gordon Manson pulled level with the 56 year old.
But Fowler refused to buckle and refocused his efforts on the back nine, eliminating his mistakes and conjuring three birdies to ensure a fifth European Senior Tour win.
"This is certainly a good one," Fowler said. "I was up there from start to finish and to play a couple of rounds with Carl Mason on a weekend, you can't ask for better than that. I probably thought after nine I could be caught but it was time to knuckle down and play golf. Over the course of the whole week, this is the best I have played for a few years. My putting has been the best it has been for a long, long time, and I'm rapt with that. You can't win tournaments without your putting.
I enjoyed the course this week. I studied it quite hard because I played it a few years ago so I tried to remember how the designer told me to play the course. When it is bouncy like it was you have to really know where the slopes are. I had a lot of information with me and that made it easier. Two wins in a row is something that doesn't happen very often. There's a lot of years of hard work, almost 15 years, to get to this stage, so it's been worth it."
Complete Fourth Round Scores:
272 P Fowler (Aus) 68 67 67 70,
275 G Manson (Aut) 69 73 65 68,
276 C Mason (Eng) 68 68 70 70,
278 M Martin (Esp) 69 74 67 68,
279 P Golding (Eng) 72 68 66 73,
281 T Thelen (USA) 70 73 69 69,
283 J Sallat (Fra) 68 71 75 69, G Emerson (Eng) 68 75 72 68,
284 P Walton (Irl) 70 70 71 73, P Linhart (Esp) 72 72 71 69, A Forsbrand (Swe) 71 75 70 68,
285 G Rusnak (USA) 77 66 73 69, G Wolstenholme (Eng) 73 72 69 71, A Oldcorn (Sco) 74 70 69 72,
286 P Eales (Eng) 72 75 69 70,
287 A Franco (Par) 74 73 67 73, T Price (Aus) 70 76 70 71,
288 M Harwood (Aus) 70 74 71 73,
291 S Tinning (Den) 69 75 71 76, A Bossert (Sui) 70 72 71 78, C Monasterio (Arg) 73 74 68 76, J Carriles (Esp) 73 72 75 71, C Williams (RSA) 71 72 74 74, S Brown (Eng) 73 73 72 73,
292 J Berendt (Arg) 69 75 73 75, Y Nilsson (Swe) 74 69 72 77,
293 P Wesselingh (Eng) 73 72 73 75, A Murray (Eng) 74 73 73 73, M Litton (Wal) 74 72 71 76, R Drummond (Sco) 74 73 74 72, F Mann (Sco) 72 72 73 76,
294 P Scott (Eng) 69 72 78 75, S Bennett (Eng) 72 73 74 75,
295 J Harrison (Eng) 70 75 75 75, M Bianco (Ita) 76 67 77 75,
296 T Charnley (Eng) 71 73 80 72, M Wharton (Eng) 73 74 74 75, M Cunning (USA) 73 73 74 76, N Ratcliffe (Aus) 73 74 73 76,
297 L Carbonetti (Arg) 70 73 74 80, K Hutton (Sco) 76 73 73 75, B Conser (USA) 73 76 72 76, M Booth (Eng) 76 74 73 74, J Hall (Eng) 76 74 72 75,
299 M Mackenzie (Eng) 72 70 74 83,
300 M Davis (Eng) 73 71 77 79, W Grant (Eng) 75 75 71 79,
301 M McLean (Eng) 77 70 74 80, D Smyth (Irl) 75 74 73 79, D Russell (Eng) 69 78 76 78,
302 G Ryall (Eng) 73 75 74 80, G Brand (Eng) 74 76 75 77, J Heggarty (Nir) 74 74 74 80, G Harvey (Sco) 74 75 76 77,
303 J Gould (Eng) 75 71 75 82,
304 N Job (Eng) 72 73 77 82, S McAllister (Sco) 79 70 76 79,
305 R Tuddenham (Eng) 73 77 77 78, G Banister (Aus) 75 73 76 81,
307 J Bruner (USA) 74 74 82 77, M Squire (Eng) 73 74 79 81,
308 S Torrance (Sco) 74 75 74 85,
311 P Gresswell (Eng) 75 75 81 80, P Hinton (Eng) 74 76 76