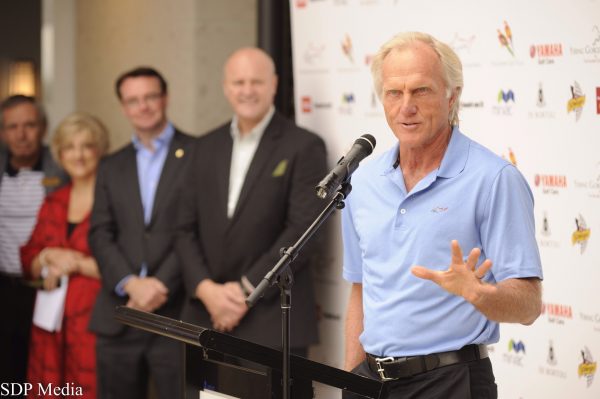 Australia's Great White Shark, Greg Norman, hit golf's century mark yesterday, notching his 100
th
international course design with the official opening of The Eastern Golf Club's new course in Yering.
At an official opening ceremony at the club's sparkling new clubhouse, Norman signified his delight that the milestone event for Greg Norman Golf Course Design was located Down Under.
"Over all these years, as the numbers got to 85…and 90…I was sitting down with the team and discussing what our 100th golf course would be. I was hoping that it would be here in Australia. And what's even more impressive is that it's here in the Yarra Valley. I have a lot of deep ties here because of my wine industry, and I have some dear friends here as well. I have a deep affinity for the region. So when Eastern put out the bid for this project a few years ago, I pushed my guys pretty hard (to win the bid)."
With the unveiling of the official plaque commemorating the club's opening, Norman commended the Eastern members, management and Board for their foresight and courage to embark on the relocation project, which began over seven years ago and has cost an estimated $70million.
"The thousand members here at Eastern—as well as those hundreds on the waiting list—are very, very fortunate," Norman said. "Your future is extremely bright. There are a lot of other golf clubs in this country who can't say the same thing, and will wish they were in your shoes. They will probably try and emulate your model to some degree, because your transition model—with a lot of cash in the bank, and a solid future for many generations to come—is incredible."
The Hon. Tony Smith, MP, echoed Norman's comments, noting that the facility will be a massive benefit for the local area.
"This is going to be a wonderful asset to the entire Yarra Valley," Mr. Smith said. "It's not going to just be a magnet for golfers, but it will also be a magnet for tourism. This is going to strengthen our tourism sector; strengthen our local economy, and do so much for so many here in the Yarra Valley."
Following the official opening, Norman conducted a coaching clinic with Returned Servicemen from charity partner, Soldier On, before playing three holes with Victorian High Performance Player Olivia Kline, as well as Eastern Club Captain, Peter Dane and Club President Des Shady.
The first 18 holes of the planned 27-hole facility have been open for member play since July, and the layout has been highly acclaimed for its playability and outstanding views. The remaining nine holes, as well as the additional nine-hole par-3 course, are currently under construction and scheduled for completion in 2016. More: www.easterngolfclub.com.au.
Read Inside Golf's exclusive hole-by-hole review of the first 18 holes of The Eastern Golf Club