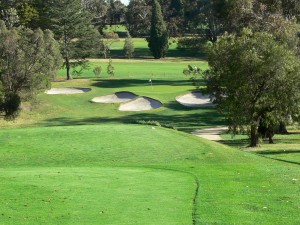 The Eastern Golf Club has announced that their current site of 47 hectares in Doncaster has been sold to Mirvac.
Club Captain, Peter Dane said "After a long running sales process involving extensive and detailed negotiations, we are delighted to confirm that Mirvac is the successful purchaser".
Mirvac is a leading integrated real estate group, listed on the Australian Securities Exchange ("ASX") with activities across the investment and development spectrum. Established in 1972, Mirvac has more than 39 years of experience in the real estate industry and has an unmatched reputation for delivering quality products and services across all of its businesses.
Mr Dane said "The sale is conditional on obtaining a planning permit for Yering development site so the Club will not be disclosing the sale price or key commercial terms at this time. The Board is very pleased with the result and when a Yering permit is obtained, details of the sale will be released."
Mr Dane added "The Board wishes to assure Members and the community that as far as ongoing operationof the Club at Doncaster, it is business as usual. This is an important message as we have, and will continue to provide a venue for weddings and other functions which are very well patronised by the community including by Probus Clubs and Rotary which in their own right provide valuable contributions to the community. We will continue to provide high quality facilities and services whilst we remain at Doncaster which is anticipated to be at least until early 2014."
In a statement from the club, Eastern expresses that they are "delighted to have reached this milestone and record its appreciation to everyone involved for their hard work and commitment including Roger Scrivener of Urbis, John Marasco and Peter Bremner ofColliers International and the team at Baker & McKenzie. The Club also notes its gratitude to Mirvac for the professional and diligent manner they have worked with the Club."
The Club has advised all Members directly that the Doncaster land has now been sold and reaffirmed itscommitment to Members to obtain a permit for the Yering site in the Yarra Valley.
The Club proposes todevelop a world class Greg Norman designed 27 hole golf course combined with a 9 hole par-3 facility. The golf course construction will involve significant revegetation of the property with in excess of 400,000 plantings proposed. Environmentally sensitive wetlands will also be created with the intention of encouraging bird and other wildlife into the property.
"We continue to actively pursue obtaining a planning permit for Yering and remain absolutely committed to working hard to achieve the desired outcome. We believe strongly in our focus and are excited by theprospect of making a significant contribution to the local community including supporting local businessesand encouraging tourism to the area" Mr Dane added.