The Board of Melbourne's Eastern Golf Club has announced that a new planning application for their proposed relocation site at Yering has been lodged with the Shire of Yarra Ranges.
The lodgement is a culmination of an intensive 9 months' work since Eastern's previous attempt hit a stumbling block by VCAT due to concerns regarding floodplains and pesticides.
"We have sought to complete extensive work to ensure all outcomes in the Tribunal Decision are comprehensively addressed in our new application.  The Club continues to work with key stakeholders and authorities to ensure we are well placed as the application moves forward," the Board said in a letter to members.
General Manager, Benjamin Telley, told Inside Golf "On the back of a very strong membership renewal period, we are delighted to be moving into this next phase of the relocation project. The Masterplan is superb, is reflective of the extraordinary work and detail in the new planning application and includes many facets which we feel will lead the industry on environmental management."
Among the many changes in the revised masterplan were modifications to the carpark and maintenance facility to comply with 1-in-100-year flood levels, creation of emergency access routes, redesign of a storage dam, and slight adjustments to six of the course's 27 holes, which were designed by Greg Norman.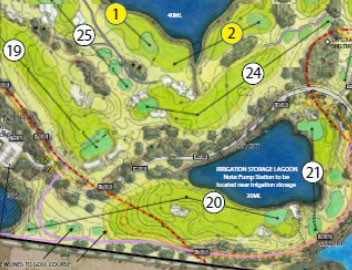 Inside Golf has viewed the plans to the redesigned holes, and it is our opinion that the new layout will be even more spectacular than before, as holes 19-21 look to be significantly more challenging and aesthetically pleasing.  Hole 19 has changed from a par-4 to a solid par-5, while 20 and 21 will be skirted by a storage dam that will require accurate tee shots and approaches.
Eastern's project team also completed an extensive Tier 2 Assessment of the pesticides and biocides proposed to be used on the golf course and turf farm, as well as a Quantitative Microbial Risk Assessment to address the potential impact of pathogens from the subject site.
The Board is hopeful of a decision by Council by the end of this year or perhaps in January/February 2012.