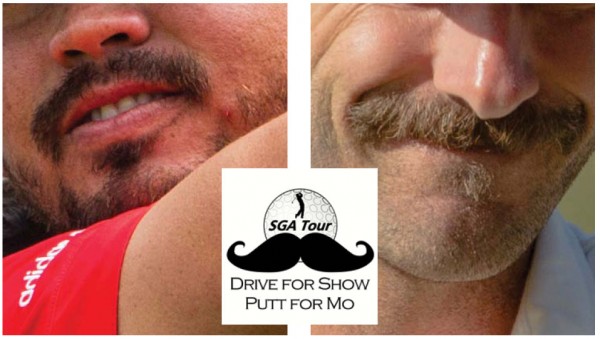 SGA Tour Ambassador Andy Lee from Hamish & Andy will tee it up alongside a group of celebrity golfers and amateur players in the first SGA Tour Charity Golf Day to support Movember. Played at the Old Course at The National Golf Club on the Mornington Peninsula, the "Drive For Show, Putt For Mo" event is sure to be a hit with golfers.
While "cleanskin" golfers are welcome, Matthew Pitt from Social Golf Australia encourages golfers to Mo-up for the day.
"We would like to see as many golfers as possible displaying their plumage. We certainly welcome women and juniors and we don't expect them to muster a Mo, but we hope as many fellas as possible join the spirit of the day and get a little bit hirsute for a good cause."
Movember is a global movement founded in Melbourne that raises awareness and funds to support the two biggest health issues men face – prostate cancer and depression. Movember assists men's health by encouraging fellas to grow a Mo in November and sign up Mo-sponsors. The funds raised are directed to programs run directly by Movember and their men's health partners, the Prostate Cancer Foundation of Australia and beyondblue: the national depression initiative.
The SGA Tour Charity Day is on Tuesday Movember 27 with a 9:00am shotgun start and aims to raise funds and awareness for Movember. A portion of the entry price will go to Movember and additional funds will be raised with the support of corporate sponsors, activities on the day and by encouraging golfers to register with and participate in Movember. Inside Golf is happy to support Movember by publicising the day and we look forward to running a picture of a field of (mostly) mustachioed golfers teeing off for a good cause.
Social Golf Australia runs an SGA Tour event series in all the mainland capital cities and will be encouraging golfers around Australia to register with Movember. There is an SGA Tour Charity Golf Day Team webpage on the Movember website where golfers can register for Movember. If golfers are already Mo-registered, they can simply join the SGA Tour Mo Team. Links to all the relevant pages appear on the Social Golf Australia website.
The day will offer a complete professional tournament experience with driving range balls included, carts for all golfers, a shotgun start, a single stableford event with over $1000 of prizes, celebrity golfers sharing the fun of the day and a presentation lunch after golf that will include some extra fund-raising activities. According to Pitt, the plan for the day is to have some fun fostering a Mo-fraternity on the golf course to help a good cause.
"Movember is a great community initiative and supporting prostate cancer research and beyondblue directly or indirectly benefits most Australians. We have developed our first Charity Golf Day in Victoria this year and we have had a great response already. Our plan is to develop this as a national initiative in 2013 and beyond. We operate events around Australia and we are looking at hosting an SGA Tour Charity Day in each mainland capital in November 2013 to support Movember."
"All of our events are official competition rounds with results entered on GOLF Link and all golfers are welcome. We decided to incorporate the event on our regular SGA Tour schedule and make it a single stableford event rather than an ambrose or team format. Golfers with handicaps can play in the official single stableford comp and social players are also welcome to join in the fun of playing and can compete for all the novelty prizes."
The event has been developed with the support of the National Golf Club and all entries are through The SGA Tour in Victoria. All golfers are welcome to enter, although it is anticipated that the event will book out early. Entry is $190 per person or $170 for those who have registered with Movember (both men and women can register) and, according to Pitt, the celebrity participation will be a great drawcard.
"We are delighted that our ambassador Andy Lee is assisting the event by playing on the day and inviting some celebrity golfing pals to join in the fun of the event. Andy is a quality person and we are greatly appreciative of all his support, both for our charity day and for golf in general. Movember will also have celebrity ambassadors who are keen golfers and we have invited them to join us on the day."
Inside Golf is a proud supporter of The SGA Tour and we look forward to reporting on the event and the competition results. For more information and entry details, go to www.socialgolfaustralia.com.au or call SGA in Victoria directly on (03) 5433 3213 or Matthew Pitt on 0425 742 501. For more information on Movember: www.movember.com