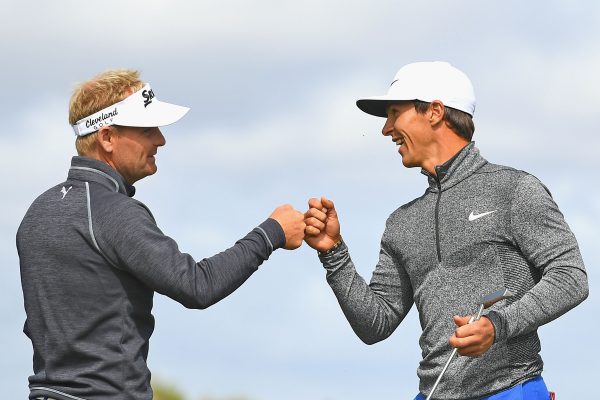 FEATURING one of the best fields seen down under in recent memory, The ISPS HANDA World Cup of Golf is delivering all of the excitement, fun and world-class golf that Australian golf fans have been anticipating.
Team Denmark has been making headlines with their stellar form throughout the pristine Kingston Heath Golf Club layout–the duo of Søren Kjeldsen and Thorbjørn Olesen fired a stunning round of 60 in the fourballs on Friday, and a solid two-under-par 70 in Saturday's foursomes to reach 14 under-par. They find themselves with a commanding four-shot lead ahead of tomorrow's final round.
"We showed yesterday that a really low score is possible out there in the fourball. I had a seven-shot lead in Turkey and it got down to one shot very quickly, so I know how quick this game can go sometimes," said Olesen.
"It's definitely not going to be easy tomorrow. There's a lot of great players here and a lot of birdies out there. It's a four-shot lead, which is really nice, but it's not going to be easy."
The United States pairing of Jimmy Walker and Rickie Fowler are the nearest challengers, firing a 69 today. Five solid birdies were offset by two costly bogies, leaving the pair four shots back of the lead at -10.
Team USA will play alongside Team Denmark in the final round (the group tees off at 11.25am). It should prove to be an exciting matchup, with large crowds expected to follow this marquee group.
"It would be nice to be out front or a little closer, but with where we were coming into today, just putting up a solid round of golf was that we wanted to do," said Fowler. "We did that and we gave ourselves a chance going into tomorrow.
"It's going to take some good golf and some birdies obviously, but it will be nice being in that final group to know exactly where we stand."
China's Wu Ashun and Li Haotong stumbled early in round 3; an opening double bogey, bogey start saw them going backwards in a hurry. But the pair recovered in inspiring fashion with birdies on four, five and 11 to end the day in third place on nine-under-par 207.
"We had some trouble from the beginning but we played very good after that," said Wu.
"We talked a bit and we said 'let's go, new tournament right now, new hole right now.'
"Nothing can be worse after two holes. We still had a lot of holes, a lot of chances and we played simple golf and made some birdies."
Hometown favourites, Team Australia were unable to make up any ground on their 10-shot deficit from round 2; the pairing of Adam Scott and Marc Leishman salvaged only a two-under-par 70 for their third round (three birdies, one bogey), sitting well back in the field at T14. They would need to shoot some near-flawless golf on Sunday if they want to raise the World Cup of Golf trophy Sunday afternoon.
The Japanese pair of Hiedki Matsuyama and Ryo Ishikawa came home in 35 in a 71 while Frenchmen Victor Dubuisson and Romain Langesque went around the course in 72 with the help of an eagle on the eighth.
Rafa Cabrera Bello and Jon Rahm signed for a 73 to also sit at seven under, a shot clear of Italy and two ahead of Ireland, New Zealand and Sweden.
The final round of the ISPS HANDA World Cup of Golf, which will be played in the fourball format, gets underway at 8.23am, with the last group due out on course at 11.25am.
For attendees over the weekend, the Tournament Village offers a range of different activities catering to the whole family, and kids under 16 are free.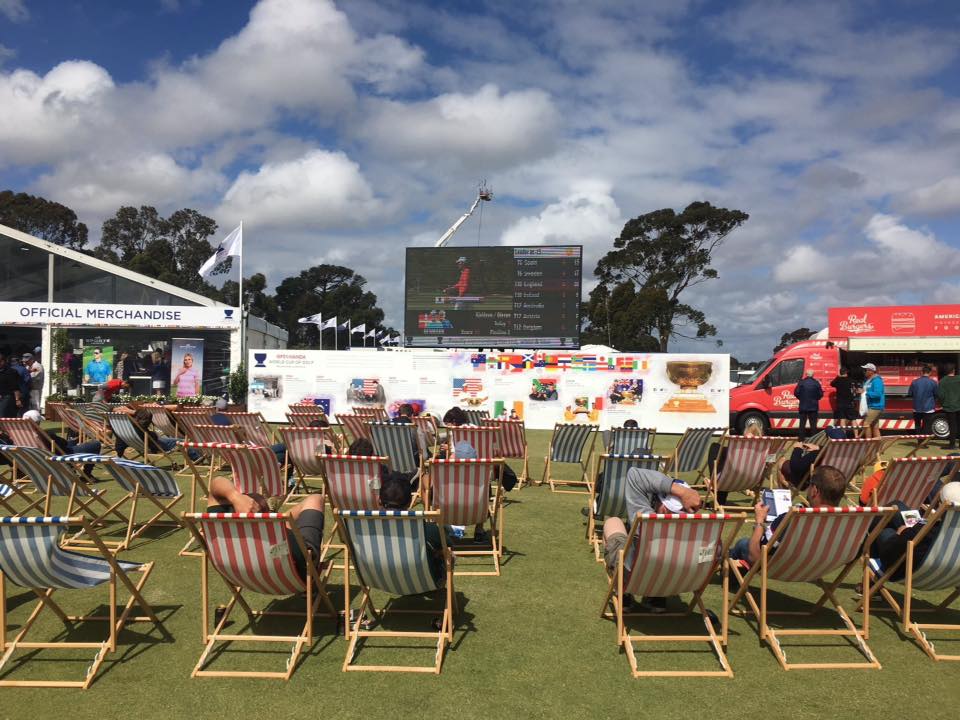 The international World Cup flavour extends to the Tournament Village where some of Melbourne's favourite food trucks will be serving up mouth-watering cuisine from across the globe. Take the kids on a culinary journey and try Vietnamese, Greek or classic American burgers whilst mum and dad relax with a glass of Scotchman's Hill.
To book your tickets visit www.worldcupofgolf.com.