A LARGE contingent of interstate police golfers managed to escape the winter cold and pending lockdowns in late July to take part in the Australian Police Golf Championships (APGC) in winter-warm Darwin. It was the first APGC held in Darwin for 23 years.
Originally planned to be played in South Australia, the event was moved to the Top End when the Northern Territory Police Golf Club (NTPGC) committee said "yes we can" and South Australia said "we are not sure we can host it due to Covid-19".
This proved to be a masterstroke as the APGC maintained its historic unbroken run of 63 years since the inaugural event in Melbourne in 1957. So 170 golfers headed for Darwin where they were treated to an opening function at the Darwin Sailing Club.
"This included a didgeridoo welcome to country from Larrakia Nation against an outstanding backdrop of a setting sun over the Arafura Sea," said NTPGC president Matt Allen.
"The balmy 30 degree temperatures and clear skies were particularly welcomed by the Tasmanian contingent who gladly had left behind sub-zero temperatures."
The golfers participated in daily events at Palmerston and Darwin golf clubs where unseasonably, high dry season temperatures and humidity was experienced.
Queensland Police managed to take out the 4BBB teams' event while Queenslander Troy Wilson won the nett title and Territorian Alex Brennan captured the gross title. Both competitors were lucky enough to win an iconic crocodile trophy.
Brennan's win was extra special as he had a week earlier taken out the Darwin Open.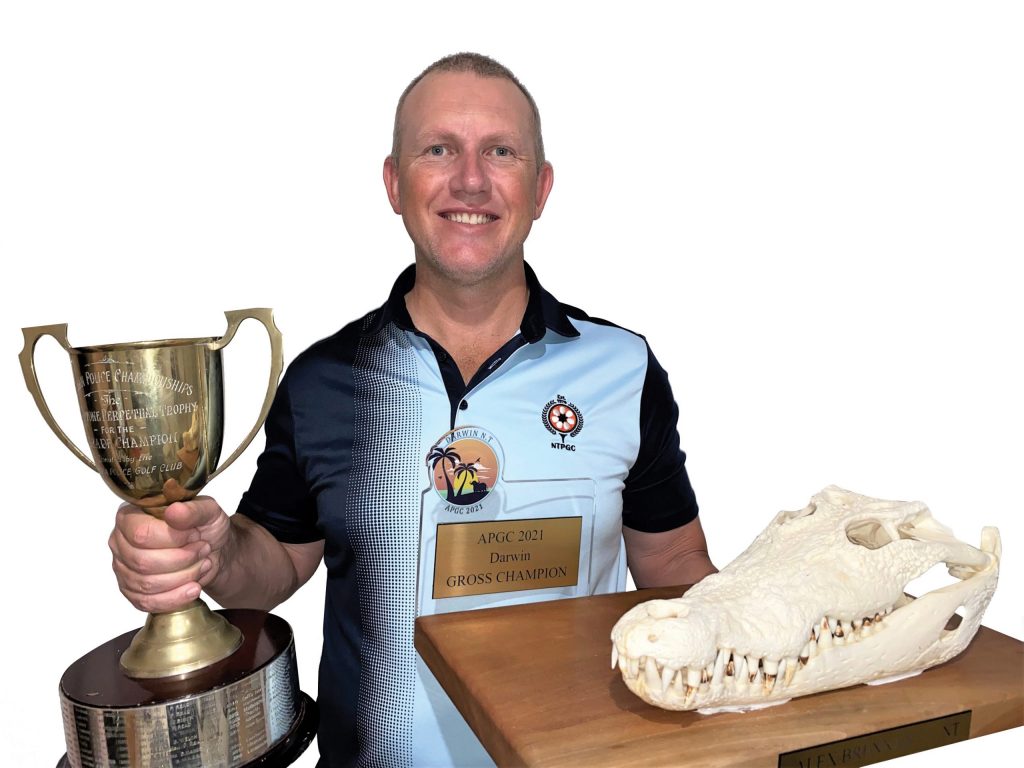 A number of Territorian golfers also featured on the championship's leaderboard including Sue Kennedy (ladies nett winner), David Proctor (C grade nett winner), Steve Rankine (B grade nett winner), Craig Garland (C grade gross runner-up), Mick Fields (C grade gross winner) and Don Eaton (B grade gross winner).
Some 230 players and supporters attended the closing function at Pee Wees Restaurant where guests were entertained by MC Kevin Naughton, local comedian Amy Hetherington and Gold Coast eight-piece band Heavy Wax. Established in 1978, NTPGC is a not-for-profit organisation and exists for fellowship and goodwill.
"The club provides members with weekly competitions throughout the Northern Territory," Matt Allen said.
"Since 2010, NTPGC charity golf days have proudly donated $71,000 to police legacy.
"We (NTPGC) would like to thank all our sponsors who contributed to making the 2021 APGC a highly-successful event.
"And a special mention to all interstate players who went above and beyond making the effort to travel to Darwin during such uncertain times.
"A fantastic time was had by all and everyone is now looking forward to the 2022 APGC in South Australia."