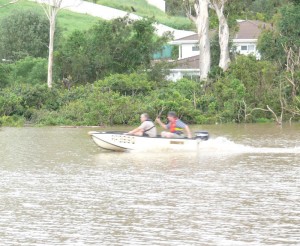 BRISBANE'S McLeod Country Golf Club may have been under water following the devastating January floods, but it didn't stop two people "playing" nine holes.
The club's general manager Michael Richards said he couldn't believe his eyes when he arrived for work on January 12.
"All 18 holes were under water – it was a lake and we had two people in a speed boat doing nine holes," he said.
It was only when the water subsided that the full extent of the damage could be assessed.
Richards said the clubhouse was spared, but there was major damage to the 18-hole golf course.
"We estimate the damaged bill will be between $400,000 and $500,000."
He said the club would need to replace the sand, matting and drainage to the course's bunkers at a cost of $3000 per bunker.
"And the flags, cups and seats around the course all got washed away."
At nearby Jindalee Golf Club, the nine-hole course was completely submerged and there was a metre of water through the clubhouse.
General manager Mike Leontjew said the club was facing a $300,000 repair bill.
"The greens are going to have to be renovated, but the golf course is open for play," he said.
"The keen golfers are out there again.
"One end of bar open is open and that's bringing in some revenue, but the restaurant won't open for another few weeks."
Wolston Park Golf Club, which is located on the banks of the river, also faces massive repair bills to its clubhouse and golf course.
Club president Malcolm Chisholm estimated a damage bill of more than $350,000.
"The damage to the clubhouse alone is around $250,000 because we had three metres of water through it," he said.
"The damage to the golf club will be a minimum of $100,000. "Fortunately, we managed to save our major machinery, but lost smaller equipment like whipper-snippers and blowers.
"We got all the motorised carts out and the computers and key records, but we lost all 150 tables and chairs."
Redland Bay Golf Club and a number of NSW clubs have donated tables and chairs, but they will remain in storage until the clubhouse is repaired.
"We are operating the clubhouse in a limited fashion while we wait for tradesmen to repair the damage," he said.
Nine holes opened for play a week after the flood and all 18 holes are now in play.
Other Brisbane golf club facing massive clean-up bills include Indooroopilly and The Brisbane golf clubs.
These are not isolated cases – it's the same story all around the state.
Golf Queensland communications and marketing manager Claire Power told Inside Golf the flood-affected clubs could apply for assistance from the Queensland government.
"Clubs can apply for funding up to $72,500, which is broken down into two categories (equipment and infrastructure).
"The infrastructure programme is worth up to $60,000 and the equipment is a one-off funding up to $12,500.
"Minister for Sport Phil Reeves has indicated that they will get that funding through to clubs within a seven to 14-day period of applications.
"We took the Minister out to Jindalee, McLeod and Indooroopilly to have a look around and gave him a good summary of what was happening around the state as well.
"He is well aware of the impact sporting clubs have on the community and emphasised that the monies are there for clubs to access."
Meanwhile, Golf Queensland has chipped in $100,000 to Golf Australia's Golf Industry Disaster Relief Fund, which has so far raised more than $200,000.
And Golf Queensland is offering some clubs emergency funding to pay staff wages and other important bills.
"We are trying to get that funding to them so they don't lay-off any staff or desperately need a pump fixed to get water on greens," Power said.
She said flood-affected golf clubs in need should contact Golf Queensland on (07) 3252-8155 or go to the website www.golfqueensland.org.au for regular updates.
CQ clubs back from brink
IT'S not quite business as usual for Central Queensland golf clubs "drowned" by the big wet, but most golf courses opened for play less than a month after the floods.
Central Queensland District Golf Association secretary Gurney Clamp said most of the worst-affected golf clubs like Capricorn Country Club and Moura Golf Club were open for business – albeit with restricted playing conditions.
"All the golf courses are back playing, but they are playing tee-up on holes that were hardest hit," he said.
"Capricorn Country Club received a lot of support from the golf clubs within the area.
"The golf clubs held tournaments to generate income so that they could get them back playing golf again.
Capricorn Resort made a sizable donation to Capricorn Country Club when golf administrator Simon Sanderson presented the country club with a $4500 cheque to help with their recovery.
"One of the biggest costs for the golf clubs is replacement sand for the bunkers," Clamp said.
"Getting the bunkers back into play is a big expense as is the fairways and greens."
Clamp said getting rid of the silt on the fairways and greens proved a huge task.
"It was a little bit of unnecessary top dressing that they got," Clamp chuckled.