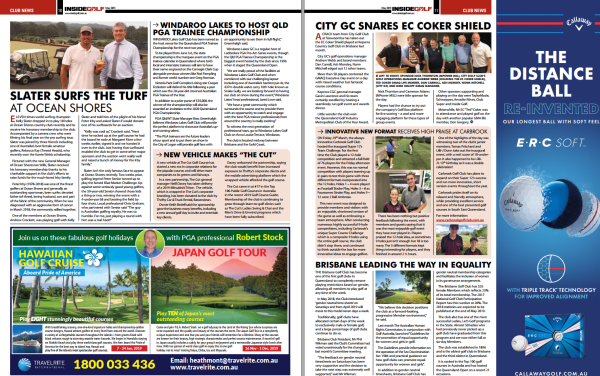 Inside Golf is looking for news for our highly-popular Club News section…and we want to hear from you!
Whether yours is a large club or small, here's your chance to share some news with fellow clubs, golfers and industry professionals across the country. And best of all, it's free!
You don't have to be an expert writer to submit a news piece…just drop us a line via email (in bullet form, or even copy/pasted from your newsletter) and let us know the basics. (We will clean it up and make it look great!)
Here are just a few ideas:
Welcoming a new team member to your staff
Announcing an upcoming special event or tournament (or charity promo)
A recap of a fun/unique event recently held
Holes-in-one or a member breaking their age
A talented junior rising through the ranks
A unique promotion to encourage members, juniors, women, beginners
A new facility or building launched
New irrigation or course works
…the list goes on
No story is too big or too small. We will happily consider anything that you think is relevant. Send it in!
PLUS: Submit a piece of news to Inside Golf and you'll be in the running to win a Daphne Headcover! We give one away every month, so get your submission in today!
Submitting a story is easy (and free):
Email your story to: news@insidegolf.com.au. (Note: please submit in either Microsoft Word format or as plain text in the email itself. We cannot accept pdf files, scanned/faxed documents or screenshots, etc.)
Photos are also welcome! If submitting a photo, it must be

print-quality

(i.e. straight from the camera/smartphone, original size, no cropping or editing, etc), it must be a separate file (i.e. not pasted inside Microsoft Word), and must be copyright free (i.e. not grabbed from another website or publication)
We look forward to seeing your great news!
Thanks!