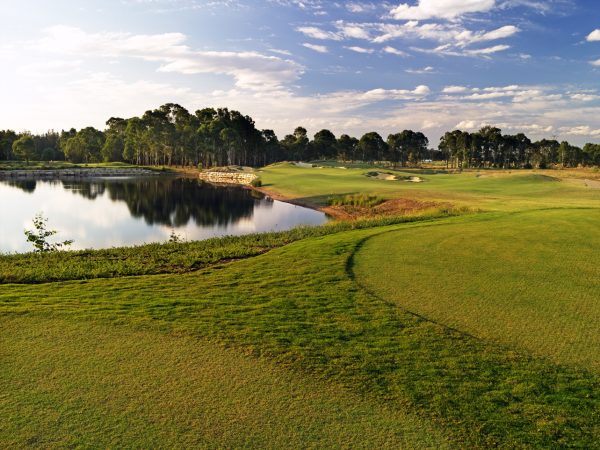 THE Twin Creeks Golf and Country Club, which for a decade has been a pacesetter in the luxury residential golf market in western Sydney, is set to soar to new heights on the wings of the new Badgerys Creek airport.
Following the purchase last year by a Chinese consortium of the 340ha estate—which boasts the acclaimed national top-100 Twin Creeks course and 200 dwellings—a five-star resort is planned, which will be the first of its kind in the region.
Its architecture and design will be integrated into the clubhouse with the aim of it being the best accommodation and entertainment venue in Sydney's west.
Over the next few years the new enthusiastic ownership group also is to invest in upgrading the clubhouse and golf course.
The Twin Creeks Development consortium, which bought Twin Creeks in July, has plans to capitalise on the site's key location, five kilometres north of the Western Sydney Airport, to open in the mid 2020s. This will include providing accommodation and conference facilities for the rapidly expanding nearby city of Penrith.
"The airport will connect Penrith with the rest of the world, making us the gateway to Australia's largest and most exciting city for business, tourism and manufacturing,"  Mayor Karen McKeown said when she met the consortium's executives in February.
The Chairman of Twin Creeks Development Dr Lam Yin Lok spoke of the group's plans for future development in Penrith beyond their existing proposal at Twin Creeks.
"Dr Lam spoke of his group's interest in becoming part of the community and enriching the diverse culture of Penrith," Cr McKeown said.
On the golf front, Twin Creeks' widely acclaimed Graham Marsh-designed layout has been on the must-play list of most golfers since opening in 2006, so it is a popular venue on the Corporate Golf scene.
Golf is a winning way of fostering corporate relationships, both on and off the course, so securing the right venue is paramount to the success of any Corporate Golf day. Twin Creeks is fortunate in being able to offer such a unique superb setting and understands  how it conveys the corporate image of its customers'  brands.
Seven-day all-inclusive memberships also now are available at Twin Creeks. As a member you can enjoy extensive practice facilities including a full turf driving range featuring five  target greens and  a bunker complex, chipping range and a 500 sqm practice putting green.
Twin Creeks' goal is to be seen as one of Australia's best residential golf estates, taking a modern approach to creating a club, while embracing the traditions of the industry. For more information, phone: 02 9670 8888, or visit www.twincreeksgolf.com.au.