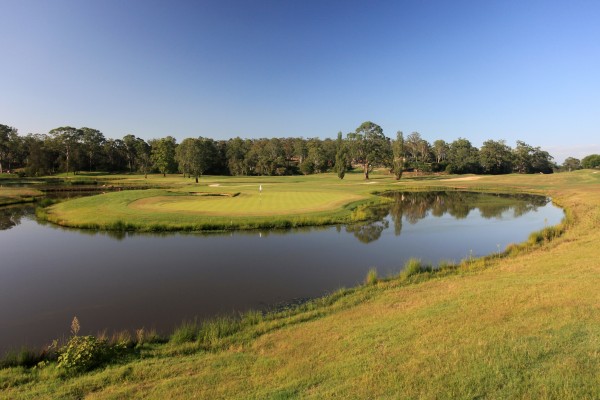 RIVERSIDE Oaks, the massive resort and residential development an hour northwest of Sydney's CBD, which has been a national golf industry pacesetter since it teed off  27 years ago, has scored another historic first.
With the opening in October of its 6300m Bungool layout, which meanders along the dramatically scenic Hawkesbury River's banks at Cattai, Riverside Oaks is the first golf facility in Sydney to boast two 18-hole championship courses.
Since its heady early days in the 1990s when it became the headquarters for the PGA of Australia and staged a string of multi-million dollar tournaments, flying in by helicopter many international stars including Nick Faldo, Bernhard Langer and Fred Couples  to do battle with world number one Greg Norman, Riverside Oaks has been a leading player in Australian Golf.
At one stage it boasted one of the largest club membership lists in Australia but its success has ebbed and flowed – in tune with many golf industry trends.
Now part of the highly successful Chinese golf company Nanshan — after several ownership changes in its almost 30-year history – Riverside Oaks seems set to achieve some of its most ambitious goals.
Nanshan, one of China's top 500 enterprises, is one of the biggest golf operators with 15 courses in China and also plays a key role in the rapid development of the game there as the headquarters host of the powerful Chinese Golf Association and Training centre.
And Nanshan, since it bought Riverside Oaks five years ago, has confidently backed  its expansion, adding a top quality all-weather driving range, more residential homes and resort rooms and a high quality function facility set in a historic sandstone homestead, named Bungool.
But Nanshan's crowning glory came late in October  when  Ken  Chan the General Manager  of Riverside Oaks Golf Resort hosted  an official VIP opening of Bungool, which was followed by a weekend opening for many of  Riverside Oaks members plus 400 public-casual golfers.
The 6300m Bungool layout is certain to become one of Sydney golf's "must play" courses, offering  enjoyable testing options with its risk-reward design mostly overlooking the scenic Hawkesbury river. While almost the same length as Riverside Oaks' original course Gangurru, the exciting new layout demands more precise tee shots although the fairways are generous.
Designer Bob Harrison — whose portfolio includes such highly rated layouts as Ellerston, Brookwater,  The Glades, The Grand, The Vintage,  Stonecutters Ridge and the National course at Moonah —  justly can be proud of Bungool.
For the average club and social golfer the tee shots and the length of holes aren't as punitive as the elegantly shaped undulating greens and the stylish bunkering which are a feature of many of Harrison's designs.
With just three par threes and three par fives Bungool is dominated by par fours but these are a delightful mix of long,  short and some exquisite doglegs, the pick being the 405m 13th which requires a superb second after a long drive to open the angle.
The par fours vary from the 278m 11th to the 427m (off the black tees) tough second hole, but on every hole there is ample room to take driver for the average golfer.
Inside Golf's canvassing of players in the Ambrose event at the VIP opening day, featuring golfers with handicaps ranging from 36 to plus 2, produced a highly positive feedback.
David Ransom, a 19 marker from Toronto Golf club said: "I totally enjoyed the unique scenic and testing but fair golf attractions of Bungool. I also was very impressed with the Australian character of the course, particularly the natural bush settings and mobs of kangaroos
Peter Summers, the 11 marker Manager of Liverpool Golf Club said:
"I was impressed with the layout and the good balance of risk and reward opportunities. Keeping the ball on the short grass makes a bit difference, because the rough although not long, is quite penal.
"Having said that, the designer still has managed to keep players of all levels interested without compromising on a decent challenge.
"It reminded me of why I enjoy golf so much, with the magnificent views and natural beauty of the rivers and waterways, mixed with glimpses of the historical buildings and resident wildlife. Overall, it was a great experience and I'll be going back before long."
FOOTNOTE: Riverside Oaks is offering a special Bungool  opening  package – 18 holes of golf with GPS fitted cart on the Bungool course and also the Gangurru layout (home of the NSW PGA Championship) and one night's deluxe accommodation plus full breakfast for $219 per person twin share Monday to Thursday