LIVING Choice staff members, deposit holders, clients and guests celebrated another milestone in the creation of Living Choice Parkwood at a ground-breaking ceremony held at The Club at Parkwood Village. 
Living Choice, which owns 10 operating retirement villages in three states, will build its first Gold Coast village overlooking the Parkwood Golf Club on the Gold Coast. The village is located within The Club at Parkwood Village precinct, an award-winning sporting, entertainment, medical and wellness hub.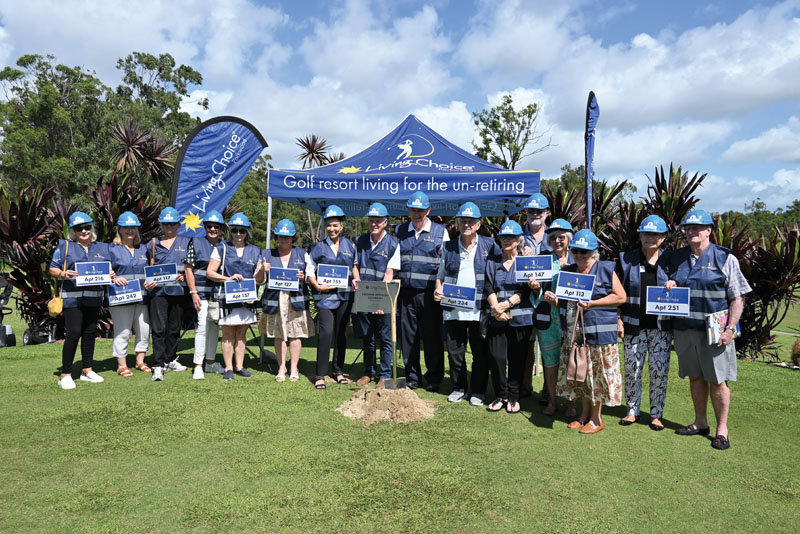 More than 75 guests attended the event to celebrate the commencement of bulk earthworks, including Living Choice directors, Ian Tregoning and Graham Hobbs, head designer Craig Eyles, design manager Pedram Abbasi and Gold Coast City Councillors, Ryan Bayldon-Lumsden (Division 7) and William Owen-Jones (Division 2).
However, the most important guests were the deposit holders who have already reserved an apartment at Living Choice Parkwood. They were presented with their Foundation Resident name badges and apartment number certificates and invited to be part of the ground-breaking ceremony.
Director Ian Tregoning gave an overview of the company's 30-year track record and many design awards and said he was looking forward to bringing the same award-winning experience to Living Choice Parkwood. Fellow director, Graham Hobbs, spoke on the investment future residents were making in their lifestyle.
Stage 1 includes 69 luxury 1-, 2- and 3-bedroom apartments located in the Lexington and Columbus buildings. Living Choice Parkwood will eventually comprise 200 apartments.
The leisure centre will form part of Stage 2 and will include an indoor heated pool, surround sound cinema, gymnasium, auditorium with dance floor, expansive terrace overlooking the golf course plus many other five-star facilities.