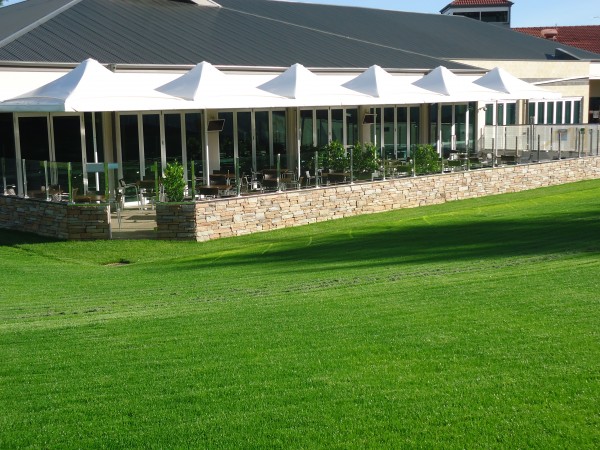 Warragul Country Club says it's close to peak membership as its $10 million renovation nears completion. The west Gippsland club currently has more than 750 golf members and club general manager Michael Smairl says weekend fields are approaching capacity.
"Our golf membership's almost reaching its peak as far as member numbers on a Saturday so we are encouraging six-day members to fill up Sundays more. Saturday is reaching peak fields," Smairl says. "We're up to somewhere between 200 and 220 on a Saturday, which is good for an 18-hole course."
The club has already completed its first stage of renovations, which included a 180-seat restaurant and the new Warragul Reception and Conference Centre. The second stage of the club's renovation is tipped to finish in October. It will feature a new public bar, 120-seat members lounge, outdoor area with a capacity of 200, a TAB, café, new gaming room as well as upgrades to the club's offices, reception and entry.
Once completed, the renovations will have been spread over two years and Smairl – who has been the club's general manager for more than eight years – admits club revenue has continued to increase, despite the interruption to members.
"The new restaurant's up about 50 per cent already and the new function centre's a new business but it's going really, really well. We've had lots of weddings and business meetings. There's noise occasionally from the builders, there's cranes, but we have had good support from the builders and they've basically stopped the noise between 12 o'clock and two o'clock, before lunch and after lunch, to allow us to keep the customers happy."
The club has also spent a large amount on its golf services. "We've built a $350,000 maintenance shed, replaced all of the machinery with new, taken over the pro shop, hired two PGA pros, bought hire carts, $100,000 worth of stock in the pro shop, so the golf business is going really well," Smairl says.
Warragul currently has 78 staff and the club estimates it will employ 100 people by the end of the year.
No changes have been made to the layout of Warragul's 18-hole course but significant money has also been spent on its upkeep.
"We've line-planted basically every fairway, we've done a few greens, bunkers, tees but the maintenance standard, the money we've spent on it and the increased staffing has made the difference," Smairl says. "It's in fantastic condition all year round. It's one of the courses that does really well over winter. That's probably our strength in the region."
The club has indicated it will continue to invest in its golf course and as it works towards the end of a 'five-year plan'.
"The sheer scale of the clubhouse building will be something to behold later this year. We look forward to the Grand Opening of the new modern clubhouse and starting work on the approved 24-room motel complex on site," Smairl says.