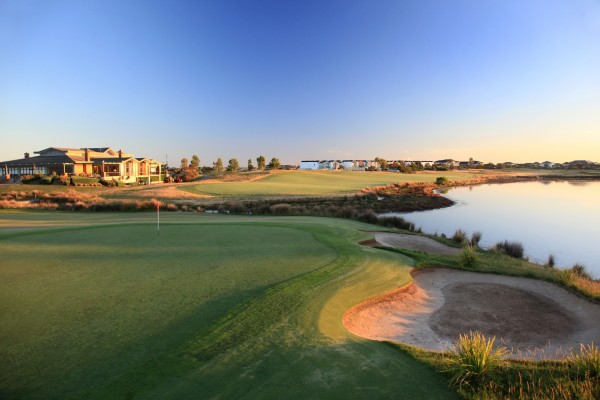 As the Australian golf club industry in general tries to slow the overall decline in membership numbers, numerous progressive clubs are developing local reciprocal agreements to boost their offering to members and entice new members. More clubs are either executing mergers or considering joining forces with other clubs to sure up their future but reciprocal arrangements loom as a separate tactic to strengthen a club's prospects of long-term viability.
In Melbourne's west, the Golf West Advisory Board has been formed and represents local clubs Sanctuary Lakes, Eynesbury, Kooringal, Northern, Medway, Melton, Sunshine and Werribee Park. The members of those clubs are now entitled to one free game at each course every 12 months.
"That's got a value of around $350, so we're value-adding onto their membership," says Northern Golf Club's CEO Di Fisher. "That's going to be such a big selling point when we have new inquiries with membership."
Sanctuary Lakes members are even more fortunate than their western counterparts simply because of who designed their course. On the other side of Port Phillip Bay at the Greg Norman-designed Settlers Run in Cranbourne, the club's board has devised its own plan to rival that of the Golf West Advisory Board.
Ten Norman-designed courses in Australasia, including Sanctuary Lakes, have created a 'passport' arrangement that allows members up to six free games a year at other 'passport' venues.
"Interstate and international clubs will get six rounds per year, no green fees, open to seven day members. If the club is within 200 kilometres of your own club, you get two rounds a year," Settlers Run General Manager Sam Clayton says.
Sanctuary Lakes, Settlers Run and Eastern Golf Club have signed on in Melbourne with 'passport' members able to play Eastern's Doncaster course until the club's Norman course opens next year. South Australia's 36-hole club at The Grange, The Vintage and Stonecutters Ridge in New South Wales and Queensland's Pelican Waters are also on board while Brookwater Golf and Country Club near Brisbane is tipped to join the brigade of clubs.
Internationally, two clubs in Vietnam and a Philippines club have also joined the 'passport' concept.
"One of my board members asked me to investigate it and I just sent out a couple of emails," Clayton reveals. "The Vintage replied back first saying 'great idea, let's look into it'.We're hoping to get this endorsed by Greg Norman. Once we get it endorsed, we hopefully will have it called the 'Shark Passport' and that's when we can start our marketing program."
Both Northern and Settlers Run agree that local reciprocal rights could be the catalyst for great membership growth as well as retaining golfers.
"Those who might be tossing up going to another club out of the Golf West, they'll have second thoughts now," Fisher predicts.
But Clayton admits not all Norman clubs in Australia that were approached to join were easily convinced.
"A couple of the Norman clubs up in Queensland turned down the idea. For one, it's actually in their constitution that they can't have reciprocal rights with other clubs so that was a clear cut one and the other one, the owner didn't want to be a part of it. But he might change his mind when he sees how many clubs are on this list now. I think there's a benefit for Settlers Run members or Eastern members or Sanctuary Lakes members actually playing at other courses when their course is not in optimum condition."