Most golfers are in two minds when asked what they would prefer . . . a hole in one, or a par round during their golf careers.
But there is another 'Holy Grail' in golf and usually it is far beyond the likes of most golfers.
That is breaking your age around a golf course.
Obviously the older you get, the easier it SHOULD be.
Yet like most things related to golf it doesn't get any easier and the game usually beats up on those who try too hard.
Sydney's Monash Country Club, must have something in the air on this highly-rated layout that sits in those lofty heights above Sydney's Northern Beaches.
Regarded as having some of the best greens in Sydney, no less than five of their 'senior' members achieved that Holy Grail recently when they all shot their age or better during competition rounds at Monash.
The 'Famous Five' as they are now being hailed at the club are Ray Brown, Terry Edmondson, Tom Winter, Manfred Salamon and Mervyn Page.
"It's not hard to get them out for a round of golf, because they are all retired," grinned Monash General Manager John Harrison.
"But getting them all together so we could take a photo for Inside Golf . . . now that was a task."
Harrison said all five had not just beaten their age in recent months but had continued to shoot some fine scores.
"The amazing part about it is that all five are now leading busier lives then when they were working," said Harrison.
Nearby Roseville Golf Club also boasts a veteran golfer, John Todd, who goes home quite disappointed if he doesn't break his age every time he tees it up at the north shore layout.
Now in his mid-80s, 'Toddy', as he is affectionately known, has probably broken his age dozens of times as he plays twice a week at his favourite layout.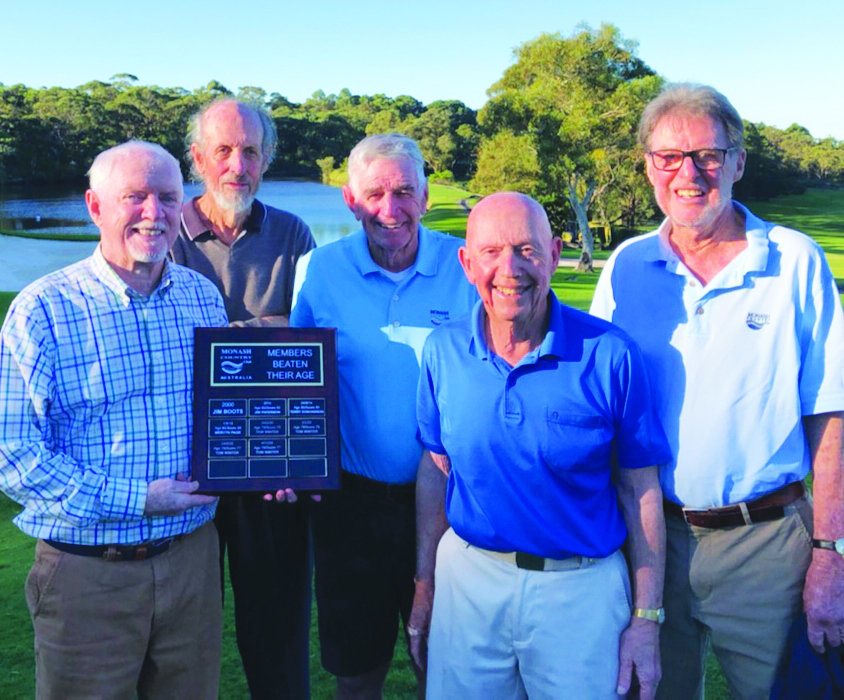 A former leading pennant player for the club, Toddy laments that he cannot reach some of the par-4s in regulation these days.
But such is his short game that he usually gets 'up and down' for par and all too rarely makes bogeys.
And if you are now thinking that you'd rather have that par round – or hit one magic shot for an ace, you might want to rethink that yearning.
According to the experts the percentage of golfers who soot their age is .0000089 per cent.
Yet the percentage of golfers who break par in their careers is half a per cent.
Less than one per cent of golfers have a handicap of plus-one or better and only about two per cent of all golfers ever break 80 on a regulation par-72 course and that is also considered one of the 'Holy Grails' of golf scoring.
And if you wish to put that into perspective, there were 11 of the best golfers in the world who couldn't break 80 in one round of the recent US PGA Championship.