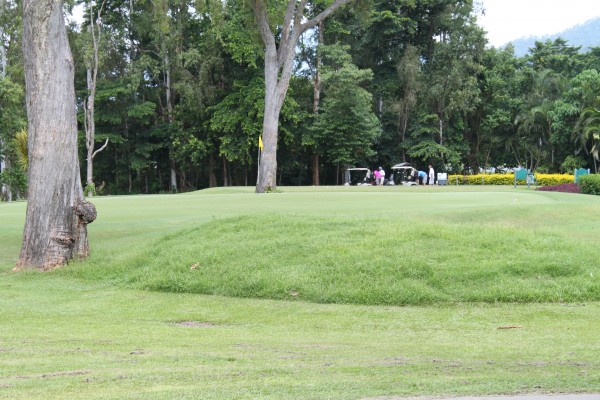 THE results of a survey asking members if they preferred a one-tee start or a two-tee start at Cairns Golf Club in Tropical North Queensland makes for interesting reading.
Club president Nerida Wilson said the one-tee trial was "met with mixed reaction".
"We trialled a one-tee start in 2013 to assess the impacts and benefits on our members and revenue," she said.
"However, it became evident in a short period of time there were immediate financial gains when the course opened to social play after the field on a Saturday.
"Social players pay full green fees and tend towards motorised cart hire, which significantly increases Saturday revenue.
"Our junior programme has enjoyed unprecedented growth under our new club professional Darren Golder (increasing from 12 to 94 juniors in 12 months).
"Although it's not the primary motivation for a one-tee start, it will provide an opportunity for juniors to follow the Saturday field if they are ready to take the next step to 18-hole competition, but not yet ready to join the senior ranks.
"Implementation of a one-tee start involves members as part of the solution to our challenging financial position.
"We hope that with member understanding we can strike a balance between maintaining the social fabric of Saturday member competition and reaping the rewards of social and junior play."
After analysing the financial data from the trial and the survey results, Ms Wilson said the board of directors voted unanimously at the February board meeting to start a one-tee trial for all Saturday member competitions and revert to a two-tee start during the middle months when member golf demand is at its peak and the days are shortest.
"The one-tee start trial was controversial and I accept the jury is still out for some members on this matter," she said.
"However we, as a board, are considering all options that contribute to the financial health of our club.
"We intend to carefully monitor both the tangible and intangible outcomes of a one-tee start this year and work with members in order to achieve the best overall outcome for our club."
Results of the One-Tee Start Survey
(Percentage (%) based on the 115 completed surveys returned)
Q1. Under two-tee starts would you describe yourself as a:
Morning: 58%; Afternoon: 33%; Either: 9%.
Q2. Under a one-tee start your preference for playing times are:
7-9am 55%; 9-11am 14%; 11am-1pm 31%.
Q3. Under the one tee start have you had difficulty in getting your preferred tee time:
Yes 38%; Sometimes 31%; No 31%.
Q4. Would you say the effect of the one-tee start on your golf:
Enhanced 7%; Detracted 26%; No Change 67%.
Q5. Would you say the effect of the one-tee start on your socialising after golf:
Enhanced 8%; Detracted 33%; No Change 59%.
Q6. Would you say the effect of the one-tee start on your time management:
Enhanced 11%; Detracted 37%; No Change 52%.
Q7. Under the one-tee start, do you think longer playing times in the afternoon were caused by:
Accumulation of slow play 56%; On course drinking by afternoon players 25%; Excessive mid-game time spent in bar 37%; Lack of availability of carts 4%; Other 6%.
Q8. Do you support for Saturdays:
Medley 37%; Ladies fixed block time 33%; Both 30%.
Q9. If there was a one-tee start should social play on Saturday be available:
After competition 62%; Before competition 2%; Both 36%.
Q10. Would your priority for supporting social play on the golf course on Saturday be:
Offsetting increases in your costs 38%; Not affecting your playing conditions 62%.
Q11. Which factor would most influence your decision for re-joining in 2014?
Measured increase in costs 27%; One-tee start 10%; Neither 63%.