By Michael Davis
CORELLAS are the nemesis of many turf managers.
But one Victorian superintendent has literally taken the battle to the skies in a novel approach to ridding his course of the feathered scourge.
Over the past few months the greens and surrounds at Ballarat Golf Club, an hour west of Melbourne, have been ravaged by a flock of up to 300 corellas – twice a day.
Long-serving course superintendent Jeff
Powell and his staff have lost countless hours repairing holes in the greens and surrounds, with one green alone needing up to 60 plugs to fix the damaged surface.
Despite trying numerous deterrents, none proved effective until Powell decided on a more natural and very intimidating solution.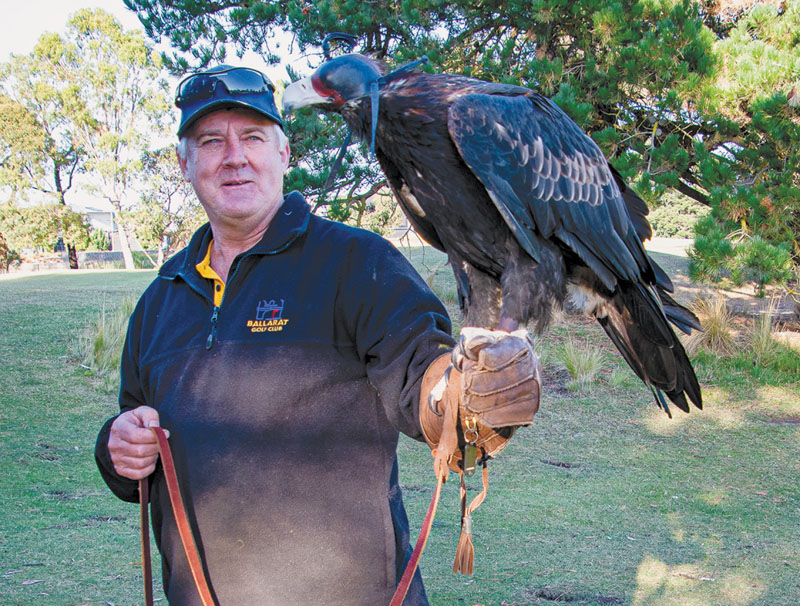 "We've been absolutely flogged," Powell said. "We tried everything from reflective tape, kites and even hired a laser which constantly moves a dot all over the area.
"We even had staff standing guard during the peak times, but all to no avail. So it was time we brought in the heavy artillery."
The club conducted a trial using a wedge-tailed eagle from Full Flight Birds of Prey as part of a research project on using raptors as a pest bird management tool.
Full Flight is a local Ballarat organisation dedicated to the protection and conservation of native raptors through public education, breeding and research.
Their work has seen them travel Australia far and wide – from medieval festivals in Queensland to the roof of the Melbourne Cricket Ground where raptors were used to help deter seagulls from landing on the playing surface.
The first trial at Ballarat proved successful.
So recently Full Flight returned with a peregrine falcon to further turn up the heat on the corellas. Working in tandem, the wedge-tailed eagle was first used to scare the corellas off the ground and, once in the air, the peregrine falcon was used to then move them on.
Used both early morning and late evening, the dynamic duo worked wonders according to Powell.
"There were up to 300-400 corellas the first morning and it took around two hours to clear them away from the course," says Powell.
"Later that evening, as the birds wanted to come back to roost, the eagle and falcon were used again to move them on. The noise was deafening! By the next morning there weren't any birds around the course and the corellas were flying around the area rather than overhead.
"Both birds have GPS trackers on them which logs data such as their position, speed and climb rate. The falcon was clocked flying at 210 kilometres per hour at one point. A week later, we did not have any birds on the course so it definitely worked. We will be having them out again and hopefully that'll be it for the season.
"After three months of ripping up greens, surrounds and roughs, the corellas might think twice before doing it again," Powell said.