With a brand-new, multi-million-dollar clubhouse and course renovation project officially opened last month, Portsea Golf Club has set the bar very high for other courses on the Mornington Peninsula; and it could very well be the benchmark by which all future clubhouse projects are measured, as Richard Fellner explains.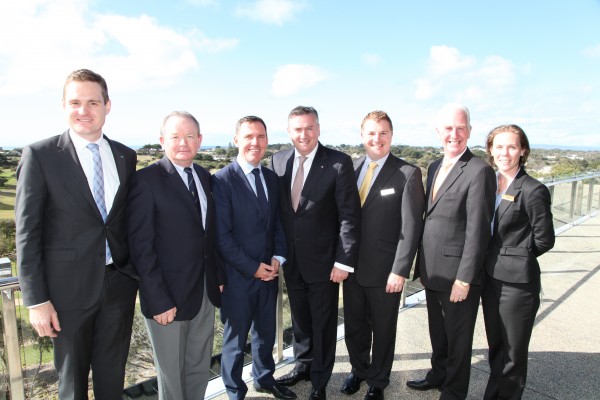 Like most golf clubs during the last decade, Portsea  Golf Club was seeing its share of ups and downs amid the difficult economic times. While the golf had always been excellent, the course was struggling to generate the additional revenue necessary to survive, let alone thrive into the future. Sensing that they needed a new facility to attract the growing corporate, wedding and social golf market, the club embarked on an ambitious clubhouse and course renovation project which would completely transform the club.
Ten years and roughly $20million later, it's clear that they made the right choice.
The new facility, which was opened to great fanfare last month, features an open, inviting clubhouse/restaurant/function centre that can seat up to 300 guests, a sunny patio area with sweeping views of almost the entire course, a comfortable and functional members area, modern pro shop, commercial-grade kitchen, meeting rooms and all the modern-day fittings to cater to groups both large and small.
In addition, a beautifully appointed 24-room Mercure Portsea Golf Club & Resort was integrated into the facility, providing an ideal Stay & Play option for guests.  Managed independently by Accor under its Mercure brand, the facility will benefit from Accor's global Marketing, Sales, Distribution and PR teams, thus opening up the entire Portsea property to a worldwide audience of golfers.
Indeed, the "marriage" of golf and accommodation in this case seems well positioned to benefit everyone involved.
The project, which was funded solely by sales of land in the club's bordering areas, entailed a long, detailed and challenging process, but it was critical to ensuring the long-term future of the club and their 900 members, according to Mercure Portsea's General Manager Duncan Mars.
"The main goal of the project was to diversify the business," Duncan says. "There's a lot of golf courses in the area, and a lot coming up, so about 10 years ago the committee came together to figure out how to diversify and bring in other revenue streams, such as adding accommodation."
"It's about sustainability of the golf club moving forward," adds Wendy Dragoilo, Golf Operations Manager of Portsea Golf Club. "It's the way that most golf clubs are going to have to look at their business structure  and come up with income streams or whatever they have to do to keep going."
A massive project like the one at Portsea can be very difficult to get off the ground, with a plethora of factors to address at every turn. And Portsea's project was certainly no exception.
"Building a facility like this on land in Portsea was a major obstacle," Duncan says. "A lot of factors had to be taken into account, like the environment and the community. The committee of management went through a lot of testing on the environmental side of it. Especially as we back onto a national park. It's been a major focus that the building—even though we're on top of a hill—you can't actually see it from any of the roads. That was to be sure we aren't dramatically changing the landscape and views in Portsea."
"We've also got a huge offset area to balance the vegetation that we had to remove," Wendy adds. "So that's been a very big part of the project for our ground staff."
Of course, a project of this magnitude requires passionate support from the membership throughout the process. In Portsea's case, it has been a positive and supportive progression, according to Wendy.
"At the very start we had a number of very positive members, but you've always got that small group of members that aren't as open to change," she says. "It's a massive project and there's a lot to take into consideration. But as the project has come to fruition, more and more members have realised that it's a good way for the club to move. Since we've come up here to the new clubhouse we've got 100 percent of the membership behind the project, it's fantastic. A phenomenal response.
"Importantly, despite the costs of this project, green fees and membership fees haven't changed. The entire project was funded by land sales, so there were no levies to the members. So they have a brand-new facility with no financial ramifications," she adds.
"The Golf Club has been very clever in how they've done this," Duncan explains. "They like to take their time, get all the information and facts right. They like to do the research to make sure they are doing the right thing for their clubs and members."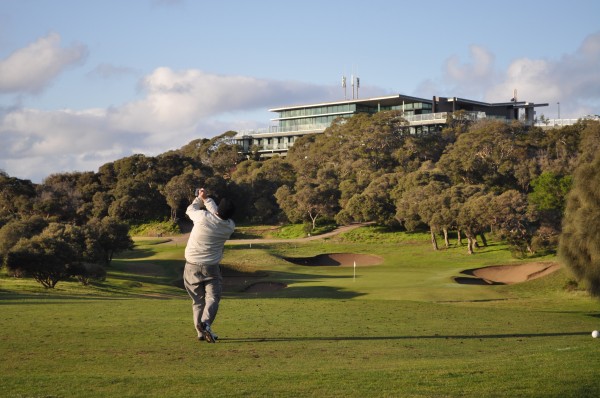 Apart from the functional clubhouse facilities on the upper level of the building, the inclusion of the downstairs accommodation into the plan was also a major factor, as it was designed to support the club and generate additional golf business.
"For social groups it is going to be a more attractive proposition now," Wendy says. "You can come down with your social group, and you've got somewhere to stay, the restaurant's open every night…it's a better offering."
"For tourists, it's another option of a place to stay," says Duncan. "There's not a lot of accommodation with this international standard and style on a golf course here. We are also getting people who will stay here, then catch the ferry to Queenscliff and then continue down the Great Ocean Road – so I think we're  another link in that side of it. Plus, the accommodation and the upstairs facilities will be key to us targeting smaller boutique-style events,  midweek conferencing and corporate golf…where players come in for a half day meeting, and play the 18 holes of golf. "
But Duncan is quick to point out that the accommodation, while important, will not get to a point where it detracts from their core business, namely the golf.
Now that the initial hard yards have been completed, what's next for Portsea? According to Duncan, the goals of the entire 40-person team at Portsea are crystal clear.
"From our point of view, it's to make sure our operation is perfect. To make sure our customer service is there, that we are working as one team, and to make sure that the accommodation, conference and wedding business is a success."
"Now it's a matter of making it work," Wendy adds. "Providing fantastic services, and building up our membership base. We've already brought in about 90 new social members in the last couple of months, they can come in and use the restaurant and bar facilities, which is good for everyone."
In addition, the team is keen to rejuvenate their Portsea Pro-am, one of the traditional "Must play" events on many golfers' calendars.  And while the date of the annual event is being pushed back a bit this year, it is assuredly for a good reason.
"The club is very interested in rejuvenating, or restructuring the Pro-am; coming up with a new idea and doing something bigger and better," Wendy explains. "Perhaps doing something a bit different than what's out there at the moment. I think the idea is to sit back and look at how we've been running it and come up with some new ideas, and new concepts."
With an amazing faculty on offer, an energetic team and top-quality golf, we're sure that Portsea is well on track for a long and fruitful future.
More information: www.portseagolfclub.com.au, (03) 5981 6100 or for accommodation bookings at Mercure Portsea Resort & Golf Club see www.accorhotels.com