WE'VE heard of the grey nomads filling our highways and byways, but there is another group of nomads – golfing nomads tripping around the place.
The golfing nomads – which consist of clubs located in Brisbane, Sunshine Coast, Sydney North, Sydney South and Perth – are all about giving and to date they have raised more than $1m for charities.
They have more than 360 members.
"Our aim is to provide an opportunity for persons of all walks of life to meet one another at least once a month, to play golf and make new and cement old friendships," a golfing nomad spokesperson said.
"We encourage, promote, foster and support the game of golf.
"And our aim is to generate funds for distribution to charitable causes and assist those persons – regardless of race, colour or creed – in a less fortunate position than ourselves.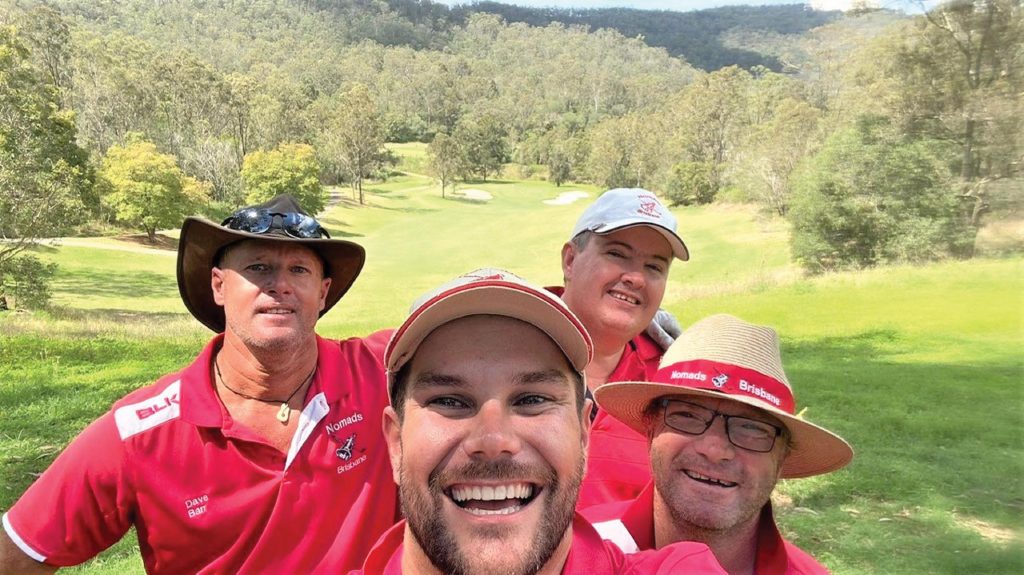 Well, the Nomads Golf Club (Brisbane), established in 2008, late last year ventured out to Kooalbyn Valley Golf Resort.
"We were meant to be hosting our national tournament, however due to Covid this was not possible," a spokesperson added.
"So, rather than cancel the weekend we decided to hold a weekend away where we could relax, have a few drinks, and enjoy golf together.
"We had a field of 40 golfers on Friday, 63 on Saturday and on Sunday we had a field of 66.
"Over the course of the three days, the greens were tricky.
"The weather on Friday started clear, by mid-round it started to rain, come Saturday afternoon it was overcast and looked threatening and as soon as we finished the round, it poured.
"On Sunday the greens had softened a little, which made putting a little easier. We were greeted with a mild wind on Sunday that became a little more than mild once we teed off.
"Playing off the black tee markers on Friday offered an extremely challenging day as we had to clear gullies and water.
"However, it was nice to play the course with a difficult set-up."
Nick Kaptein, playing off a 12 handicap, enjoyed the challenge and won the day with a credible 39 points.
The Nomads played from the blue tees on day two.
The winners were: A grade, Ryan McKechnie with 35 off 9; B grade, Rob Goldie with 34 off 14 and C grade Dave Barr with 38 off 18.
The Crying Towel, which goes to the person finishing last, was won by Allan Coulson. Playing off 11, he returned 19 points.
On Sunday, the Brisbane Nomads went back for more punishment off the black tees.
That resulted in many lost balls and mediocre scores.
The winners were: A grade, Andrew Devine with 33 off 11; B grade Nick Kaptein with 36 off 12 and C grade Mark Whitaker with 36 off 19. The Crying Towel was won by Jeffrey Mullan. Playing off 2, he signed his card for 17 points.
"The course was well-presented and the accommodation was good," the spokesperson added. "We certainly enjoyed a visit to the pub after each round.
"And it was nice to be offered four bottles of red for presentation after the round and I am sure those that received these enjoyed them.
"Thanks again to the Kooralbyn Valley Golf Resort for hosting the event and we look forward to next year."