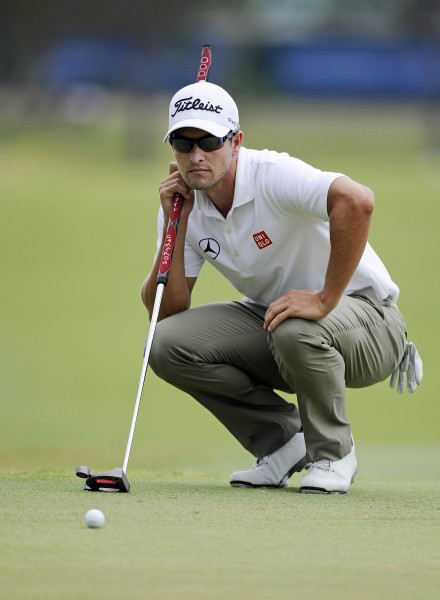 Defending champion Adam Scott headlines Australia's brigade of starters for the 2014 Masters – joined by Jason Day, John Senden, Marc Leishman, Steven Bowditch, Matt Jones and 19-year-old West Australian Oliver Goss, who qualifies off the back of his runner-up finish at last year's US Amateur Championship.
Scott's win last year and the top-four finishes of Day and Leishman could pin unnecessary hopes on our star golfers but there's no reason why similar heroics can't again play out at Augusta.
The weight of expectation on Scott will be huge. The 33-year-old is not only dealing with the intense pressure that comes with being Australia's only winner of the famed green jacket, he's got the world number one ranking to think about. He's risen to number two but, naturally, our sporting public wants more from the Queenslander. It wants him to breeze past Tiger Woods and become our first number one since Greg Norman. It also wants him to add to his major count this year at Augusta. That's a lot easier said than done. In fact, Scott's form to date in 2014 suggests that he may not be our great white hope.
He started this year well with a pair of top tens in Hawaii in January and then took a six-week break. His return at last month's Honda Classic yielded a 12th place finish and he followed that with a tie for 25th at the World Golf Championships Cadillac Championship at Doral – a week in which he could have snatched the number one ranking from Woods with a victory.
His limited schedule is all about peaking for the majors but so far it has netted mediocre tour results. That alone isn't cause for major concern but the potential distraction of the number one ranking probably won't help. However, Scott admitted at Doral that getting to number one could be used as motivation. "It's impossible not to think about it," Scott said on the eve of the Cadillac Championship.
But he's had plenty of time to get his game right since them and, despite any drop off in form, Scott can reasonably expect to win any major he tees it up in.
The same goes for Day who, for several reasons, can lay claim to being the pick of the Australian hopefuls.
Firstly, he has already won one of the biggest events of 2014 – the World Golf Championships Accenture Match Play Championship.
Secondly, the 26-year-old's thirst for major victory has reached a tipping point.
He's compiled three runner-up finishes at majors and looked poised for victory at last year's Masters when he led by two shots with three holes to play, only to record consecutive bogeys and finish in outright third.
Finally, Day's game is perfectly suited to the Masters. He has enough power to overwhelm Augusta's par-fives, he can hit the ball as high as almost anyone and his work from around the greens is tailor-made for the extreme slopes of Augusta's greens.
Don't expect the thumb injury that forced him to withdraw from the Cadillac Championship to hamper him. Expect him to be in one of the finals groups come Sunday.
Leishman's form has fallen away since his strong opening to 2014. He came fifth at the Sony Open in Hawaii and tied second at the Farmers Insurance Open at Torrey Pines but hasn't factored since. But the 30-year-old isn't without hope at Augusta based on his bold run last year.
Senden's win at last month's Valspar Championship ended the Queenslander's eight-year run without victory in the US, bought him a place at this month's US Masters and has him primed as arguably
Australia's most in-form contender heading to Augusta.
For Goss, making the cut would be mission accomplished.
Australia's top-ranked amateur can take great belief from the efforts of Chinese phenom Guan Tianlang, who made the cut at last year's Masters as a 14-year-old.
Goss will turn 20 on the Saturday of this year's Masters and what a birthday present it would be if he finds himself with a round three tee time.
As for Jones and Bowditch, their last-minute qualification came via career-changing victories at the Shell Houston Open and Valero Texas Open, respectively, in the weeks leading up to the Masters. Their winning form will certainly give them the confidence needed to tackle a tough Augusta layout.
But the world's best will be out to thwart any Aussie charge.
With Tiger Woods a recent WD due to back surgery, there is a host of younger, in-form Americans desperate to make a mark. Take Jimmy Walker, who has three wins this PGA Tour season, and 23-year-old Patrick Reed, who has won twice in 2014. Neither has figured in majors but both have a wave of confidence on their side.
Dustin Johnson and former Masters champions Bubba Watson and Zach Johnson have also made hot starts to the year and should factor.
The European contingent is perhaps not as strong as in recent years with several English stars sliding down the world rankings but the likes of Swede Henrik Stenson, Justin Rose and, of course, Rory McIlroy loom large.
Regardless of who takes the Green Jacket, the 2014 US Masters promises to be as exciting as ever.
—————————————
Obey Augusta's rules, or else
By David Newbery
AT Augusta National Golf Club, the home of the US Masters, everyone has to abide by the club's rules – even the players and commentators.
Some of the rules at Augusta National include: no running at any time; no walking barefoot, no matter how many blisters you have; no phones, cameras or electronic devices; no wearing your cap backwards (sorry Rickie Fowler) and no lying on the grass.
Anyone caught lying down for a rest is told to sit up straight.
And caddies must wear white jump suits.
In 1966, commentator Jack Whitaker received his marching orders after referring to the Masters galleries as a "mob scene".
Gary McCord, too, was removed from his Augusta National broadcasting duties in 1994 after he said the greens were smothered with "bikini wax".
The late Norman von Nida, in his book titled The Von, tells an interesting story about a player who disregarded one of Augusta National's strict rules.
"I was playing a practice round with Frank 'Muscles' Stranahan, the son of a millionaire," Norman wrote.
"One of the rules was that a player could not play more than one ball during practice on the course.
"However, during our practice round Frank was sometimes hitting two balls. He hit two balls to the third green and on the fifth did it again.
"I didn't say anything to him the first time, but on the second occasion I thought he might not have heard about the rule. 'You can't do that, Frank. You'll be disqualified if you do.'
"Frank simply laughed it off and said I was being paranoid.
"When we got to the seventh hole, Frank was approached by a Pinkerton guard and told he was wanted in the clubhouse by Clifford Roberts (Augusta National chairman).
"Frank, still as confident as ever, left with the guard but never returned to finish his round.
"In fact, he didn't even play in the Masters tournament.
"Just as I had forewarned, he was suspended for breaking the tournament's rules.
"The Masters is a special tournament where tradition and rules must be adhered at all times.
"No one is above the rules at the Masters which is why it is one of the best tournaments in the world."
Still, Frank Stranahan, who won two British Amateur titles and numerous US amateur titles, did play in the Masters 12 times and once finished in a tie for second while still in the amateur ranks.
The American finished second behind Bobby Locke in the 1952 Open Championship at Royal Lytham and St Annes, but he was unpopular with British caddies used to having their advice heeded.
Once Stranahan sent a British caddie ahead to give him the line for a blind shot to the green.
But the disgruntled caddie gave him a line to thick gorse.
When Stranahan arrived the caddied showed him his ball and said: 'Well, sir, if you think you know so much about it, let's see you get out of that,' and departed the golf course.
In the US, Stranahan won a string of amateur events including the North and South three times, the Western four times, the Tam O'Shanter World Amateur consecutively from 1848 to 1953 and the Canadian Amateur in 1947-'48.
Many aficionados considered he was past his best when he turned professional in 1954.
He won six US PGA Tour titles – four as an amateur and two as a professional.