ONCE upon a time, motorhome companies were considered at the ultra-end of the niche spectrum.  Add the word luxury into the mix, and it sharpened the market even further.  
Even before the recent significant disruptions to the world as we knew it, we were noticing a shift in our customer base – from almost exclusively well heeled "grey nomads" to a far more active demographic of lifestyle focused middle-aged clients, who use our motorhomes as a base to fulfil those lifestyle goals.
The world has changed a lot over the last 18 months and the language we use has shifted at the same time. Words like "lockdown" and "curfew" roll off the tongues of commentators way too easily, but they're also temporary and bring with them the promise of being free again to do what we want, when we want.
There are golf courses all over Australia enjoying levels of business that are off the charts, but for many they're a stop-gap – playing local is better than not playing at all – but each and every golf lover feels the lure of that favourite regional course; that unchallenged 18 holes that friends have raved about; or that annual trip of a solid week of rounds on championship courses.
While these golf course owners and operators have been forced to "pivot", at Paradise Motor Homes we've just kept on doing what we do best – building a wide range of motorhomes that allow our clients to explore the far reaches of this wide, brown land – always in ultimate comfort.
Each and every one of our motorhomes has an unshakable commitment to quality etched into its DNA. In many respects, it's the world that's pivoted. We've been striving for nearly two decades to bring luxury to the motorhome space. Our business is built on the belief that life on the road and five-star comfort are not mutually exclusive.
Prepare for a shameless golf/RV segway. The great Arnold Palmer once said, "success in golf depends less on strength of body more on strength of mind and character".
Whilst this rings true in the game of golf, when it comes to Paradise's advanced manufacturing techniques, strength of body is always at the top of our list.

Adopting monocoque design principles and combining the structural strength of advanced composite single piece body panels with our unique built-in high tensile alloy rollover frame, patented chassis integrated slide-outs, single piece composite floor and interlocking cabinetry, Paradise deliver what we believe to be the safest Recreational Vehicles on Australian roads.
When you and your loved ones are living on the road, road safety is paramount. However, there is of course the "living" part that also needs to be taken care of. Safety is still a great area of focus for us.
We design and manufacture all our RVs with fire safety at front of mind and it doesn't end there. All our supplied components and accessories are chosen considering thermal insulation, noise reduction, durability, usability and of course aesthetic appeal.
We design and construct our RV's with the harsh fluctuations of the Australian environment in mind. Be it cold, wind, rain, dust, salt oh and of course the heat! We consider it all. That's why we also include some special features that make a big difference.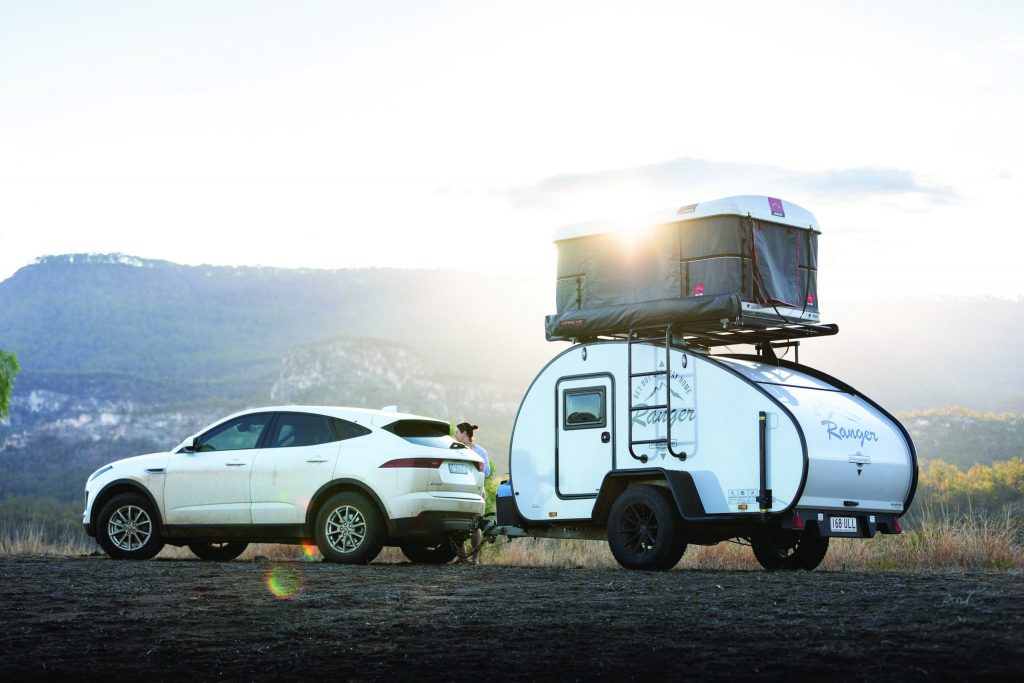 Imagine if you were getting ready to break camp and having the comfort of knowing when the handbrake is released, you and your belongings are protected through the automatic activation of our patented electro-magnetic cabinetry locking system, the electric entry step automatically retracts and options like the automatic levelling system and satellite dish pack away just in case you missed them on your departure list.
Just as technology has continually improved the equipment you pack into your golf bags, we've been resolute in our commitment to the constant refinement of our core range since our inception.
More recently, we've also shown our ability to adapt. Recent expansion of our product range means that we now offer customised luxury to suit a wider scope of budgets and needs.
With the introduction of our new market leading luxury caravans, campervans and teardrop campers, we are offering more and more ways for you to choose your adventure in Paradise. The common denominator – we don't cut any corners. Each and every one of our lines, the best in their respective class.
Paradise Motor Homes is now perfectly poised to meet the overwhelming demand of a market with a renewed focus on the amazing experiences that abound on our very own doorstep.
We can't travel overseas and that looks unlikely to change in a meaningful way for some time yet. Lucky we are a country blessed with so many wonderful courses. It's only fitting that you arrive in style.
As any traveller may understand, planning is half the fun and allows us to imagine our dream adventures well in advance, building the anticipation until finally hitting the road and turning those dreams into reality.
What better adventure than planning a lap taking in as many landmark world-class courses, scattered the length and breadth of the greatest continent on Earth.
You should probably squeeze in a few "normal" landmarks as well, so people don't think you are golf obsessed. What ever the plan you can be sure of one thing. Every night you will be staying in accommodation that you have customised to your lifestyle.
You will be waking up on a mattress that you chose, in your sheets with your head on your pillow. Our market leading designs and flexibility in customisation are unique in the Australian market and our motorhomes, caravans and campers are sold exclusively to people who know the importance of quality. With the mobility of a Paradise, the options are endless.
Put yours on the Spirit of Tasmania and cruise on up to Barnbougle. Play Lost Farm while you're there … and stay another night if the urge arises.
Hit the road to the Vic/NSW border towns of Cobram and Barooga and play those lovely river side courses before trying your hand at Moonah Links or The Cups at Mornington.
Take your time across the Nullarbor and play the legendary WA course or Lake Karrinyup or Joondalup and stop off for lunch at Leeuwin Estate on your way.
Take your accommodation (and clubs) with you, and spend as long as you like, where you like.
At Paradise, our relationship does not end when you sign the contract. You can take confidence that the company selling you your motorhome is the company building you your motorhome. It is also the company that can service and maintain your motorhome throughout its life.
We want your journey and our journey to be shared. We are committed to providing our customers with an exceptional experience, starting from the initial sales discussions right through to ensuring your investment is maintained.
To improve our customer's experience, we have developed a customer service excellence training programme and implemented an extensive Compliance and Quality Assurance system.
Furthermore we have restructured our production system to ensure that the final stages of production including electrical, cabinetry and finishing are all delivered by a single cross-functional team focused on no other project than the one they will deliver to you.
Offering a level of accountability, care and engagement that no other market leading manufacture can offer in Australia.
Every Paradise model sets the highest benchmark for optimum space, functionality, and living standards in their class. Its ground-breaking designs are all focused on delivering the ultimate mobile living experience for whatever road you choose.