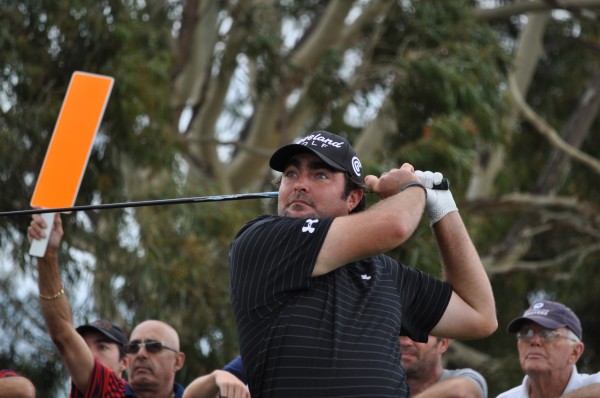 Aussie Steven Bowditch captured his second PGA Tour victory in convincing style at the AT&T Byron Nelson this week.
Playing at the TPC Four Season Resort in Texas, Bowditch  won by four shots with a tournament total of 18-under 259.
A trio of Americans, Charley Hoffman, Jimmy Walker and Scott Pinckney tried to chase down Bowditch in the final round but the Queenslander proved too dominant.
Opening his campaign with a bogey free 8-under 62, Bowditch looked comfortable in his adopted state all week.
"I wasn't really at ease. I was like a duck on a pond; my insides were moving a mile a minute and on the outside I was cruising," said Bowditch.
"I never thought that it was my day, there are so many things that can happen and I wasn't sure what was going on out there."
"I just had to stick to my game plan and wait for my moments but after I hit my tee shot down 18, I knew."
Weather delays across the tournament did little to deter a determined Bowditch who, with this wire-to-wire win, has recorded two victories on the PGA TOUR in as many years.
This win turns around a tough year for Bowditch who has made only eight cuts in 18 starts on the PGA TOUR in the 2014/2015 season.
"It's basically the way my career has been my whole life, when its good, it's good but when it's bad I am just trying to hold on and make some cuts," added Bowditch.
"I didn't see it coming this week, but I didn't see it coming at San Antonio (Valero Texas Open) either."
TPC Four Seasons holds a special place for Bowditch, who married Amanda Yarussi at the resort in 2011.
"Amanda and I got married here, so to be sitting up here on Sunday arvo is pretty surreal," said Bowditch.
"Taking photos on the green today was definitely the second best time I have had on that green."
Bowditch becomes the second Australian to win on the PGA TOUR and sixth internationally in 2015.
"On behalf of the Australian golf industry I would like to congratulate Steven Bowditch on this stunning and emphatic victory," said Brian Thorburn, CEO of the PGA of Australia and Chairman of the Australian Golf Industry Council.
"Steve is an exciting talent to watch with his ability to hit the ball so far and produce such low numbers like we have seen this week."
"I am sure he is extremely proud of his efforts and as an Aussie golf fan I am proud to see the depth of talent we have playing around the world."
Bowditch has only made the cut in four prior starts at the AT&T Byron Nelson; the first occurring in his inaugural appearance in 2011 where he finished tied 60.
This season, Bowditch had his best finish at the season-opening Frys.com Open in December where he finished runner-up to Korea's Bae Sang-Moon.