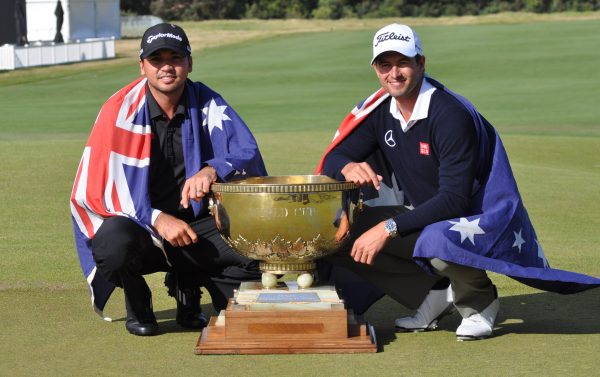 Home hero Jason Day secured an emotional victory in the ISPS HANDA World Cup of Golf with an imperious display in Melbourne.
A week after losing eight members of his family in Typhoon Haiyan, the 25 year old delighted the large crowds at Royal Melbourne Golf Club by seeing off Denmark's Thomas Björn by two strokes.
Day's closing round of 70 for a ten-under-par aggregate total, allied to his team-mate Adam Scott's seven-under-par score, also meant that Australia were crowned World Cup of Golf winners for the fifth time, beating the American team of Matt Kuchar and Kevin Streelman by ten shots.
Unlike Scott, who eagled the first hole, Day started his round with a bogey, but rallied with back-to-back birdies from the third hole to regain the initiative.
Björn, who trailed Day by one shot overnight, also birdied the third and fifth holes to remain in the hunt, but the turning point arrived at the sixth hole, where the Australian holed his approach shot for an eagle.
In contrast, Björn dropped a shot and, despite three birdies on his back nine, the Dane's round of level par 71 ultimately saw him finish two shots shy of the winning mark on eight under par.
Day collected a total of US$1.5million – US$1.2million for winning the individual event, and a further US$300,000 for the team competition – for the biggest victory of his career.
He said: "It was a complete honour to win here at Royal Melbourne. To win in front of the Melbourne fans who are so passionate about their sport was an amazing feeling.
"It feels great. I just really don't know what to think right now. All the hard work and dedication that I have put into my game over the last five or ten years is paying off."
The win was particularly momentous for Day having learned only last week that a number of his family members had been killed in the Philippines disaster.
"It would have been the easiest thing for me to just go ahead and pull out of the tournament with what has been going on over the last week," said Day.
"But I really wanted to come down here and play with Adam and really try and win the World Cup and we achieved that which is great."
"This is really special to me and my family."
Two-time World Cup champion and Australian golf legend Peter Thomson watched the victory from the confines of the Royal Melbourne clubhouse and greeted Day and Scott following their round.
"He said that he was going to see his friend, Kel Nagle, and he was going to tell his friend about what he saw today," said Jason.
"Then I replied, 'I would like to have five British Opens too.'  He said, "At least get three."  So I have to kind of fulfil my promise there one day."
In taking out the teams event, Day and Scott became the first Australians to claim the title since Peter Fowler and Wayne Grady captured the 1989 World Cup in Spain.
The individual title for 26-year-old Day was only his second as a Professional, and his first in Australia.
"It's taken me a while to get my second win as a pro, and it couldn't be more fitting with Scotty by my side winning the World Cup here in Melbourne."
"Today I learnt a lot about myself and I am just really excited for next week to get started as well but I am definitely going to embrace being a World Cup winner tonight and I won't go too crazy but I will definitely have a drink or two."
After sending a warning yesterday that he still didn't think the individual title was out of reach, Scott's finish in outright third position completed a remarkable comeback after being tied for 46th on the leaderboard at the end of Round 1.
"I tried to keep my focus a little bit on the teams' event, especially after Thursday obviously when I was far behind," said Scott.
"I think we will look back with really fond memories and be very proud that we have played here and represented Australia and won the World Cup in Australia."
"I have got to congratulate Jase on winning individually.  He has come down and played great and that's not always easy to do and it has been great to watch his development as a player, rapid development really, and I have a lot of respect for how much he puts into the game and I'm not surprised he is winning these kind of events and there will be plenty more to come."
Björn was left to rue two bogeys in his last three holes, but the Dane was typically magnanimous in defeat.
He said: "Obviously I'm disappointed, but on the whole it's been a great week. It's been a real pleasure to play on this golf course, and I couldn't be happier for Jason winning. He has gone through a rough time of late, and for him to even be here is massive.
"So to go and win a golf tournament in the circumstances, and for Australia to win the team event, that's what all the people came to see. There's nothing for smaller populated countries than when their sports stars do really well, and these two guys [Day and Scott] are fantastic."
Scott, whose opening round of 75 included a nine, signed off with a best-of-the-day 66 to take third place on seven under par, one shot ahead of Kuchar, who closed with a level par round of 71.
Final results
WORLD CUP OF GOLF –
INDIVIDUAL – Top-10
| | | | | | | | | | |
| --- | --- | --- | --- | --- | --- | --- | --- | --- | --- |
| Pos. | Score | -Par+ | Name | Represents | R01 | R02 | R03 | R04 | Gross ($USD) |
| 1 | 274 | -10 | Jason Day | AUS | 68 | 70 | 66 | 70 | 1,200,000.00$ |
| 2 | 276 | -8 | Thomas Bjorn | DEN | 66 | 68 | 71 | 71 | 760,000.00$ |
| 3 | 277 | -7 | Adam Scott | AUS | 75 | 68 | 68 | 66 | 490,000.00$ |
| 4 | 278 | -6 | Matt Kuchar | USA | 71 | 68 | 68 | 71 | 340,000.00$ |
| 5= | 281 | -3 | Ryo Ishikawa | JPN | 71 | 71 | 70 | 69 | 270,000.00$ |
| 5= | 281 | -3 | Kiradech Aphibarnrat | THA | 71 | 70 | 70 | 70 | 270,000.00$ |
| 7 | 282 | -2 | Hideto Tanihara | JPN | 72 | 67 | 71 | 72 | 240,000.00$ |
| 8= | 283 | -1 | David Hearn | CAN | 70 | 71 | 71 | 71 | 197,500.00$ |
| 8= | 283 | -1 | Stuart Manley | WAL | 67 | 72 | 72 | 72 | 197,500.00$ |
| 8= | 283 | -1 | Kevin Streelman | USA | 66 | 69 | 74 | 74 | 197,500.00$ |
| 8= | 283 | -1 | Francesco Molinari | ITA | 75 | 67 | 66 | 75 | 197,500.00$ |
WORLD CUP OF GOLF – TEAMS
| Country | To Par | R1 | R2 | R3 | R4 | Total |
| --- | --- | --- | --- | --- | --- | --- |
| Australia | -17 | 143 | 138 | 134 | 136 | 551 |
| United States | -7 | 137 | 137 | 142 | 145 | 561 |
| Denmark | -5 | 137 | 140 | 147 | 139 | 563 |
| Japan | -5 | 143 | 138 | 141 | 141 | 563 |
| Canada | +2 | 141 | 144 | 141 | 144 | 570 |
| South Africa | +4 | 147 | 141 | 145 | 139 | 572 |
| France | +5 | 145 | 140 | 145 | 143 | 573 |
| Germany | +5 | 144 | 145 | 139 | 145 | 573 |
| Thailand | +7 | 143 | 142 | 143 | 147 | 575 |
| Scotland | +8 | 141 | 143 | 146 | 146 | 576 |
| Ireland | +9 | 147 | 143 | 138 | 149 | 577 |
| Sweden | +9 | 148 | 143 | 147 | 139 | 577 |
| England | +10 | 144 | 143 | 143 | 148 | 578 |
| Finland | +10 | 142 | 147 | 144 | 145 | 578 |
| South Korea | +12 | 141 | 148 | 144 | 147 | 580 |
| Netherlands | +13 | 150 | 147 | 139 | 145 | 581 |
| Argentina | +14 | 149 | 146 | 146 | 141 | 582 |
| Portugal | +14 | 140 | 142 | 146 | 154 | 582 |
| Spain | +14 | 148 | 144 | 141 | 149 | 582 |
| Brazil | +15 | 144 | 143 | 141 | 155 | 583 |
| Italy | +15 | 151 | 141 | 142 | 149 | 583 |
| New Zealand | +15 | 154 | 144 | 141 | 144 | 583 |
| Philippines | +19 | 144 | 143 | 147 | 153 | 587 |
| Chile | +20 | 149 | 144 | 145 | 150 | 588 |
| China | +20 | 152 | 145 | 148 | 143 | 588 |
| India | +25 | 154 | 147 | 149 | 143 | 593 |