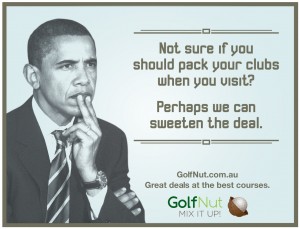 The Australian Golf industry is voicing their dismay at the prospect of President Obama coming to Australia without his golf clubs.
The president will be travelling Down Under in mid November this year, but has been advised not to pack his golf clubs for fear of sending the wrong message back home in the USA.
"Golf in Australia is a national passion, and little gets done in business without the calming effect of a round of golf" says GolfNut CEO, Andrew Davies.
"We believe President Obama and Prime Minister Gillard could make significant progress on the important issues facing the region if given the chance to play 18 holes on Melbourne's magnificent sandbelt".
President Obama is known to be a passionate golfer, and with the Presidents' Cup being played at Royal Melbourne on the same dates the President is due in Melbourne, many expected an appearance on course by the world leader a certainty. However the President's advisers are believed to have spoken against such an appearance, concerned it would look like the President was not attending to matters of State.
"Sure, times are tough in the US. However perhaps they could learn a little from Australia, where a round of golf has long been seen as the perfect cure for work pressure, and golf courses are ideal places to forge business relationships" says Davies. "I'm not sure if our own Prime Minister is a golfer, but I'm certain Opposition Leader Tony Abbott would give it a go. He loves getting out of the office!".
GolfNut has offered to put together a deal for the President and his entourage during their stay.
"There are many great Clubs in Victoria who would love to host the President," says Davies "and I'm sure he'd be a chance to take home the meat tray in most weekly Club competitions as I understand he's a strong player, hitting off a respectable handicap of 16".
GolfNut gives golfers the chance to broaden their golfing experience and take advantage of great value golf, as well as providing access to private courses, by offering weekly deals sent straight to their email. GolfNut is Australian-owned and run by golf industry people.
See www.golfnut.com.au or www.facebook.com/golfnutters for more details.