By Peter Owen
JACK Trent, the former Sunshine Coast junior whose parents relocated to Las Vegas seven years ago to help his golf career, has won his first professional tournament in the United States.
Trent, who turned professional late last year, shot rounds of 67-71-64 to win the McCormick Open at Scottsdale, Arizona.
The event is one of the richest on the Outlaw Tour, an affiliate of the Golden State Tour, which serves to develop young professionals through tournaments in the US states of California, Arizona and Nevada.
Trent came from three strokes back beginning the final round and collected $20,000 in prizemoney, enough to take him to the top of the tour's money list.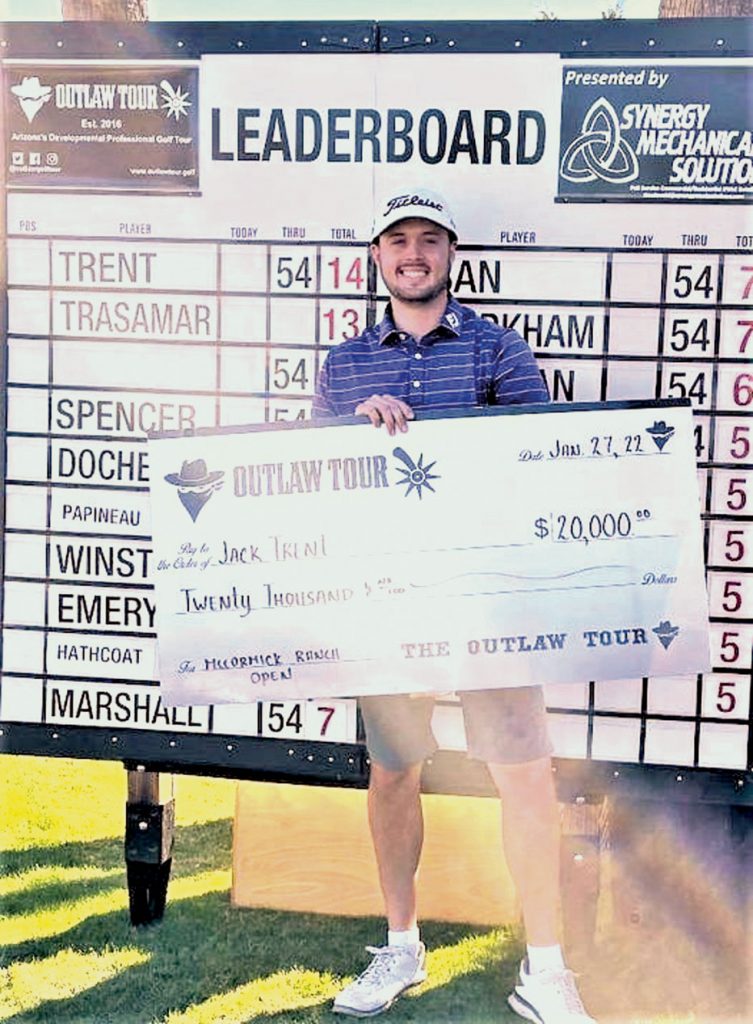 His is a fairytale story of an Aussie family's unwavering belief in their son's ability, and the sacrifices they were prepared to make to help him achieve his dreams.
Originally from Perth, John and Louise Trent moved their family – Jack and his younger brother and sister – to the Sunshine Coast to give their son a chance to develop his golf game on the Invincibles Sunshine Coast Junior Tour, under the coaching of Peter Heiniger.
By the age of 12 he was playing off a seven handicap at Headland Golf Club, had aced both the eighth and 14th holes, and was already talking about becoming a touring pro.
When he was 15, John and Louise again gambled their family's future on their talented son. They moved to the US and settled in Las Vegas.
While at Palo Verde High School, Jack won two Nevada state titles before enrolling at the University of Nevada Las Vegas where, in 2017, he was the conference freshman of the year.
In 2019, he got the chance to play a practice round with his hero Adam Scott prior to the US PGA Tour's Shriners Hospitals for Children tournament at Las Vegas — an event he'd got into by winning the Southern Highlands Collegiate tournament.
Playing with his hero was the highlight of his career, but even that was topped a few days later when he became the toast of the golfing world.
In that tournament he showcased his prodigious promise.
The only amateur in the field, he shot rounds of 67-69-66-68 for a 14-under par total of 270 and finished tied 29th — ahead of players like Phil Mickleson, Brooks Koepka, Bubba Watson and, ironically, Adam Scott.
It's impossible not to draw comparisons with Scott. He and Jack both grew up on the Sunshine Coast, both attended Matthew Flinders College, both joined Headland as juniors, both moved to the US in their teens, and both studied at the University of Nevada Las Vegas.
Jack's Arizona victory, though it wasn't on one of the world's biggest golfing stages, nonetheless promised many more wins for the talented 22-year-old.