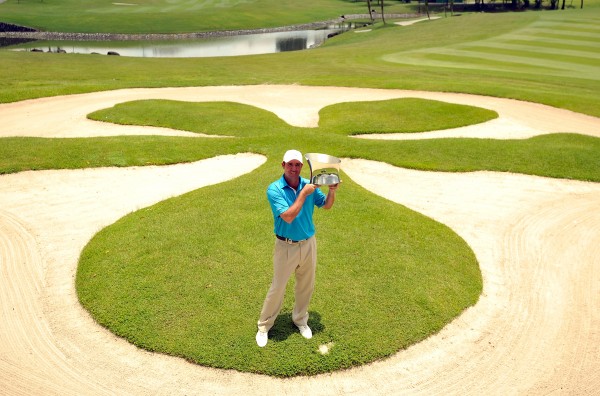 Australia's Scott Hend described his week in Singapore as one of the most amazing in his life after he closed with a six-under-par 64 to win the weather-shortened ISPS Handa Singapore Classic.
The US$400,000 full field Asian Tour event was reduced to 54 holes after inclement weather caused almost 10 hours of play to be lost over the first three days.
Sri Lanka's Mithun Perera, Chinese Taipei's Lu Wei-chih, Spain's Javi Colomo and David Lipsky of the United States were bunched in tied-second on matching 200s at Orchid Country Club.
"It's amazing especially to have four weeks off and come back and win. It's great to see some of the hard work and practice that I've put in paying off," said the Australian.
Hend had to wait for close to an hour before he knew he had secured his second Asian Tour title with a winning total of 11-under-par 199.
As many as three players were still in contention for either a play-off or win after Hend had signed for his score and it was a wait that became impatient for the big-hitting Australian.
"It's sort of like you're going out and have to wait for your wife to do her hair or something. You're just sitting around and pacing around and that was what I was feeling then," said Hend
"I just wanted it to be over and know whether I've won or not. Luckily for me, I won," added Hend.
The Australian's week was further sweetened when Dr. Haruhisa Handa, Chairman of ISPS announced that he will gain a sponsor's invite to the ISPS Handa Wales Open held at the famed Celtic Manor Resort in May.
Meanwhile Perera was almost loss for words after he signed off with a flawless 65 for his best finish on the Asian Tour.
The Sri Lankan who managed to play through an invite spot this week, made the most of his opportunity and was duly rewarded.
"I'm really happy about the week as I played really good golf," said Perera.
"I don't have a card on the Asian Tour but got a spot through an invitation. I just want to thank Kyi Hla Han, Executive Chairman of the Asian Tour, for giving me the chance to play in this tournament," added Perera.
The ISPS Handa Singapore Classic was beamed live to a world-wide audience on the Asian Tour's global television platform as well as on Singapore's MediaCorp Channel 5 during the weekend rounds.
Scores after round 3 of the ISPS Handa Singapore Classic being played at the par 70, 6835 Yards Orchid Country Club course (a- denotes amateur):
199 – Scott HEND (AUS) 67-68-64.
200 – Mithun PERERA (SRI) 67-68-65, LU Wei-chih (TPE) 65-69-66, Javi COLOMO (ESP) 67-66-67, David LIPSKY (USA) 63-69-68.
201 – Gaganjeet BHULLAR (IND) 68-69-64, HWANG Inn-choon (KOR) 69-67-65, Yuta IKEDA (JPN) 69-66-66, Thaworn WIRATCHANT (THA) 61-71-69.
202 – Adam GROOM (AUS) 69-68-65, Kieran PRATT (AUS) 67-66-69, Ben FOX (USA) 67-66-69.
203 – Rory HIE (INA) 69-68-66, Zaw MOE (MYN) 69-69-65, Shaaban HUSSIN (MAS) 66-65-72.
Selected scores
207 – Himmat RAI (IND) 68-69-70
209 -LAM Chih Bing (SIN) 73-66-70, Mardan MAMAT (SIN) 69-70-70.
210 – LAM Zhiqun (SIN) 70-67-73
VIDEO