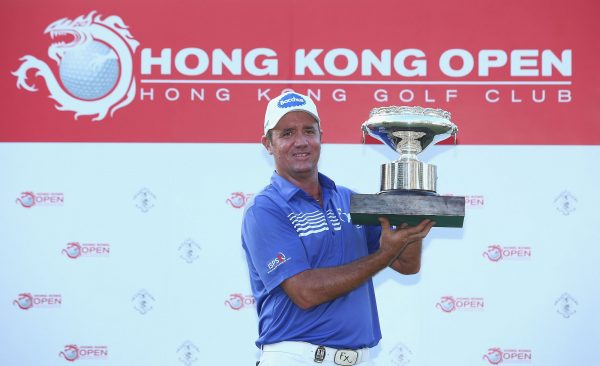 Australian Scott Hend captured his sixth Asian Tour victory and his first on the European Tour with a dramatic playoff win over Angelo Que at the Hong Kong Open.
Starting the day one back of the lead behind fellow Aussie Marcus Fraser, the 41-year-old Hend cruised the front nine in level par with two birdies against as many bogeys. Birdies on 10, 12 and 14 soon pushed Hend into contention, and he approached the final hole tied for the lead. A clutch par-save from a plugged lie in the greenside bunker on 18 during regulation play gave Hend a closing three-under-par 67, equal with Que on 13-under-par 267, forcing a playoff.
Following a nervously poor greenside chip by Que on the first extra hole—which led to a disappointing bogey for the Filipino —Hend coolly holed a five-foot par putt, sealing the victory and a cheque for US$216,660.
"I felt quite calm," said Hend of the playoff. "The only thing is that you don't want to go for the pin on 18 as you can make bogey quite easily. I wasn't sure how to play it and we (caddie Tony Carolan) discussed it and we said we'll play it like how we would in regulation play. Unfortunately, Angelo made a bogey … I would rather see one of us make a birdie as he's a great guy and it would be nice to win a play-off with a birdie. However, I'll take the win. I'm ecstatic."
Hend also noted that the par save on the 72nd hole was crucial.
"It was especially tough considering the situation. I knew what I had to do. I had missed a chance to take the lead on 17 and I knew I had to get up and down. It's a tough hole, no matter if you're playing it in a practice round or tournament. I'm just very happy to get this done. This one is for my kids (Aston and McLaren). They have been sending me music messages the last three mornings. So yeah, it's very much to be treasured."
With his win Hend emerged as the first Australian winner in Hong Kong since Greg Norman's victory in 1983. He is also the first Asian Tour member to win the event since 2008. Hend joins an illustrious list of Hong Kong Open champions which includes Major winners Bernhard Langer, Greg Norman, Peter Thomson, Tom Watson, Jose Maria Olazabal, Padraig Harrington and Ian Woosnam.
For Fraser, a disappointing final round of two-over-par (including a double-bogey on the first hole) left him T5—a respectable finish considering he had been out of action for eight months due to a hand injury. Of the other Aussies to make the cut, Cameron Smith was best placed (T9), followed by Adam Groom (T15), Marcus Both (T31) andWade Ormsby (T41).
For a recap of all the Australian wins on tour this year, visit www.insidegolf.com.au/tag/year-of-the-roo