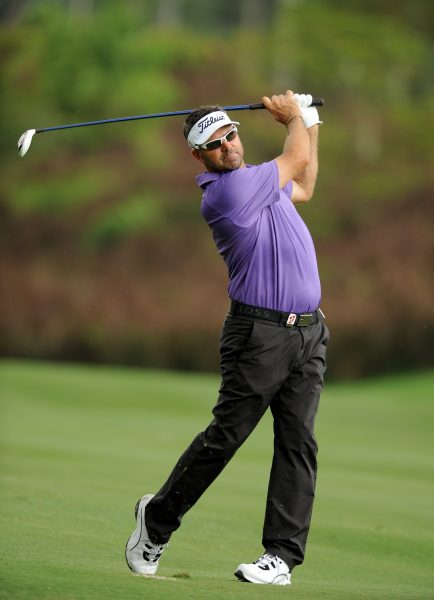 PGA TOUR winner and 5-time ISPS HANDA PGA Tour of Australasia champion Andre Stolz will make his return to top-level golf tomorrow when he tees it up in the Victorian PGA Championship at RACV Cape Schanck Resort.
The 2009 Victorian PGA champion took a break from the game after wrist surgery just under five years ago but after recently dusting off the clubs is set to return to competitive golf starting this week.
"At the start of 2014 I had wrist surgery which sort of knocked me out of the game, I tried to practice after that for a little while but gave it away," said Stolz.
"It's been pretty much four and a half years but about five or six weeks ago I randomly started wanting to play golf again so I went and hit a few balls and played a couple of pro-ams then I thought I was going alright.
"I'm still a bit rusty but I feel like I'm getting better every week since I've been playing, I'm just going through the process now of remembering what to do out there. I'm enjoying the challenge of trying to figure it all out again."
Now 48-years-old, the natural assumption is Stolz's return to the ISPS HANDA PGA Tour of Australasia is a tune-up for a tilt on the Champions Tour, the elite over-50's Tour in the world.
But Stolz says while he certainly has no concrete plans to contest in America again, he's keeping his options open to a possible debut once he ticks over-50.
"I honestly hadn't thought about it (the Champions Tour) when I started six weeks ago, golf is such a tough game. But I love the challenge and the fight it presents to you, so I'd be pretty dirty on myself if I didn't at least come out and play and see if I can re-ignite my interest for the Seniors Tour.
"In America it's so tough to get on that Tour through Qualifying. Being a previous winner over there I've sort of got a few leg-ups, I can get to the finals of Q-School, but this is all information I've just found out in the last couple of weeks because I honestly wasn't even looking at it."
After achieving so much in the game, Stolz has always been a big supporter of emerging Australian talent; most notably he had a hand in the burgeoning career of 2017 ISPS HANDA PGA Tour of Australasia Player of the Year, Dimi Papadatos who is well on his way to securing full status on the European Tour.
"Dimi and I probably spent about four or five years involved in golf pretty heavily when he was an amateur and good mates with my son," added Stolz.
"It was great helping him out but it got to the point where I thought he needed to go and do his thing for a while. We've been in contact again over the last 12 months, I've spent a lot of time either on the phone or playing with him since he came home.
"I saw my role as mainly structuring off the course, it wasn't so much about how they're swinging the club it was more about getting their life in order and having a good plan and process on how to get from where you are now to where you want to be."
As a former member of the ISPS HANDA PGA Tour of Australasia's tournament players council (TPC), Stolz still cares deeply about the state of his home Tour and has been closely following the game during his break from tournaments.
He says the number of co-sanctioned events with the European Tour and Asian Tour is invaluable to budding professionals in this country, and in some ways mirrors his own career.
"The Web.com Tour, or the Nationwide Tour back in the day when I was playing it, had a few co-sanctioned events in Australia and that's how I played my way onto the Web.com and onto the PGA TOUR through there," added Stolz.
"It's absolutely awesome having the co-sanctioned events. Some players think of it negatively because we're getting fewer starters and fewer players into them, but if you're playing full-on and you're in the top-60 players in Australia then you're going to get into those events.
"If you're not in those 60 players you're probably not going to be good enough. I'll be frank and honest and say work harder and get in there. It's just the way it's always been, there's always been a line.
"But at least there's a pathway and an opportunity for the guys to get on. I would always totally back the Tour anytime for co-sanctioned events." Having been through the process himself, Stolz believes players need to make the most of the opportunities being presented by the ISPS HANDA PGA Tour of Australasia.
"For a young Aussie, if you're playing the Asian Tour and the PGA Tour of Australasia now with all the extra co-sanctions, you can't rely on one or two weeks but you might be getting half a dozen tournaments now through the year and that's a great opportunity to play your way on to a bigger stage.
"It's a long process but the main thing is golf gives you chances, some of the negative guys will say that it doesn't but every now and then you get a chance in golf," says Stolz.
"You either take it and it allows you to move to the next rung on the ladder or you don't and you stay where you are. You need to be prepared to take it when you get the chance and that's what the good players do."
One of the lasting legacies of Stolz's time on the TPC is PGA TV, the PGA of Australia's live streaming platform which was officially launched during the 2017 Victorian PGA Championship and will broadcast the final two rounds live from RACV Cape Schanck Resort this week.
Stolz says PGA TV is invaluable for the exposure of professionals on the ISPS HANDA PGA Tour of Australasia and tournament sponsors who continue to benefit from its growing audience.
"I was probably one of the first guys on the TPC to push it through; the other guys on there all knew how strongly I felt about it so we all made a big push.
"It creates great value for money for the sponsors of these events; they've been putting in a lot of money over the years.
"As soon as I realised the internet was going to be fast enough for live streaming I thought we've got to get on to this I'd love to have the whole Tour on PGA TV.
"I'm really glad the PGA found the way to finance it, it's a great thing and gives the sponsors much better value for money than in the past. I'm stoked we've got it over the line. Hopefully we can keep growing the audience and improve the telecast as we go and throw some more money at it."
The Victorian PGA Championship will be played at RACV Cape Schanck Resort from 11-14 October 2018.
Andre Stolz will tee off on Thursday at 12:37pm AEDT with Stephen Leaney, tee times are avaialble at pga.org.au.
Entry is free all week for spectators with a Family Day to be hosted at RACV Cape Schanck Resort this Sunday providing plenty of free entertainment for the kids.
Round 3 will be broadcast live on PGA TV powered by TaylorMade from 1pm AEDT Saturday 13 October with round 4 coverage beginning from 11am AEDT Sunday 14 October.
In addition to the winner's share of the $100,000 prize purse, the champion will receive Official World Golf Ranking Points and be fully exempt onto the ISPS HANDA PGA Tour of Australasia until the end of the 2019 season.