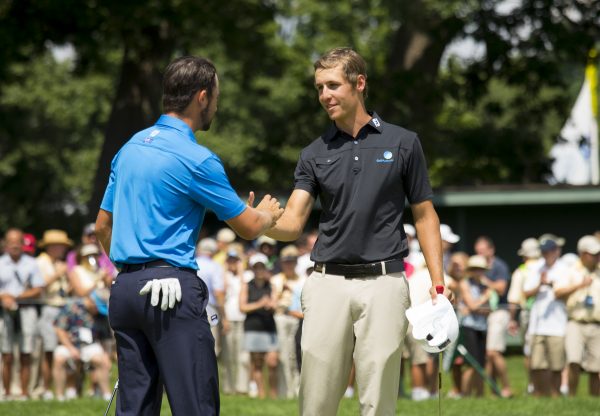 Western Australian Oliver Goss, 19, is aiming to become the first Australian to win the U.S Amateur Championship since Nick Flanagan in 2003 after progressing to the final with a 2up victory over fellow Western Australian Brady Watt in the semi final on Saturday at the 7,310-yard, par-70 The Country Club in Brookline, Massachusetts.
The Royal Fremantle member will play England's Matt Fitzpatrick for the title in the 36-hole final on Sunday.
Goss grabbed a 2-up lead after seven holes in his semifinal. He made a 10-foot uphill birdie putt on No. 4 and sank a 9-footer for another birdie on the par-3 seventh. But Watt, who arrived to compete in the United States for the first time on June 28, regrouped by holing an 11-foot birdie putt from the fringe on No. 8 before winning No. 10 with a par when Goss found the left greenside bunker.
Goss, who earned All-America honours at the University of Tennessee as a freshman last year, regained the lead for good on No. 11 with an 18-foot birdie putt. He kept that advantage on the demanding 509-yard, par-4 14th by sinking a 30-foot putt for birdie to halve the hole, as Watt was in tight with his approach shot.
"I think the putt on 14 was a big deal, it was definitely a game changer," said Goss. "It really looked like I was going to be going even with four holes to play, and to sink that putt was just unbelievable. I don't know if I could do it again if I had 100 balls."
VIDEO: THE 14TH HOLE
The players halved the following three holes to set up the match's conclusion on the par-4 18th. Goss found the putting surface in regulation, while Watt was faced with a daunting chip after going over the green with his second shot. Watt was unable to convert his 10-foot par putt, then he conceded Goss' 3-footer for par.
"I used a lot of my experience from last year," said Goss, who reached the 2012 U.S. Amateur quarterfinals. "I can remember a lot of the shots I hit and a lot of the feelings that I had. I used a lot of that last year to do as well as I could today."
"Whatever I did really well, he kind of did a little bit better," said Watt, who will stay around to caddie for his fellow countryman and good friend in the championship match.
"If I can't win," Watt said, "then I might as well see him do it. We're good mates. Someone had to lose today."
By reaching the U.S. Amateur Championship final, Fitzpatrick and Goss have each earned an exemption into the 2014 U.S. Open at Pinehurst Resort & Country Club in the Village of Pinehurst, N.C. – provided they remain amateurs – and a likely invitation to next year's Masters Tournament. The champion receives an exemption into the 2014 Open Championship at Royal Liverpool.
Pairings for Sunday's final at the 2013 U.S. Amateur Championship:
9 a.m. – Matt Fitzpatrick, England vs. Oliver Goss, Australia
More information: