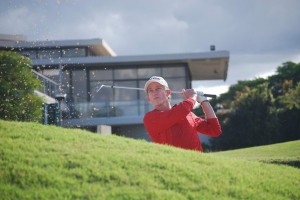 THE pro golfers and the crowds were all gone and the temporary stands were being dismantled the day after Peter Senior's PGA playoff win over Geoff Ogilvy, but more intriguing action followed on the Hyatt Coolum course on the Sunshine Coast.
Amateurs from all grades who had watched the championship as spectators or on TV had been invited to experience the game as the pros play it – in competition, from the same back tees and with the same tricky pin placements.
An additional test was that the course was playing longer than usual after the rains that caused postponement of the final PGA holes until the Monday morning, and continued on afternoons all week.
The outstanding round among the amateurs of all grades who contested any of the four separate stableford events played from Tuesday to Friday came from Daniel McGraw, a scratch-marker from the Gailes club in southwest Brisbane.
Daniel, 23, recorded the four days' only sub-par round off the stick with a one-under-par 71 for 37 stableford points on the second day.
Two-under par early, he dropped a couple of shots later and was even par coming to the fearsome 18th, a 385-metre par-4 with water on the left which has proved perilous to many a pro.
Daniel struck a mighty drive which left him only a sand-wedge to the green – then made the putt for a birdie.
"It's a lot different playing inside the ropes from watching it from outside," said Daniel. "You get a different perspective."
He was delighted with the experience and with his score.
Daniel, who works part-time at a driving range, played rugby league and soccer as a boy before taking up golf at 14.
Improving his game steadily, he played at Banora Point, Chambers Pines then Sanctuary Cove, where he has been coached by Ossie Moore.
At Gailes for six years, Daniel has twice been club champion, in 2008 and in 2010, when he also captained the Queensland Colts team.
His hope in 2011 is to make the state men's team – and if he can maintain his progress, could consider trying late this year to qualify as a pro for the Australasian tour.
With a sensible attitude towards the future, Daniel's philosophy is: "If I don't give it a try, I'll never know."
Daniel's role model is Tiger Woods ("at least ON the course") and he has learned from watching Robert Allenby, Geoff Ogilvy and other Australians by walking courses and on TV.
Ossie Moore believes Daniel could make it as a pro.
"He has the potential," he said. "His swing has improved, he's level-headed and comfortable about his game."
Prizes for the "follow the PGA" events were a trophy and a $60 order on the pro-shop for first, $40 for second and $20 for third with $10 for nearest-the-pins.
The idea behind the tournament was to show regular golfers who might watch the pros on TV and wonder: "How would I have gone on that one?" – or even: "I could have done better than that."
Head Coolum professional Peter Heiniger said it was rare for amateurs to experience pro tournament conditions since most big Australian tournaments were held on private courses such as Royal Sydney and Royal Melbourne which were not open to the public.
The Hyatt's Director of Recreation Brett Braithwaite pronounced it a success although the wet weather reduced the hoped-for numbers, and predicted it would be held again next year and could become annual.
He said the stableford scoring system rather than stroke-play was used for the same reason as for regular club events – picking up when unable to score a point sped up the game and it was easier for a player to recover after (say) a disastrous 10 on one hole.
Reactions from the participants, all of whom had to own an official handicap and Golf Link number, were enthusiastic.
"A fantastic idea," said John Waugh, an 11-handicapper from Sydney's Terrey Hills club, who won on the final day with 34 stableford points.
Other comments ranged from "terrific" to "nine out of 10 – it would have been ten except the ground was so soft."
Daniel McGraw also placed third in the first day's event with 31 points, seven behind the winner George Coudounaris from The Lakes club in Sydney who, playing off 30, went on to take the third day's prize with 38 points on a reduced handicap of 27.
George was one of three family members who took part in the tournament; his father Eric (off 13) claimed second prize with 37 points on the third day and his brother Stephen won a nearest-the-pin prize.
Best round by an associate during the four days was by Fiona Shortis from Sydney's Avondale club who – off the regular women's red tees with a 19 handicap matched Daniel McGraw's 37 points on the second day.