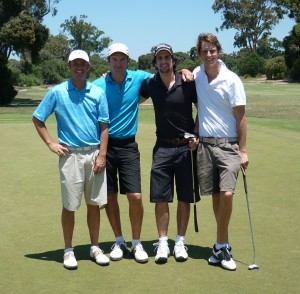 Amateur golfers who played on the SGA Tour in Victoria in 2010 were treated to a deluxe golfing experience when they played the final event of the year, The Tour Championship, at Kingston Heath Golf Club in December.
A field of 100 golfers took part with the top 20 players in the Order of Merit competing for the exclusive Tour Championship, with a first prize of a new set of irons from Wilson Staff. The rest of the field, which included celebrity guest Andy Lee from Hamish and Andy, played a single stableford competition on the course rated as the best in Australia and the track that remains the last venue where Tiger Woods saluted for a tournament victory.
With over $4000 of prizes and the round played as an official competition with results on GOLF Link, the field of amateur golfers enjoyed being treated to a tournament-style experience. After player registration, the golfers enjoyed a buffet lunch while they indulged in a long practice session prior to teeing off.
Once on the course, the similarities to the professional tour were less evident with a lot more bogies on scorecards, but that didn't seem to faze most of the participants who were committed to enjoying a game on one of Australia's best courses in a tournament atmosphere.
"We had a lot fun out there today, even though Hamish was not with us. He is a hoot on a golf course, but his swing isn't quite as refined yet. Like a good marathon runner, he says he's building up to the ultimate round which he plans to execute in the year 2033 – when they have robotic golf clubs that do all the work for you. As this was a real tournament for golfers, I brought Nick along as his proxy. Nick is nearly as funny as Hamish, much better looking and can hit his driver about 240 metres further, which came in handy."
When asked about playing Kingston Heath, Lee said it had been a great challenge for everyone and character building to say the least.
"I would personally like to thank the team at Kingston Heath for helping develop my sand-raking skills. This course is famous for the bunkering designed by Dr. Alistair McKenzie and I would like to dedicate my round today to the good doctor – I spent so much time in the sand, I felt like Lawrence of Arabia. On my way home I am going to drop into the pet store and see if they have any camels."
Andy was not the only one who had a fun day, with most of the participants enjoying the perfect weather and superb layout. Golf Australia CEO Stephen Pitt was a guest at the presentation dinner and Anthony Murphy and Niall Shearer from Drummond Golf played in the event. Anthony said it was a great day all round.
"Niall and I both had a terrific time. We enjoyed our game with Richard Fellner from Inside Golf and Liam Anderson, who was the low marker in the field playing off plus two – he hits a mean ball! The event was great value, well organised and everyone really enjoyed themselves."
When the results were in, SGA Tour player John Potter won The Tour Championship with 36 Stableford points on countback from Neil Hocking and took home a new set of FG Tour irons thanks to Wilson Staff. There were three other SGA Tour trophy winners for 2010: Rob Lugton won the Order of Merit; Neil Hocking won the 4BBB Championship and John Hearne won the Golfer of the Year. David Judge won the open event on countback from Kent Hudson with 37 points and won a home security system from Swann Security. For all the results and photos, go to www.sgatour.com.au and follow the links to the Vic SGA Tour.