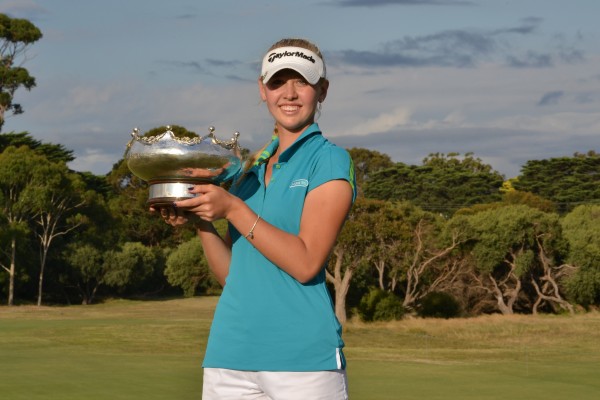 In one of the most thrilling and tense playoff finishes ever seen in a golf tournament (Mens or Womens), 18-year-old American Jessica Korda won the ISPS HANDA Womens Australian Open following a dramatic six-way playoff at The Royal Melbourne Golf Club.
Korda — the Round 3 leader — was cruising along nicely in the final round, starting off with a string of 3 birdies in the first 8 holes. But a disastrous double-bogey on the par four ninth, followed by four more bogeys on the back nine saw her drop out of the lead.
Nearing the end of regulation, it appeared that it would come down to a two-way playoff between South Korean pair So Yeon Ryu and Hee Kyung Seo, who had both approached the 18th hole at 4-under, joint leaders ahead of a stack of players at -3.
After both girls missed their par putts, however, they dropped to 3-under, effectively bringing them back into a tie with Korda (who had yet to finish her round), as well as as  Julieta Granada (Paraguay) and Americans Stacy Lewis and Brittany Lincicome.
Then the excitement really began. While Lewis, Lincicome and Granada quickly scrambled back to the putting green for a quick re-warm-up, Korda had an opportunity to win the event outright, as her approach to the 18th set up a potential birdie, which would have taken her to 4-under-par, thereby leapfrogging the others. Her birdie putt missed, however, and thus a six-way-playoff for the title was imminent.
Playing in two groups of three — teeing off on the 18th hole — the six players battled hard and showed immense composure.
On the first playoff hole, following pars by her two partners, Lincicome set herself up to take "first blood" among the groups, with only a mid-length birdie putt between her and a potential victory. But the Golf Gods can be cruel at times, and Lincicome's putt rolled straight in — and OUT– of the hole. A stomach-churning 360-degree "Horseshoe" putt that seemed to defy gravity, physics and a bunch of other scientific laws.
While the spectators (and Lincicome) muttered in disbelief at the outcome, the second threesome took their shots at the 18th. Lewis' approach to the green got spectators' hearts pumping, as it was about an inch to the side of dropping for an eagle, before rolling a couple metres past the pin.  Granada and Korda had very long putts which both missed, leaving Lewis with a chance for the trophy if she could make a mid-length birdie putt. Lewis' putt grazed by the hole, forcing a second playoff hole for all six competitors.
The second round of the playoff saw a bogey from Reo in the first group (effectively dropping her out of any further action), and pars from her two partners. The second group surrounded the flag with their approaches, with all three putts of significant length. Korda, however, stepped up to the challenge and drained a monster 25-foot right-to-left breaker to seal the victory.
Korda – who is the daughter of 1998 Australian Open tennis champion Petr – becomes the first American to win the tournament since Debbie Austin's triumph at the Manly Golf Club in 1978. Korda junior pockets a cheque for US$165,000 for her victory.
"I'm overwhelmed," Korda said.
"I was thinking really clearly. I had one concept in my head…I was really calm. I knew what the putt did because I'd had it before and it did not move. I was a little higher up and more to the right. I knew the line and I knew the speed. All I had to do was just hit it. It started breaking. I thought, Oh my goodness no, don't lip out, don't break too early. I don't even know what side of the hole it hit. I was overwhelmed by everything," she said.
Korda said she had worked hard over the American winter to be ready for 2012.
"A lot of the hard work I put in, in the off season, all the times I was down last year, it is all worth it. It made me grow up. It made me realise that you've got to change your life to live out here and this is proof. I know that all the hard hours I put in and will keep putting in are really worth it – every moment," she said.
South Korean Jenny Shin finished at two-under in outright seventh, while American Katie Futcher and world number one (and double-defending champion) Yani Tseng were a shot further back in a tie for eighth.
Nikki Campbell and Sarah Kemp were the best of the Australians, both finishing at one-over in a tie for 12th.