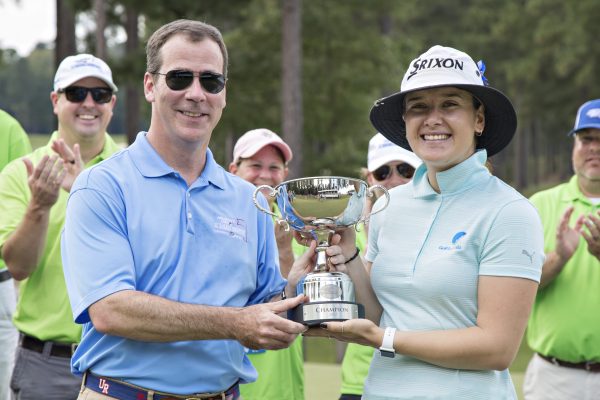 Two weeks ago, Perth's Hannah Green wrote the letters "LPGA" with a smiley face on her golf glove as a constant reminder of the ultimate goal. It became a reality on Sunday at the Murphy USA El Dorado Shootout as she broke the Mystic Creek course record with a bogey-free 8-under, 64 to win at 11-under, 205, which is a 3-day tournament record. Green edged Celine Boutier (Montrouge, France) by one shot.
Green's second win and the $15,000 payday vaults her from sixth to fourth on the Volvik Race for the Card money list and with just three events left, she secures a spot on the LPGA Tour for the 2018 season. Green has now earned $76,290 in 17 starts as a rookie on Tour.
"I didn't really know what to expect in the last six weeks (now three weeks left), there are a lot of girls behind me performing well so I wanted to make sure I was staying on top of my game and didn't get knocked out (of the top 10)," explained Green, who picked up her ninth top 10 finish of the year. "To win this week is really great and it sets me up for next year (on the LPGA)."
The 20-year-old started the day in a tie for fourth and a full seven shots off the lead. Green made birdies on holes one, four, five and seven on the front nine to move into contention at 7-under. At that point, she was still three shots off the pace of 36-hole leader Dottie Ardina (Philippines). Green made birdies on holes 11 and 12 to move into a four-way share of the lead with Boutier, Ardina and Charlotte Thomas (Guildford, England), who made birdies on 10, 11 and 12.
Green, who finished second to Lydia Ko at the 2015 New Zealand Women's Open, made birdies on 15 and 17 to take command of the tournament and closed with a par. Boutier made birdie on 18 to finish at 10-under.
"Obviously I'm really happy and excited, but it doesn't feel real quite yet," said Green, who won the Sara Bay Classic earlier this season. "I'm really pleased with how today turned out and I'm glad I shot a really good score to get the win."
The 64 ties her personal best score, which she also shot in the final-round of the Danielle Downey Credit Union Classic in Rochester.
Green's statistics were incredible. She hit 17-of-18 fairways and 12-of-14 greens in regulation. She attempted 28 putts.
"My ball striking was definitely there today," said Green. "Going bogey-free on this course means everything tied together today, which was great."
Four years ago when Green graduated from high school in Perth, she devised a plan to reach the LPGA.
"I set a plan and I wasn't going to college in the U.S. or studying in Australia, I just said that I was turning professional and I wanted to be on the LPGA," said Green. I've been dreaming about this for at least four years so to have it come true is awesome."
Green is a two-time recipient of the Karrie Webb Scholarship and has had the chance to develop a friendship with the Aussie legend. Webb was one of the first people to congratulate Green on social media after the win.
"She has been such a big supporter, not only to my golf, but a lot of female golfers in Australia," said Green. "I got to go to the U.S. Open with her and those are amazing experiences. I would have never been able to go to a major unless I was playing. She is just awesome and to have her as a close friend is really cool."
Green's dad, Tau, was her caddy this week and it was the first time he had been on her bag for a victory.
"It was great to have a win with him on the bag," said Green, who called her mom before the trophy ceremony and talked to her at 3:30 a.m. Australia time. "I'm sure it's a moment he won't ever stop telling his friends about."
In addition to the $15,000 first place check, Green was also presented with a diamond bracelet valued at $10,000 courtesy of Murphy-Pritard Jewelers.