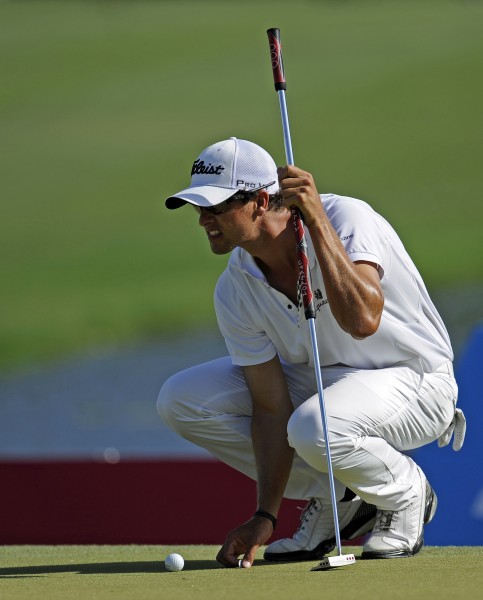 Just a few months after winning the gold jacket in the Australian Masters, Adam Scott has  finally delivered the goods for Australian golf — taking home the green US Masters Jacket in dramatic fashion over Angel Cabrera in the dusk at Augusta National.
First, Scott made an out-of-this world putt on the 72nd hole in regulation — igniting a thunderous chorus of cheers that was heard from Augusta to Down Under. The putt gave him a one-shot lead over Cabrera at 9-under par. Not to be outdone, Cabrera (in the following group) then pured his approach shot to two feet, with  the ensuing birdie leaving him tied with Scott, sending this 77th US Masters to a playoff.
After squaring the first playoff hole on 18 with pars (with a near chip-in for birdie by Cabrera that barely shaved the hole), they moved to the tenth.
On that second playoff hole, Cabrera's bid for his uphill twenty-footer somehow stayed above the hole and it set the stage for Adam Scott's historic winning putt that he poured in confidently. At last, Australia has its green jacket that's been coveted all these years.
In unquestionably his finest moment as a professional, Scott gave credit to the great Greg Norman for his influence on his career.
"Part of this is for him because he's given me so much time and inspiration and belief," Scott said, "And I drew on that today."
While Norman was certainly an icon and inspiration for Scott throughout his early years, he was also responsible for helping Scott turn his career around, courtesy of a Presidents Cup "Captains Pick" in 2009, which came as a surprise to many as Scott was in a horrible slump at the time.
Many believe that that moment was a turning point for Scott, and has helped boost him back into the world's top performers.
Perhaps Scott's story will continue to inspire others to pursue the magnificent green jacket here at Augusta National.
Following the win, Australian golf fans went wild on Twitter, with many fans tweeting their support. In addition, the Australian golf industry showered praise onto Adam:
"It's an historic win for Australian golf and for Australian sport," Said Stephen Pitt, CEO of Golf Australia.   "We have gone through the heartbreak so many times before at Augusta and to have Adam make the breakthrough is awe-inspiring."
"We're so proud of Adam, of the way he played down the stretch and his tenacity in the play-off. Jason Day, Marc Leishman and John Senden all played superbly and flew the flag proudly for Australia. It's a wonderful day for Australian sport and we're absolutely thrilled to see the Green Jacket on Australian shoulders at last."
Brian Thorburn, CEO of the PGA of Australia said he felt privileged to witness the historic win, and was thrilled that Adam would now receive the recognition he deserves.
"No words can describe how happy we are for Adam," said Thorburn.
"Throughout his career Adam has been an incredible ambassador for Australian golf and he continues to come home and support the PGA Tour of Australasia year after year."
"For years he's carried the weight of expectation and answered countless questions about when his time would come. Finally, it's here, and I congratulate him on behalf of the entire golf community."
Thorburn also said that the overall result, with Jason Day and Marc Leishman also finishing inside the top five, is a strong indication of the strength of Australian golf.
"We've finally got a green jacket and we've clearly got the talent to go on to many more Major wins. But beyond today this will open up plenty of doors for Adam and Australian golf."
"All of Australia is talking about golf today, and that's a huge opportunity for our game."
(With Garret Johnston)