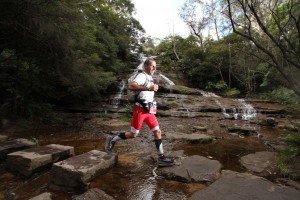 This August Ultrarunner and Golfer Andy Bowen will embark on a record breaking attempt at playing the World's Longest Golf Course, the Nullarbor Links, on foot. He plans to play the course in 16 days, covering a total distance of over 1400kms, running more than 2 marathons every day without a day off.
The aim of this challenge is to raise over $50,000 for charities that Andy has a close affiliation with; Autism Spectrum Australia (ASPECT) the country's largest not-for-profit autism specific service provider, whose vision it is to overcome the isolation of autism, and the Splash of Red Foundation, a not-for-profit organisation dedicated to raising awareness and much needed funds for Sudden Infant Death Syndrome (SIDS) and Sudden Unexpected Death in Childhood (SUDC) support and research programs in Australia.
The Nullarbor Links golf course is a standard par 72 course of 18 holes positioned at different spots along the main highway that crosses the Nullarbor Plain. The course runs from Ceduna in South Australia and ends in Kalgoorlie, Western.  It incorporates 7 holes from existing courses and 11 holes specifically created at roadhouses along the Eyre Highway. The concept is to encourage travellers to break up the journey and see what the Nullarbor has to offer.
39 year old father of 2 Andy will be running with a crew of 4 who all play golf to different degrees, so they are all looking forward to the challenge. One of the greatest they will face is playing each hole in daylight, as it is likely that Andy will be running for over 12 hours on many days, at a time of year when there isn't 12 hours of daylight. They have overcome this problem by using Twilight Tracer golf balls, which flash on impact, and continue to flash for a further 5 minutes, giving you time to find them (a very valuable and necessary feature, they say!).  While this may be fun on the par three's they are concerned that it could end up being a long night on the 530+m par 5's.
Whilst Andy is an accomplished Ultra runner, having competed in a number of Ultramarathons (races beyond a standard marathon distance of 42.2kms) he used to spend most of his free time on Raglan Parc Golf Club in South Wales where he grew up. A former club champion and course record holder, he has suggested he might like to have a go at the Nullarbor Links course record too, but isn't even sure he'll be able to swing a club at the end of 12 hours of running.
"It's certainly going to be a great experience, and we must remember the goal of the event to raise the much needed funds for the charities."  He says that …"while you do go through a fair bit of pain running ultra distances, I know that my pain is only temporary, which isn't the case for someone who has suffered the loss of a child, or who lives with Autism, and that's what keeps me going".
The public can help in many ways, first and foremost via donations through the website. A large number of small amounts do add up and do make a difference. Perhaps your club would like to show their support by making a gold coin donation from each entrant in competitions during the challenge.
You can follow Andy and the team's progress, with live GPS tracking and daily video updates (including the night golfing) on www.33marathons.com. Here you will find more information on the event, fundraising ideas, and how else you can help, as well as information on the course and area they will be passing through. So please get online and show your support for a great challenge for great causes.