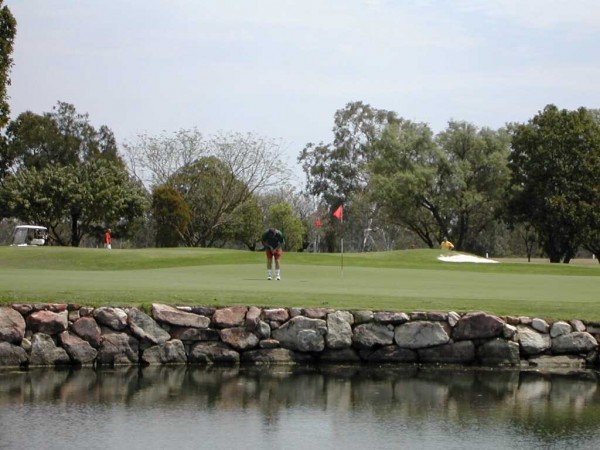 HOW does a golf club that boasted an annual turnover of $20 million less than a decade ago go into administration and finally close?
Many are asking that question after Ipswich Golf Club, 40 kilometres west of Brisbane, closed after 116 years.
Rumours had been circulating for some time the club was in financial difficulty and those rumours came to fruition on Friday, June 14 when the administrator, PA Lucas and Co, ordered the closure and locks to the clubhouse and pro shop changed.
A check of the golf club's website told the story.
"Unfortunately, due to circumstances beyond the club's control, Ipswich Golf Club is now closed for business – both golfing and social activities. We thank everyone for their patronage over the past 116 years."
It appears the proud old club will be liquidated, however, Ipswich mayor Paul Pisasale told the Ipswich Times the historic golf course would not be developed.
"Anyone wanting to turn it into a residential development can forget it," he said. "It's a golf course and it is going to stay a golf course."
Ipswich Golf Club's 26 staff lost their jobs.
It seems two devastating floods in two years proved too much for the historical club and it went into voluntary administration in early May.
"We can't control floods or the weather," president Paul Morris said. "We have done everything we can."
Founded in 1897 by a group of local residents, Ipswich Golf Club has endured a financial rollercoaster ride over the past three decades.
In the late 1980s and early 1990s, the club's biggest income came from bar sales.
According to the club's website, the introduction of poker machines turned the club's fortunes around.
In 1993, it made an operating profit for the first time in seven years and by 2007 reported an annual turnover of $20m.
"The biggest change in the golf club's history occurred on April 29, 1992 – the pokies arrived," the website said.
"At the start of 1992, the club had 814 members. It was popular and successful, but the costs of maintaining a quality 18-hole course were high and it made a $19,295 operating loss for the year, largely due to costs associated with the drought. It also had a significant capital debt.
"The pokies changed all of this. The most noticeable immediate change, apart from the sudden presence of a row of machines, was an increase in staff.
"Then the number of members started to rocket.
"From 814 (members) in 1991, membership rose to 1020 in 1992, 1850 in 1993, 3305 in 1994, 4558 in 1995 and 4977 in 1996.
"The increase was mainly in social membership with people coming to the club simply to enjoy its facilities including excellent food – 1500 meals served every week.
"The management team is now running a big business with an annual turnover of $20 million," it continued.
"Most of this money is returned to customers through the poker machines, now numbering 82, but there is still a cash turnover of about $5 million a year.
"There are about 30 permanent staff and about 50 part-time and casual staff – the annual wages bill strengthening the local economy."
In 2006, Ipswich underwent a $20m upgrade as part of a residential development and course redesign.
They included land for 200 residential lots and land for a new-look golf course designed by Wayne Grady.
"This course is the home of the Queensland Open and it is important that the club takes this step to maintain its membership and competitiveness in the face of increasing competition," Grady said in November 2005.
Then club president Ken Delany said: "Our golf membership is ageing and so are our facilities and for the golf club to survive another 100 years we had to take a visionary approach.
"It is important not only for the club to survive but to prosper."
That was then. Now the administrator has called for expressions of interest for the club.
Its assets include club freehold ownership of golf course land and buildings, 58 electronic gaming machines, large clubhouse facilities including bistro and catering and function rooms.
The closure of the course was a sad day for the club's 400 members.
Still as Alexander Graham Bell, the man credited with inventing the first practical telephone, said: "When one door closes, another door opens."
A week prior to Ipswich GC closing nearby Karana Downs GC reopened after 18 months.
That must be good news for the 100-plus former Karana Downs members who joined Ipswich in 2011.
Now they can return to their old stomping ground where membership costs $40 a month and they have access to two courses – Karana Downs and Sandy Gallop.