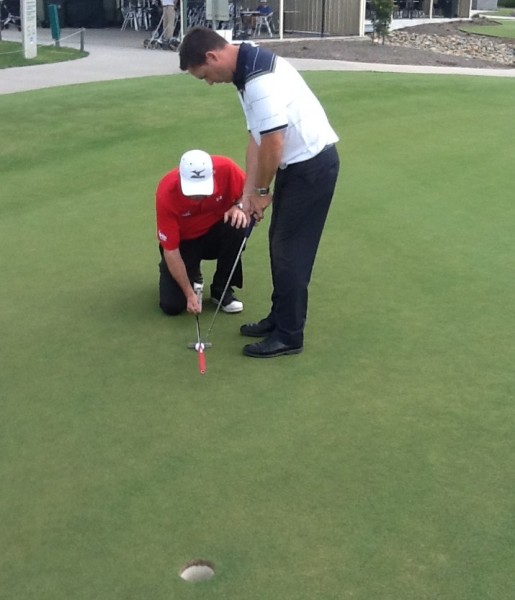 I am often asked by clients whether their feet are aiming correctly at address. This leads me to explain the key alignments I look at when coaching. There are four:
Forearm alignment at address
Forearm alignment at impact
Putter face alignment at address
Putter face alignment at impact
To me, feet alignment doesn't matter a bit, all the feet do is stabilize your body so you can keep the lower half of your body quiet while your shoulders and forearms all move together.
Considering the forearms are to the left of the ball/target line (for a right hander), the forearms should be parallel to the ball/target line.
The putter face alignment at address and impact are clearly the most important components of successful putting, assuming you have read the putt correctly and you have reasonable speed control.
Pictured is a photo of me asking a friend to check my forearm and club face alignments, if they are slightly off, I will make the required adjustment before I putt.
Also, If you know someone with the yips PLEASE show them this article and ask them to call us at The Sydney Putting Studio at the Ridge Golf Course. I have been doing a very interesting trial project with people that are very anxious over short putts—and this trial that has shown some amazing results.