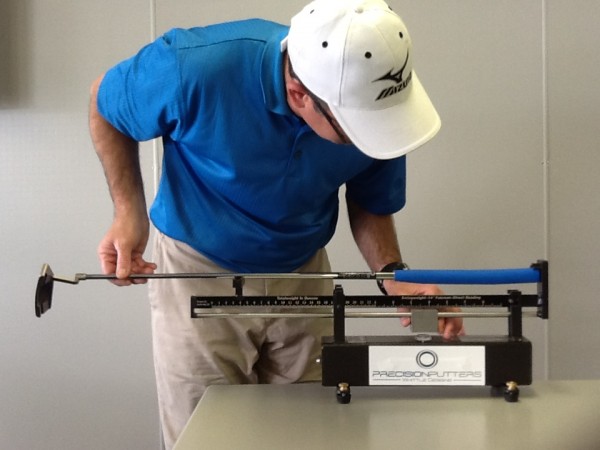 Since deciding to dedicate a large part of my time specifically to putting, I have seen a number of golfers putt consistently well using a light putter on slow greens, a heavy putter on fast greens, a light putter on fast greens and a heavy putter on slow greens. This shows us that we cannot just guess what might be best for me or you.
A putter is made up from three components: the head, the shaft and the grip. The balance between these parts can be measured by calculating the putter's swing weight (the comparative weight) using a swing weight scale. Obviously, the weight of the putter head (head weight) has a major influence over the swing weight. Remember that the head weight and swing weight are different
Unfortunately, the putter that you purchased may not fit you and may require some modification. However, when you do this by, say, shortening the putter length or by fitting an oversize grip, you change the original intended swing weight.
I recommend that a putter should measure between C8 and D8. If you are using a putter outside of these parameters and you are putting poorly, drop by the Sydney Putting Studio and we can help sort you out.
Precision Putters (who I design putters for) show the swing weight and head weight separately on each milled putter. They change the head weight according to the length of the putter – this combination of length and putter head weight is important and does make a difference to your putting.
I have noticed lately that some manufacturers offer shorter standard putter lengths, but do this without increasing the weight of the putter head. This is not a good idea. I saw a client recently that had a long chest putter with a standard head weight on it. I was surprised at just how light the head felt, but to no surprise he was not putting well.
A lot of clients tell me that they are surprised that they hadn't previously considered the importance of putter fitting, mainly because they use fitted clubs but not a fitted putter. They obviously know that putting is a huge part of the game.